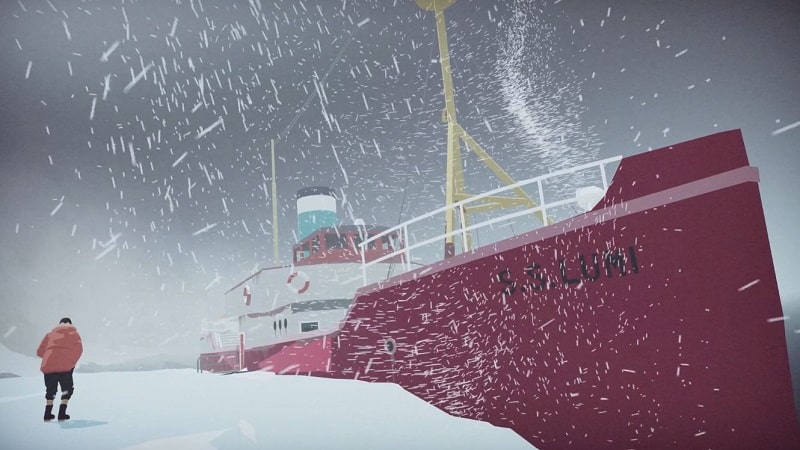 South of the Circle PS5 review. South of the Circle feels like the sort of affair that could very, very easily be adapted into a prestige television show that might be snatched up by the likes of HBO, Netflix, Amazon Prime or Apple TV+. A maturely composed narrative adventure that focuses on Clara and Peter, a pair of young Cambridge academics that find themselves swept up in the Cold War, South of the Circle is a much too brief, but beautifully written emotional rollercoaster of an adventure that sacrifices interactivity for a beautiful story and thick atmosphere that will last with you long after the credits have completed their roll.
South Of The Circle PS5 Review
---
A Brief And Linear But Beautifully Told Narrative Adventure That Sticks With You
First things first, as a traditional 'game', South of the Circle doesn't have much meat on its bones. A resolutely linear affair that is able to be completed in around four hours (and that includes all the trophies – but sadly the game has no platinum), South of the Circle is an offering that you can see through from start to finish in just one evening, but that's not necessarily a bad thing.
The way in which South of the Circle plays out is that you move Peter around from a third-person perspective, interacting with items in the environment and talking to other characters. Firmly locked on a largely linear trajectory, South of the Circle uses straightforward visual storytelling to tell you where to go next, with camera angles and visual cues being used to essentially direct you towards and into the next scene. So far, so simple.
Essentially a distilled, hyper-concentrated hit of linear narrative adventure, South of the Circle is set in the early 1960s and primarily tells the story of Peter, a somewhat awkward, timid Cambridge academic who despite coming from something of a broken home, has nonetheless made a place for himself in the world thanks to his ground-breaking research on weather patterns. It isn't long before our nervous fellow meets up with Clara, a confident, go-getting fellow academic whose bright, outgoing personality begins to pull Peter out of his shell and begin to undo some of the trauma that was foisted upon him during his troubled youth.
Soon becoming a professional duo that bolsters Peter's own research on weather patterns, it isn't long before Cambridge University comes knocking for their research, along with Whitehall and the British government. Without giving too much away (South of the Circle *is* just four hours long after all), what I will say is that South of the Circle finds itself deeply rooted in not just the Cold War paranoia of the era, but also the sweeping social and cultural changes that were rippling through the United Kingdom during the 1960s and all of that turmoil is deftly represented here.
As much as South of the Circle is an astute meditation on the social and economic change of the time, so too does it function extraordinarily well as a good-old fashioned romance. Amid its broader story of encroaching cold war paranoia and socio-economic shifts, South of the Circle succeeds greatly in crafting the sort of gently heart-tugging emotional narrative that we really need to see more of, as Peter and Clara engage in a gradually warming relationship that crosses both personal and professional boundaries with significant ramifications for each as their feelings for one another develop.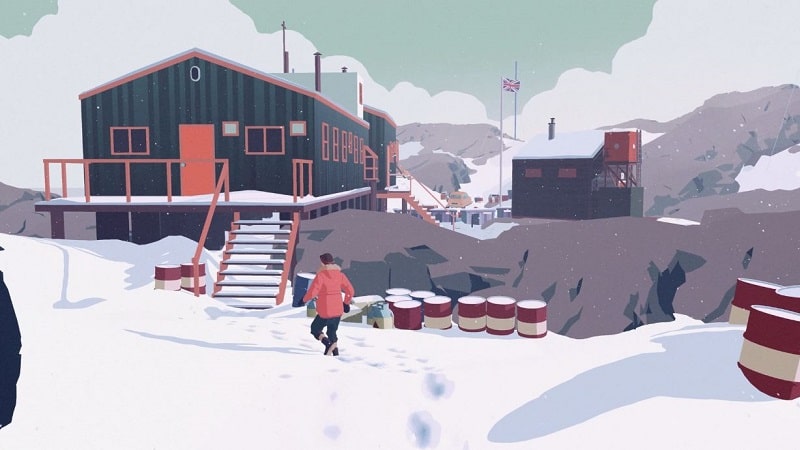 Of course, when you're dealing with such emotional topics as these, having a talented voice cast is essential to make it all seem solid and believable and South of the Circle doesn't disappoint here at all. More than ably anchored by a voice cast which boasts acting talent from Game of Thrones, Bohemian Rhapsody and The Crown to name just a few, South of the Circle's nuanced, heart-felt performances really help to underscore the tender and ultimately quite believable love story that gradually blossoms in front of our eyes.
Certainly, both Gwilym Lee and Olivia Vinall, who lend their voices to Peter and Clara respectively, do an especially great job in believably selling you on their relationship, building a resoundingly solid foundation for ensuring that you are one hundred percent invested in their fates. Where South of the Circle elevates itself however and finds some artistic commonality with Variable State's superb and visually minimalist adventure Virginia, is in how director Luke Whittaker has engineered the shift from one scene to the next.
Rather than blankly pushing you from one scene into the next, South of the Circle leverages some of that same impressive instant scene switching seen in the aforementioned Virginia, as Peter could be wading through the snow toward a building in one scene and just as he reaches the building, he's seamlessly thrown back into an office at Cambridge University from years past. It's an effective storytelling device that dovetails nicely with Peter's own psyche and how he recollects everything that has happened in his life.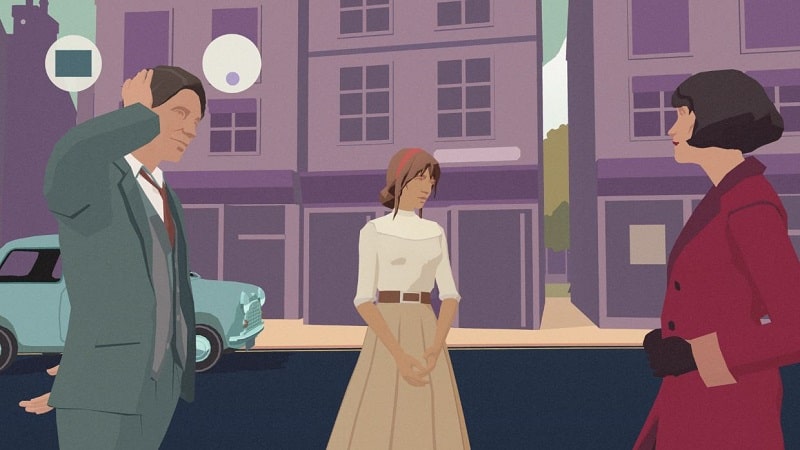 Bolstering this approach is the visual style that South of the Circle uses too. With flat-shaded character models and environments, South of the Circle deftly blends the old and new to create an eye-catchingly clean visual presentation that simultaneously captures the emotion of its virtual actors, while also lending a starkness to its look that serves to meaningfully separate it from other narrative adventures.
South of the Circle crafts an unassailably immersive atmosphere that helps to cement its status as a uniformly enjoyable story that just so happens to be a video game, albeit a short one. Sure, there are various decisions that you can make in the numerous conversations and encounters that Peter has, but ultimately, it's impossible to 'fail' at South of the Circle, since the game is locked in on its course to deliver an evocative story and absolutely does fulfils its mandate with verve and aplomb.
A beautifully paced and emotive narrative adventure with some standout vocal performances, what South of the Circle lacks in terms of substantive gaming meat it more than makes up with an intelligently curated, heart-tugging tale that remains long in the memory after you've put the controller down. Holding up a mirror to our own era of social, political and economic turmoil, South of the Circle provides the sort of expertly crafted and keenly felt warm emotional storytelling that we could all perhaps do with right now.
South of the Circle is out now on PS4 and PS5.
Review code kindly provided by PR.