Uncharted: Legacy of Thieves Collection PC review. Sony's highly welcome initiative to bring its back catalogue of first-party console exclusives to the PC platform continues to be a bright spot for gamers, not least because its insistence on crafting marquee, high production and story driven single-player experiences is something that PC gamers seemingly cannot get enough of and thus brings these titles to an entirely new audience. Uncharted: Legacy of Thieves Collection is the latest in a long line of these conversions and is perhaps most emblematic of this approach as it pairs together two of the most epic single-player action adventures ever seen on PlayStation platforms. PC owners are in for a treat to put it mildly.
Uncharted: Legacy Of Thieves Collection PC Review
---
Naughty Dog's Charismatic Action Adventure Twin Pack Is An Essential Treasure On PC
With a keen eye for epic action and an impressive mastery of sweeping scale that is tempered by some excellent voice acting and motion capture performances which underscore some truly heartfelt character development, it's no wonder that the Uncharted franchise has captured the hearts and minds of PlayStation gamers since the release of Uncharted: Drake's Fortune on PS3 all the way back in 2007. Some fifteen years later, the Uncharted: Legacy of Thieves Collection not only brings the action-packed escapades of Nathan Drake to PC for the first time, but it also assembles two of the best titles in Naughty Dog's legendary franchise, namely Uncharted 4: A Thief's End and series spin-off Uncharted: The Lost Legacy in a delectable twin-pack offering.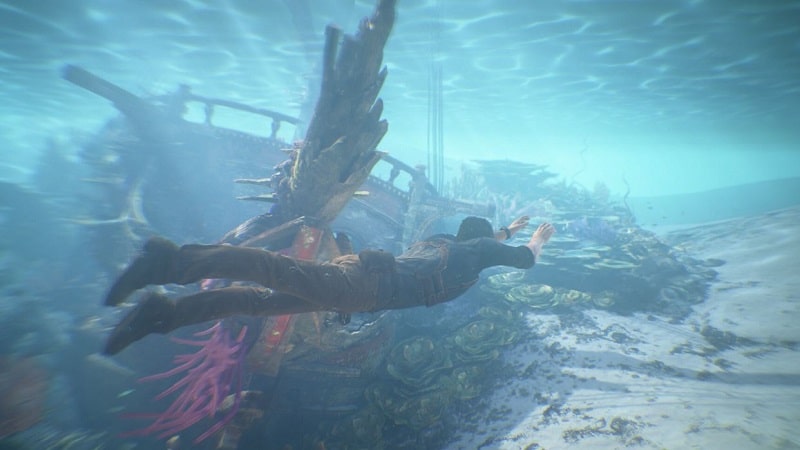 As third-person action adventures with immaculate production values that have players trotting around picturesque locations across the globe in search of long forgotten treasures, all the while partaking in wisecrack powered fist-fighting and gun-fighting with a massive range of goons, it's certainly easy to see why the Uncharted franchise has been so successful.
Arguably the zenith of the Uncharted series, Uncharted 4: A Thief's End represents one of Naughty Dog's most recognisable franchises operating at the peak of its powers. Essentially bookending the treasure hunting career of long-time protagonist Nathan Drake, ironically Uncharted 4: A Thief's End also makes for a better introduction to the franchise than the as-yet-released-on-PC first game in the series, Uncharted: Drake's Fortune.
This is in large part because Uncharted 4: A Thief's End provides us with a compelling origin story for Nathan Drake. It's one that not only fully fleshes out the childhood and also the subsequent life trajectory for the charismatic treasure hunter that he would later become, but also introduces Sam Drake, Nathan's wayward and distinctly roguish older sibling who looks to pull Nathan back into the score of a lifetime as they seek out a lost pirate city together.
Likewise, the sheer scope of Uncharted 4: A Thief's End remains unparalleled among its peers. From stealthily sneaking into an elite auction on the picturesque Italian coast, to diving into deep sea wrecks, taking part in a thunderous, gun-fire filled chase across Madagascar and trotting around the snow-capped Scottish Highlands, Uncharted 4: A Thief's End feels like a proper globetrotting Hollywood blockbuster with a sky-high budget that makes the Tomb Raider games feel like they were produced on a shoestring.
Thanks in no small part to the sheer fidelity and painstaking detail that has gone into realising these settings, exploring them is frankly bliss as you uncover secret treasures and breathe in everything that Naughty Dog's cadre of talented artists has wrought here. Combat too is similarly compelling, mixing up a cocktail of seamless third-person cover style shooting with brutal hand-to-hand combat that once more underscores the Hollywood action movie credentials that the Uncharted series has long since aspired to.
The second half of Uncharted: Legacy of Thieves Collection also acquits itself more than ably, with many folks (though not this humble scribbler) even elevating Uncharted: The Lost Legacy to the top spot when it comes to their favorite entry in the Uncharted franchise. Shifting the action away from long-time series protagonist Nathan Drake, Uncharted: The Lost Legacy puts frequent frenemy and fellow treasure hunter Chloe Frazier under the spotlight as she seeks out a legendary treasure in the mountains of India as she deals with a nihilistic warlord and his ambitions for a nation swallowing civil war.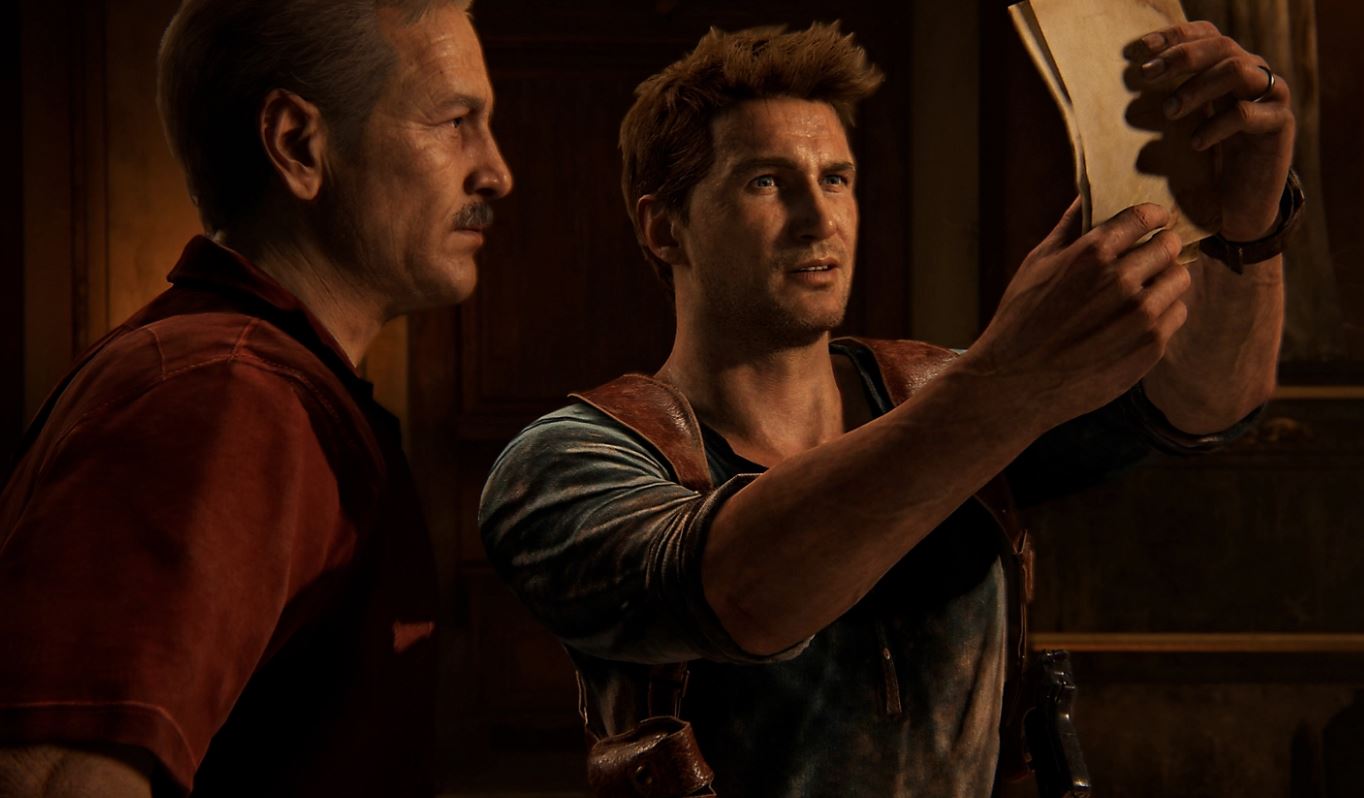 What really sets Uncharted: The Lost Legacy apart from Uncharted 4: A Thief's End, is how effectively it creates a Hollywood style buddy movie of sorts as it pairs up Chloe with series newcomer Nadine Ross, a hard-nosed, ruthless mercenary who finds herself doing a whole heap of soul-searching as she struggles with her place in the world. In practice, the two play off each either beautifully, with Chloe's whip smart silver tongue essentially providing the yin to Nadine's deadpan yang in such a way that it provides a warmly compelling heart to the entire endeavour.
And beyond all of the spectacle stuffed set-pieces and ridiculously high production values, this is arguably where the Uncharted series has been held in such high regard, simply because they let characters outside of the main protagonist really breathe and become warmly compelling because of that. From the silver-tongued roguishness of Nathan's long-time mentor Sully, to the warm humour and wide-eyed sensitivity of his companion Elena, the Uncharted games work because you fall in love with the characters and their plight – something which is no mean feat when you consider how easy it would be (and has been) to fashion thin, one-dimensional caricatures whose sole reason for existing is to force the action adventure juggernaut along, rather than defining the entire narrative.
Following in the technical footsteps of previous PlayStation Studios PC ports, Uncharted: Legacy of Thieves brings a veritable smorgasbord of additional technical features above and beyond what is available in the PS4 and PS5 versions of Uncharted 4: A Thief's End and Uncharted: The Lost Legacy.
Boasting razor sharp native 4K resolution at extremely high framerates along with the now seemingly standard Ultra-Wide monitor support, Uncharted: Legacy of Thieves Collection is a stunningly remastered pairing of two visually resplendent PS4 titles and that notion is only enhanced further by the more powerful that the PC platform can provide.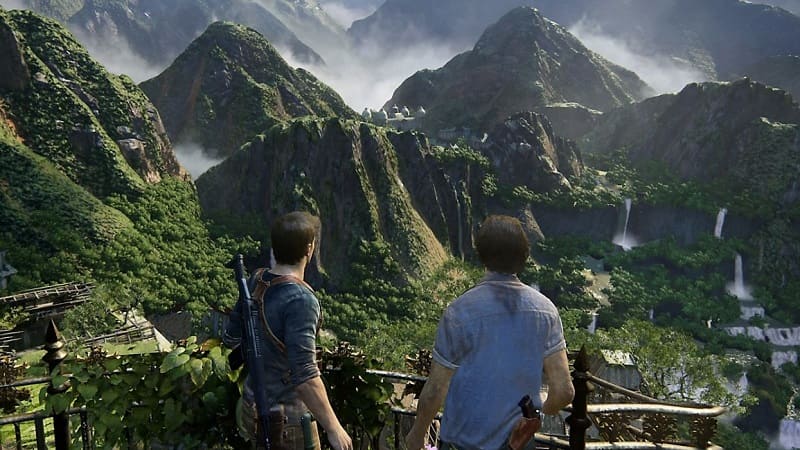 Of course the keyword there is 'can', since not everyone will be rocking the same super powerful PC rig that would be capable of running Uncharted: Legacy of Thieves Collection at maximum detail and framerates. Thankfully, Uncharted: Legacy of Thieves Collection on PC allows users to tailor the visuals extensively, with tweakable filtering, reflections, shadows, texture quality, model quality and much more besides. Though Uncharted: Legacy of Thieves Collection lacks the super high end rendering options of Marvel's Spider-Man Remastered such as a range of ray-tracing options, it also doesn't wield the same sort of CPU taxing massive open-world either, which means that PC gamers with more humble setups can still get a very playable experience from both titles in the Legacy of Thieves Collection.
On Steam Deck, the performance of Uncharted: Legacy of Thieves collection is something of a bittersweet prospect. Sure, this pairing of two of the best Uncharted games are both visually astounding titles with impressive performance, you can't help but wonder that if Sony did make a Vita handheld successor playing Uncharted: Legacy of Thieves on the move would have been seen as a primary selling point for such a hypothetical device. Indeed thanks to PlayStation Studios increasingly robust PC support, Valve has essentially in one way made the Steam Deck the sort of Vita successor we have all long clamoured for.
The Uncharted games have long been a standard bearer for thunderous action adventures that deftly embody the spirit of high budget Hollywood action movies, but manage to temper that with compelling characters and punchy third-person shooter gameplay that never fails to satisfy. Uncharted: Legacy of Thieves Collection on PC not only cements Sony's commitment to delivering some of the best single-player games money can buy on the platform in optimised form, but also brings the best of Naughty Dog's whip smart action adventure series to PC gamers for the first time. As true as it is for PlayStation gamers the world over – Uncharted: Legacy of Thieves Collection is utterly essential for PC gamers.
Uncharted: Legacy of Thieves Collection is out now on PS5 and releases for PC on October 19, 2022.
PC review code kindly provided by PR.