Given the sheer wealth of Warhammer titles that have been cranked out for both PlayStation 4 and PlayStation 5 platforms, you wouldn't be remiss for casting dispersions on what seems like just another strategy adaptation of Games Workshop's long-running tabletop game. Happily, I can report that while Warhammer Age of Sigmar: Realms of Ruin is indeed another tactical effort, it also happens to be the most polished and lively take on the Warhammer tabletop experience in a good while.
Warhammer Age of Sigmar: Realms of Ruin PS5 Review
---
A Streamlined Warhammer Fantasy RTS That Soars
Immediately what grabs you about Warhammer Age of Sigmar: Realms of Ruin is the level of polish that's on show here. Normally, levels of polish and the quality of visual presentation would almost be a sidebar to the meat and potatoes of the core experience, but for Warhammer Age of Sigmar: Realms of Ruin – an effort which aims and is wholly successful in replicating the spectacle of the tabletop experience – those degrees of polish and visual flair are arguably key to nailing the sights and sounds of its source material.
Take the Stormcast Eternals for example, the main good-guy protagonists of Age of Sigmar's cinematic story campaign. When these golden, celestial warriors sometimes quite literally storm into battle, you can hear the heft of their overbearing plate armour clunking around them as they plough into the enemy, with swords cutting down their foes, shields being bashed into faces and more besides. It has been quite some time since combat in an RTS has looked or felt quite this crunchingly physical and Age of Sigmar evokes its tabletop origins with verve.
Likewise, hearing Sigrun, the commander of the Stormcast Eternals, bellow out orders to her fellow soldiers as they charge through a line of snarling Orruk Kruleboyz is an evocative experience to say the least and when twinned with the visceral visuals, is one that really ties in with how I used to imagine in my mind the Warhammer tabletop battles playing out, even though back then I had to make do with their detailed figurines and cloth-set battlegrounds. Without a doubt, it's absolutely clear that Warhammer Age of Sigmar: Realms of Ruin has been created by folks who have a long tenured and deep love for the tabletop game from which this latest effort has been born.
Unlike Warhammer Age of Sigmar: Storm Ground which released back in 2021, Warhammer Age of Sigmar: Realms of Ruin is a real-time strategy effort that more deftly recalls earlier video game adaptations and this certainly lends a certain pace to its showcase of fantasy battles and nowhere is this better evidenced than in its single-player story campaign.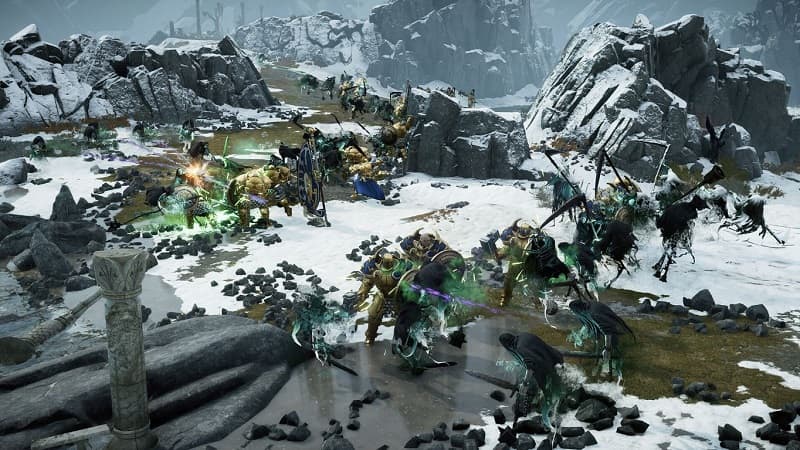 A series of missions that are strung together by some incredible looking, real-time cinematics together with a smattering of in-battle dialogue and events, I feel confident in saying that the single-player story campaign mode in Warhammer Age of Sigmar: Realms of Ruin is the most satisfying and bombastic campaign I've played in the Warhammer fantasy setting for quite some time.
Wonderfully, playing the story campaign evokes fond memories of the story campaign in Blizzard's classic RTS effort Warcraft 3, thanks in no small part to how it leverages a story scenario scribed by acclaimed Black Library author, Gavin Thorpe. Taking command of the gleaming celestial host known as the Stormcast Eternals, you must venture across Ghur, the Realm of Beasts, as you attempt to secure a powerful weapon which will secure the safety of Harkanibus, a settlement that has found itself under constant attack by the Orruk Kruleboyz.
Much more than some massive, faceless army, it's really the various heroes and their plight that really help to drive the campaign forward, resulting in some compelling voice performances and an engaging overarching story that provides the perfect backdrop onto which the furious fantasy battles of Warhammer Age of Sigmar: Realms of Ruin unfurl. It's certainly not an unforgettable story or anything like that, but the myriad cinematic flourishes that Frontier have implemented here, coupled with a consistently high level of polish, all add up to create a campaign that feels peerless when compared to other Warhammer fantasy titles.
From the beginning, Warhammer Age of Sigmar: Realms of Ruin wastes no time in thrusting a bunch of tutorials in your face and while long tenured armchair generals might well roll their eyes, the first mission nonetheless does a great job of explaining the mechanics and related elements that even genre newbies will find easy to understand. In short, the story campaign of Warhammer Age of Sigmar: Realms of Ruin really does represent a compelling entry point for newcomers to the RTS genre.
Once you're into the single-player story campaign, it soon becomes clear that Warhammer Age of Sigmar: Realms of Ruin RTS beats have been somewhat streamlined, which is to say that the focus lay more on the controlling different the armies in extended exploration and skirmishes, rather than having the player spend a bunch of time base building and gathering resources.
More pointedly, folks who have played RTS games on PlayStation 4 and PlayStation 5 before and who have found themselves burned by the poor implementation of the controls and UI will find little to worry about here. In addition to a surprising number of accessibility options (which include neat things like color vision deficiency settings and tinnitus filtering to name just two), Warhammer Age of Sigmar: Realms of Ruin also embeds other elements into its core RTS design to make it more appealing to newcomers.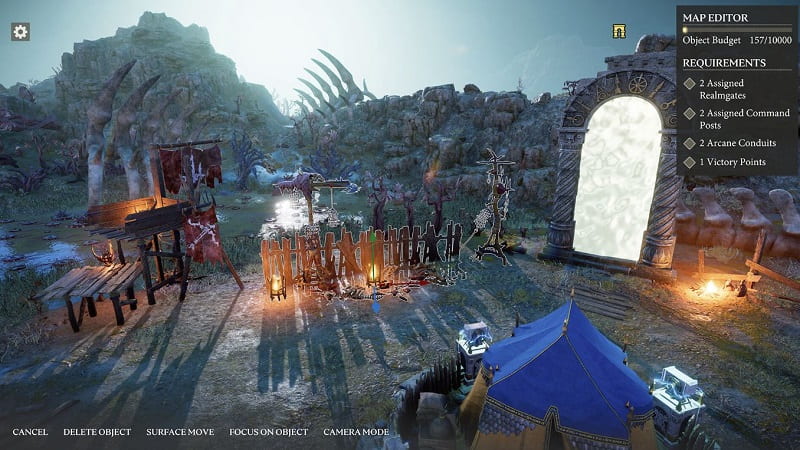 Chiefly, this is most immediately felt by the implementation of Age of Sigmar's seemingly proprietary DirectStep control system which allows you to swiftly cycle through your units and input a range of short-distance movements and battlefield commands all within the space of a second or two. Though it takes a little while to get used to, you'll soon be setting up flank-destroying charges, coordinating tactical retreats and rearranging your unit formations with ease. There's also a much more traditional mode of control on offer too for those that prefer it, allowing you to pick individual units or highlight larger squads and literally drag them around the map using a roving cursor. My only compliant about this – and it's a small one – is that I wish the radius of unit selection was bigger, since its predetermined size means it can be difficult to get as many units moving at once as you might like.
Nonetheless, success on the battlefield can only be achieved if you have an intimate understanding of the units under your command and within this Age of Sigmar has ample layers of sophistication and depth to offer up to budding armchair generals, with each unit type and hero boasting their very own selection of skills and special abilities that can be used to help tip the tide of the battle.
Though there's no real base building to be done in Age of Sigmar in the traditional sense, you can capture various structures that provide additional resources that correspond to the size of the force holding it and then use those resources to purchase new units from Command Posts that can be built at specific points, or upgrade existing units. Command Posts in particular prove especially useful, since you'll need them to not just gain a tactical foothold on the map, but they can also be used to heal nearby units and heroes too.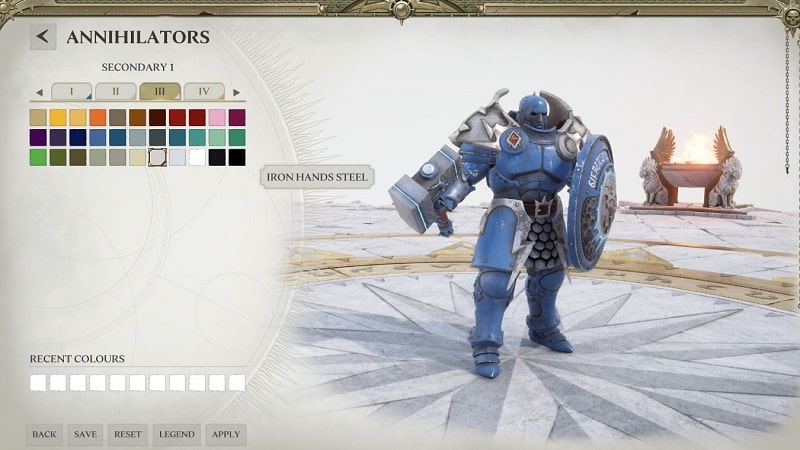 Perhaps the main problem with Warhammer Age of Sigmar: Realms of Ruin is that its streamlined battles and lack of any proper base building mechanics mean that strategy savants who want a broader scoped challenge will be left disappointed by the offering that is on display here. Another issue with the battles in Age of Sigmar is the way in which enemies can occasionally spawn behind you and attack your various Command Posts and structures, because these attacks force you to essentially go back and forth to try and stem the tide of unexpected foes.
Beyond the enticing trappings of its cinematic story campaign, Warhammer Age of Sigmar: Realms of Ruin also manages to keep solo players busy thanks to the Conquest mode which provides a range of skirmishes across a procedurally generated world. Where things get especially spicy however, is that these battles each come with unique buffs or debuffs that can either serve to stymie or bolster your chances at being victorious. In one battle for example, you might discover that you units have half their normal health, while in another, you could find that your vision across the map is doubled, allowing you to erode the fog of war that much quicker. Thanks to its repeatable nature and high degree of repeatability, conquest mode certainly got a good chunk of play after the campaign credits finished their show.
Away from the single-player side of things, Age of Sigmar also provides an adversarial cross-platform multiplayer mode where you can take on other players as one of the four different factions in a range of different skirmishes across 1v1 and 2v2 game types. It's not revolutionary stuff or anything, but it's still nice to be able to test your tactical mettle against other players all the same. Finally, Age of Sigmar also empowers players to not only tailor their army structure and livery, but so too does it have a surprisingly capable creation editor which will not only allow you to share your maps and dioramas with others, but also download the creations that others have made too. It's a nice bit of added value that helps to round out Warhammer Age of Sigmar: Realms of Ruin's overall offering rather nicely.
One of the best surprises of the year when it comes to the strategy genre, Warhammer Age of Sigmar: Realms of Ruin generously lavishes a glorious amount of detail on its presentation of the tabletop Age of Sigmar setting from which it derives. Though its more streamlined tactical beats might prove too simplistic for genre veterans looking for a broader dose of macro strategy, Warhammer Age of Sigmar: Realms of Ruin nonetheless provides a gorgeously framed and immediately compelling RTS offering that offers an irresistible on-ramp for newcomers into both the Warhammer property and the RTS genre as a whole.
Warhammer Age of Sigmar: Realms of Ruin is out now on PS5.
Review code kindly provided by PR.