An image taken of the Anthem microtransactions page in the last couple of days shows some crazing pricing. According to the screenshot below, which features in-game prices for various cosmetics, including the Guardian Armor and Dreadnought Armor packs, players could be forking out up to $20 for skins.
Of course, these are just cosmetic items, so you don't have to buy them with your Shards, nevertheless, the pricing strategy has got fans wound up. The image is definitely real, but the good news is that Bioware immediately waded into the Reddit thread where it appeared to clarify the situation.
Anthem $20 Skins Appear On Microtransaction Store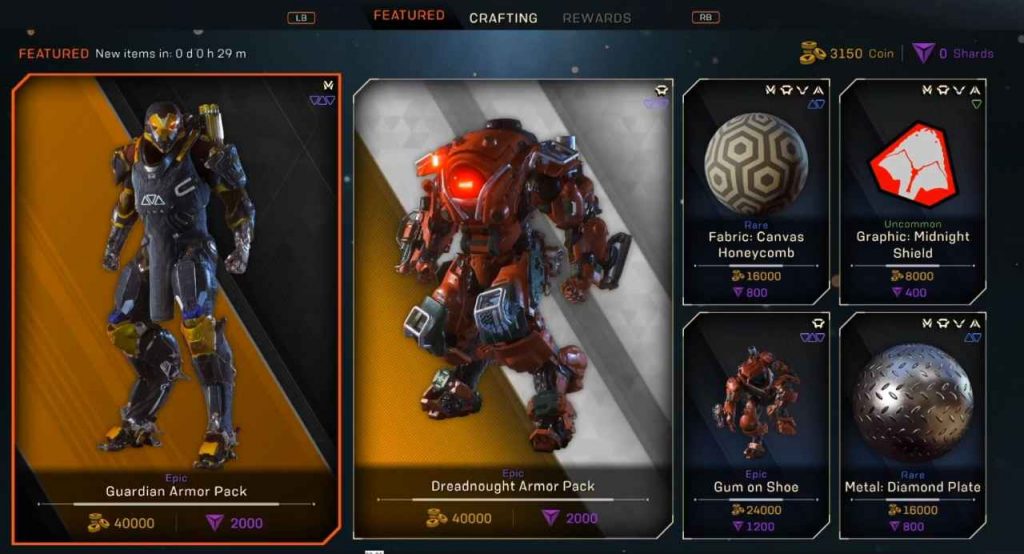 Responding directly to the screenshot above, Senior Systems Designer, Chris Schmidt, says that the pricing for Anthem skins and other items have not yet been finalised.
"One thing to keep in mind is these don't represent final, stamped for all of eternity pricing", he writes. "We are iterating on our economy design and balance almost daily, so you're seeing a snapshot of one iteration. This is why we tend to not discuss things like pricing, because it's one of those iterative things that's sure to change frequently right up until the day you play the game."
It's worth noting that all Anthem skins and other items in the microtransaction store can be earned by simply playing the game. But those who simply can't wait will be able to purchase currency and snap them up as soon as they wish.
Still, it's going to be very interesting to see how much Anthem Skins will cost at launch.
If you want to play the game ahead of its February 22 launch, there's an Anthem public demo taking place between February 1-3. And Bioware plans to make numerous fixes based on the issues in last weekend's VIP demo.
Despite struggling to get into the multiplayer action-RPG as frequently as we'd like, our first impressions of Anthem are positive.