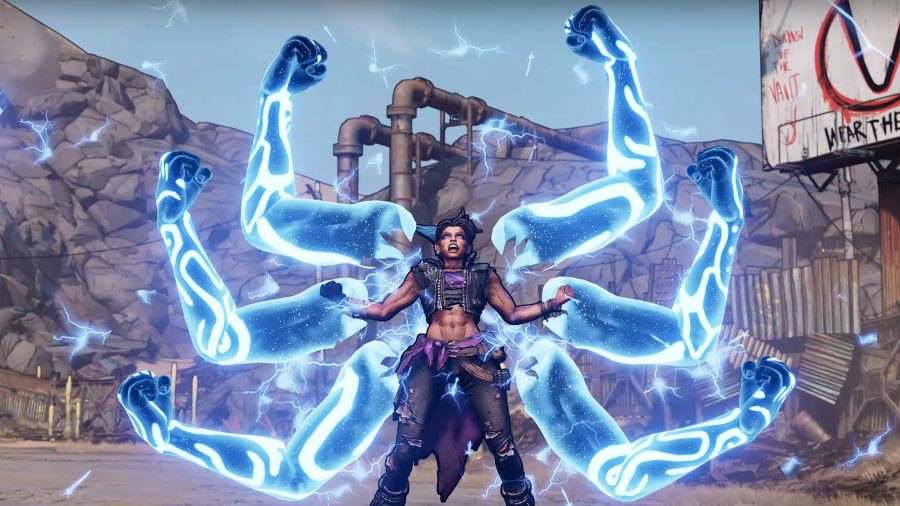 Borderlands 3 developer Gearbox has lifted the veil on the latest Vault Hunter to join the upcoming loot-flavoured shooter, with Amara the Siren fighting alongside the previously confirmed Zane and Moze. She's described as a 'leader, brawler, badass' and has been given the character profile treatment, so be sure to give it a look.
Borderlands 3 – Meet Amara The Siren
Check out Amara The Siren in the trailer below.
Amara has access to some nifty skills, including Brawl, Fist of the Elements, and Mystical Assault. She also has three action skills for players to select one they ascend to level three.
Borderlands 3 is heading to stores for PlayStation 4, PC, and Xbox One on September 13. Gearbox has revealed that we will receive info on its post-launch plans for the sequel at Gamescom and PAX West late this month.
Here's the full lowdown on the highly anticipated loot-shooter:
At the hard edge of the galaxy lies a group of planets ruthlessly exploited by militarized corporations. Brimming with loot and violence, this is your home—the Borderlands. Now, a crazed cult known as The Children of the Vault has emerged and is spreading like an interstellar plague. Play solo or co-op as one of four unique Vault Hunters, score loads of loot, and save the galaxy from this fanatical threat.
The Borderlands series launched back in 2009 with the much-loved original for PS3 and Xbox 360, and was recently remastered for current-generation consoles. Borderlands 2 followed in 2012, and has since been ported to the PS Vita and PS4, the latter as part of the Borderlands: The Handsome Collection, which also includes Borderlands: The Pre-Sequel.
The franchise has proved a massive success from both a critical and commercial front, shipping over 48 million units worldwide. Borderlands 2 alone has sold like hot cakes, moving over 22 million copies over the past seven years. Blimey!