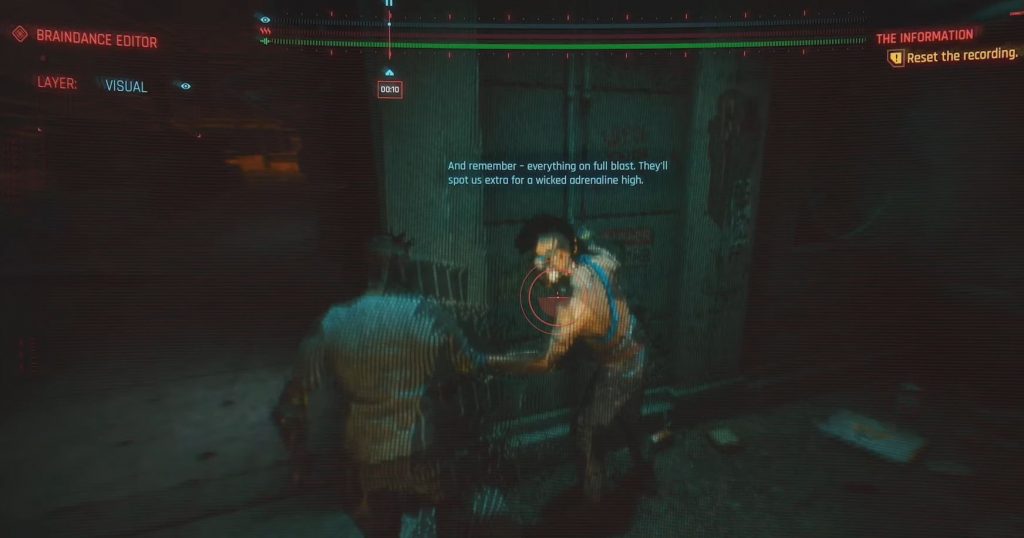 Cyberpunk 2077's Braindance feature has been detailed by CD Projekt Red in today's Night City Wire Live event.
Braindance is a feature that allows you to relive someone's experiences and memories thanks to a special device. You can rewind, fast-forward and replay moments to decipher what happened and discover secrets. In Analysis mode you can switch between layers, such as visual and audio to hone in on different sources and pick out things happening in the environment.
In the lore of the game, Braindance was developed back in the early 2000s and was originally used for prison rehabilitation and therapy. But, now it is a mass industry used for Entertainment and more. In the game, Braindance is a way to experience the lives of the individuals in Night City.
You can watch the demo for the mode below:
Cyberpunk 2077's Braindance feature was one of a number of things highlighted in today's Night City Wire livestream. You can catch up on everything from the show here. Cyberpunk 2077 just got delayed so that the team could focus on polishing the game and making sure it is ready for launch. It will also be playable on PS5 on day 1, with a larger upgrade and separate release for the game coming in 2021. PS4 players will get a free upgrade to the PS5 version when it launches. A bunch of free wallpapers and goodies for the game are currently available on GOG.
Cyberpunk 2077 releases for PS4 on November 19, 2020. The game is also set to come to PS5 next year.
Source – [GamersPrey]