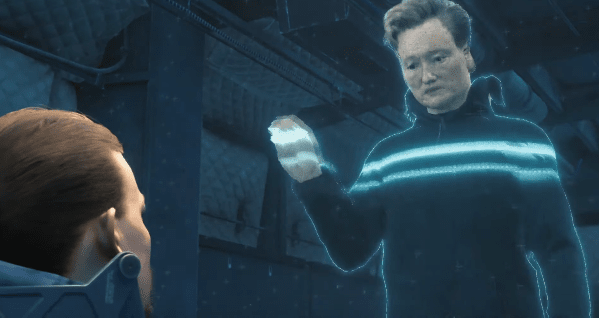 Hideo Kojima has revealed that Clueless Gamer himself Conan 'O Brien is making an appearance in the upcoming PlayStation 4-exclusive, Death Stranding. Much like Geoff Keighley, 'O Brien will be portraying a prepper in the game, and recently visited Kojima Productions' Tokyo headquarters to get scanned for his part.
Death Stranding Features Conan 'O Brien
O' Brien's character is known as The Wondering MC, and will give you the Sea Otter Suit. Here's the full Tweet from Kojima-san:
Conan O'Brien appears as a prepper "The Wondering MC" in DS. You get "Sea Otter Suit" when you get connected with him. With this suit, you'll be able to swim easily in the river, you won't be drifted away! BB would be happy as well.
Death Stranding is slated for release on PlayStation 4 on November 8, with Kojima confirming recently that the game had reached gold status. Furthermore, you won't need a subscription to PlayStation Plus to enjoy the Death Stranding multiplayer mode.
In related news, Kojima said that he'd like to work with Keanu Reeves at some point in the future, despite choosing Mads Mikkelsen over the John Wick star for a part in Death Stranding.
In addition, the Kojima Productions head has revealed that it's possible we may get a Death Stranding 2 in order to establish the Strand genre.
Check out the full synopsis on Death Stranding below if you're still not quite sure what it's all about:
In the near future, mysterious explosions have rocked the globe, setting off a series of supernatural events known as the Death Stranding. With otherworldly creatures plaguing the landscape, and mass extinction imminent, it's up to Sam Porter Bridges to travel across the ravaged wasteland and save humanity from impending annihilation.
Death Stranding is the first game that Kojima has worked on since his departure from Konami following completion of Metal Gear Solid 5: The Phantom Pain.