Quite the pleasant surprise when it released at the end of March, DOOM 3: VR Edition re-imagined the series' more survival horror focused effort as a VR experience with style to spare on PlayStation VR. So naturally, we loaded up our shotguns and sat down with Ken Thain, Executive Producer at developer Archiact to see how this stunning PSVR title came about.
PSU: How long has DOOM 3: VR Edition been in the works?
Ken Thain: Our relationship with the folks at Bethesda/id Software goes quite a ways back! Our first collaboration was with Arkane, on a DLC for Prey that featured a VR mode, so that set the tone for a great working relationship and proved we could create some great VR content together. When Bethesda/id Software were considering bringing DOOM 3 to VR, they gave us a call in early 2020, and the project just felt like a natural fit. Production officially started right around the time of the first COVID-19 lockdowns here in Canada, so it was our first all-remote production, and quite an adventure because of it!
PSU: DOOM 3's more atmospheric and survival horror-esque beats always made it an intriguing candidate for PSVR and VR tech in general. What made you guys pull the trigger (pun intended) and get the ball rolling with this release?
Ken Thain: It was clear that id Software felt they had a good candidate for a solid VR adaptation, so our role at Archiact was to look at the game through the lens of our experience in VR and determine how to make it the best it could be. We played through the game, looked at the original engine technology, played some mod versions of the game, anything we could to immerse ourselves (pun intended) in the project. Once we confirmed id's instincts that it was a great candidate for VR, we began the joint process of sharing art and prototypes, identifying which new features we wanted to bring in, and kicking off production proper.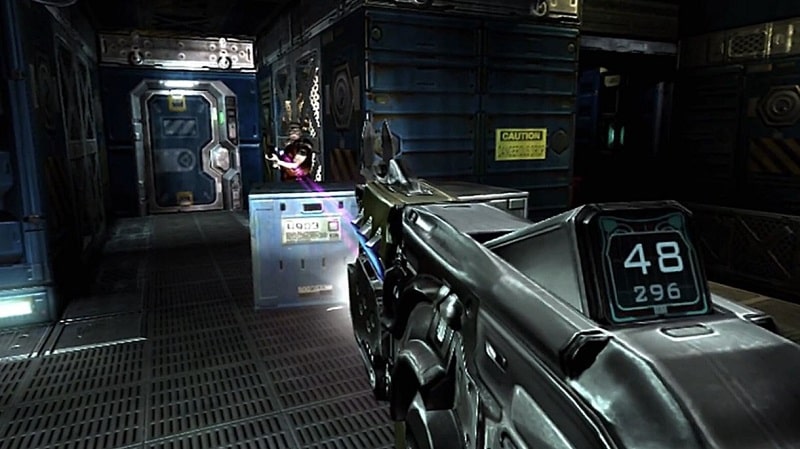 PSU: In the years prior to its announcement for PSVR, there was an early DOOM 3 VR prototype floating around for PC VR hardware. What lessons were learned from that prototype and how much of its design DNA (if any) have made it into DOOM 3: VR Edition?
Ken Thain: We pulled inspiration from many different sources in our early exploration. DOOM VR mods in general are great for getting a feel of what works and what perhaps needs a different approach, as well as what players really value, such as DOOM 3's dynamic lighting and shadows. We also took a close look at other ports and VR FPS games, including our own 2018 title, Evasion. We were definitely uniquely positioned to deliver on this project, since we had the experience of building a VR FPS from the ground up, plus experience with adapting fantastic games for PS VR.
Further Reading – PSVR 2 – Everything We Know About Next Generation PlayStation VR
PSU: Speaking of learning lessons, DOOM VFR was an early showcase for PSVR and one easily one of the better FPS games available for the PlayStation VR platform. What lessons were learned from the development of DOOM VFR as it pertains to PlayStation VR development?
Ken Thain: DOOM VFR was definitely something we were aware of and looked at, but at the end of the day we always viewed DOOM 3: VR Edition as being its own unique experience. That meant playing into the elements that set DOOM 3 apart from other DOOM games, such as its slower movement style, and the darker, more horror-driven atmosphere. That's what I love; the new ability to crouch or peek around corners! As we were developing that feature, we started to realise how much more strategic and dynamic the battles were feeling. It was very much about celebrating what was already awesome in the original, rather than trying to reinvent the wheel.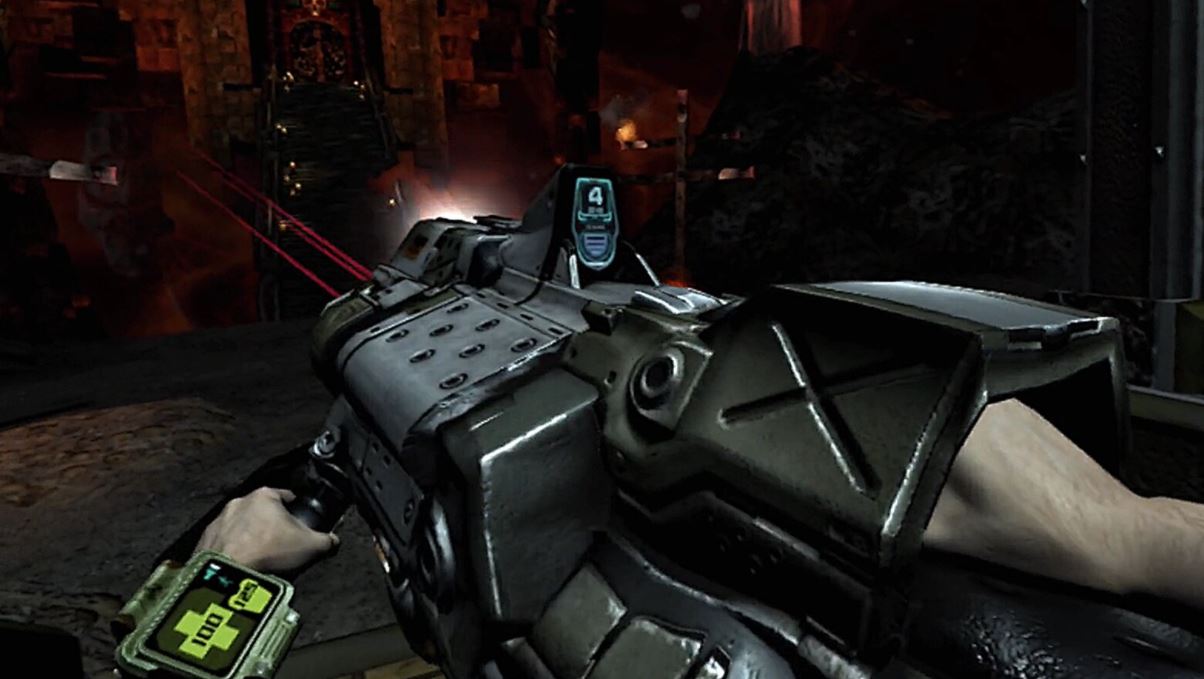 PSU: In DOOM VFR, players had the choice between using the motion controller and DualShock 4 controller for movement. In DOOM 3: VR Edition, are the same controller choices available and if so, what changes have you made (if any) to the control scheme?
Ken Thain: DOOM 3: VR Edition supports the PS4 DS controller and the AIM controller, which makes perfect sense for a game where the weapons are really the stars of the experience. In order to take full advantage of the Aim Controller, we tweaked the weapons to feel two-handed; even the Pistol is held with two hands, just to really push that feeling of immersion. As for locomotion control schemes, we kept that simple and sweet with smooth locomotion, but with lots of comfort options such as snap/smooth turn degrees, and one-button 180 turns.
PSU: DOOM 3 enjoyed a re-release on PlayStation 4 back in 2019. How closely does DOOM 3: VR Edition stick to the visual profile of that re-release and have any improvements or special optimisations been made?
Ken Thain: In working with id Software on DOOM 3: VR Edition, they were very clear that they wanted it to be a VR adaptation, not a port. We were on the same page, and id Software definitely supported us as we brought new VR-only features and enhancements to the table. We rebuilt the weapons pretty much from the ground up for VR, sweetened up the weapon sound effects, gave the VFX an overhaul, plus some more subtle under-the-hood, quality-of-life upgrades.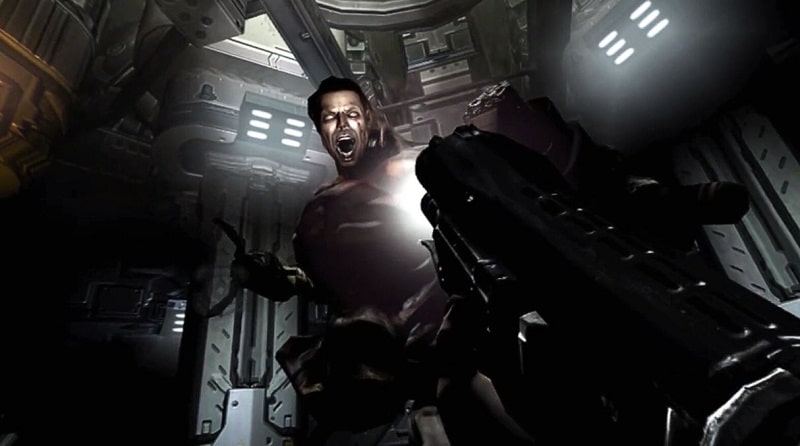 PSU: What additional features does DOOM 3:VR Edition boast over the original DOOM 3? We can see in the trailer for example, that the player can keep track of their health by looking at the handy status watch on their wrist. Are there any other cool features like this in the game?
Ken Thain: Yes, that was a huge priority for us. We removed the Heads Up Display (HUD) UI elements and placed them into the game's physical world, so immersion could be cranked without losing access to critical information like Armor and Health. These UI elements are now on the weapons, or on the new "watch," which has that info visible at all times. The term we like to use for this is "diegetic UI," and we really feel it's crucial for creating powerful, immersive VR user experiences. Other features are much more subtle but all contribute to an overall feeling of playing a premium DOOM experience in VR.
PSU: When running on either PlayStation 5 or PlayStation 4 Pro, can players expect improved visuals over the base console, and if so, what sorts of improvements would they be?
Ken Thain: Our focus was on getting the game running as smoothly as possible on the base PlayStation 4, so there were no specific improvements added to any other consoles. Thanks so much for chatting with us about DOOM 3: VR Edition!
Doom 3: VR Edition is out now on PSVR. You can read our review here.