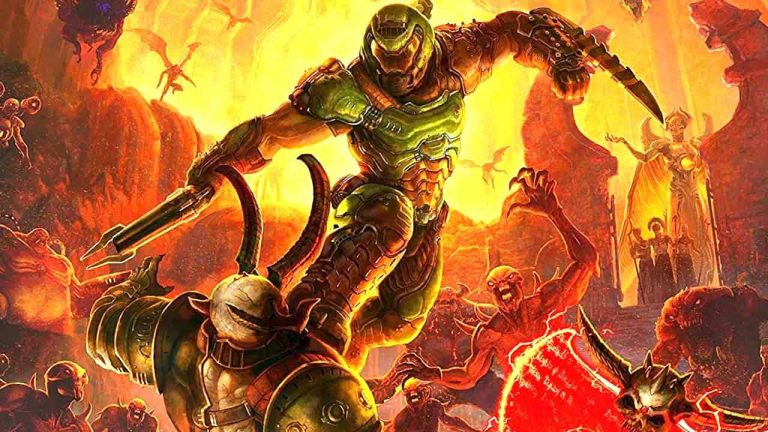 id Software's Marty Stratton has dropped off a few details on the DOOM Eternal game length, revealing the blood-drenched first-person shooter will take players at least 18 hours to blast through. That's even longer than the previous game, DOOM 2016, so it sounds like the team is packing in more demon-eviscerating action than ever.
DOOM Eternal Game Length
Chatting with QconForums, Stratton revealed that DOOM Eternal will take players in the region of 18-22 hours. Regardless, it definitely sounds like we're looking at a much bigger game than the previous instalment in the venerable FPS franchise.
I was surprised on DOOM 2016 when I saw some of the playthrough ranges. For somebody who was trying to get through it pretty quickly, it was kind of in the 12-to-13-hour range or all the way up to like, you know, people were taking 30, 32, 35 hours on it. It's a hard thing to gauge.
DOOM Eternal will be blasting its way into stores for PlayStation 4, PC, Nintendo Switch, and Xbox One on November 22. One of the new additions to the shooter sequel is the multiplayer-based Battlemode, which sees one player as the DOOM Slayer going up against two iconic demons.
Recently, the development team behind the highly anticipated title confirmed that its tech is scalable to next-generation systems, indicating the company is more than ready to embrace the PS5 and Xbox Scarlett.
Those of you who feel like splashing the cash on DOOM Eternal can do so with the Collector's Edition, which includes a bunch of bonus content including a Year One Pass steelbook case, and Lore Book.
id Software legend Tim Willits announced his departure from the studio after 24 years with the company just last month. He's since confirmed that he has taken up residence at Saber Interactive.
Stay tuned to PSU.com for more details.
Source: Escapist Magazine