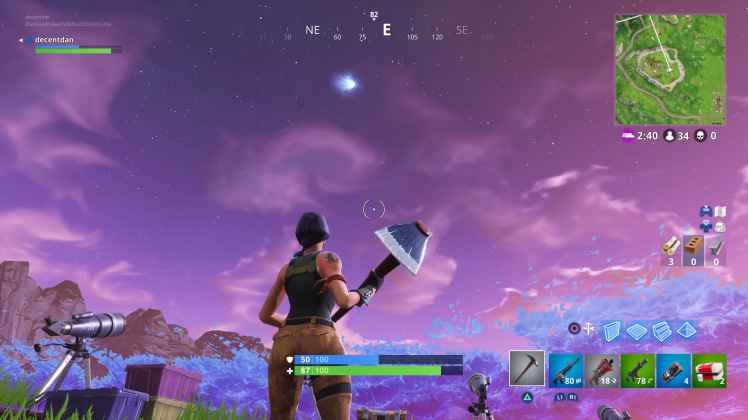 Check out the latest Fortnite Meteor Theory as a blue comet appears to be hurtling towards the Tilted Towers. Near the end of March, players spotted a meteor in the sky, and there's speculation that it may hit a certain area of the map.
The meteor in Fortnite may be heading towards the Tilted Towers, according to the latest theory. It's a pretty far-fetched idea from one player, but check this out:
One redditor thinks that vibration from his controller in the game can be translated into Morse Code. He believes that the code he has received translates to: SOS D 5 418. Now, D5 is a section of the map where you find the Tilted Towers, which has long been an area in the game where players have experienced many bugs.
He believes that the 418 could refer to today's date of April 4, 2018 (4/1/18). Well, today Fortnite has released a new update. Mysteriously it was a 10GB download which Epic Game says is unexpected. But was it? Is there something specular planned for Fortnite today and are we going to finally see an end to this Fortnite Meteor Theory and others?
You can view the meteor in Fortnite by checking up to the Northeast from the Loot Lake area of the map. The above theory could definitely be plausible as there were rumors that Tilted Towers was going to be replaced with an area called Captive Castle.
Whatever the case, all eyes are on the skies on Fortnite today!
Think you're good at Fortnite? Check out Ninjas, who is one of the world's best players. Think you can beat his win count?
Other Fortnite News