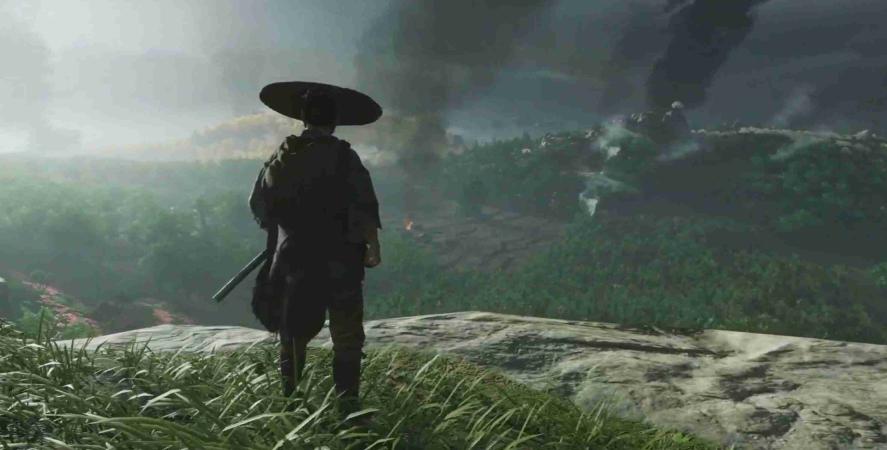 At Sony's somewhat overdue State of Play showcase we got an in-depth look at an extended gameplay demonstration of Sucker Punch Productions Ghost of Tsushima and more specifically, the exploration that Ghost of Tsushima facilitates.
Exploration in Ghost of Tsushima is facilitated through a unique mechanic called the 'Guiding Wind', whereupon a gust of wind will cross your path and the source of that wind will be a new location or point of interest for you to visit. Additionally, the Guiding Wind also acts as a compass of sorts too, allowing protagonist Jin to orient himself at a moment's notice and gain his bearings.
Related Content – Best PS4 Exclusives – Amazing Games That Everyone Should Play
The Guiding Wind also neatly compliments a range of other, more subtle visual cues too. A distant smoke stack might point towards a hidden camp, whereas certain animal calls may tip you off as to the location of a rare animal or some other creature. Likewise, birds and other creatures can lead you to secret areas where hidden treasures and much needed resources can be found, whereas a leaping fox can be followed to a nearby shrine where you can pray to increase your ability slots.
Ghost of Tsushima's exploration then is highly organic and built around a set of organic systems within the game world and, more importantly, a sense of wonder. This is looking stupendous folks.
The deep dive we just got is likely to be the last time we see a State of Play focusing around the PS4. After Sucker Punch release their title, we can expect Sony to go into full PS5 marketing mode for the rest of the Summer. Meanwhile, you can keep up to date with all the Ghost of Tsushima news right here.
Ghost of Tsushima releases for PS4 on July 17, 2020.