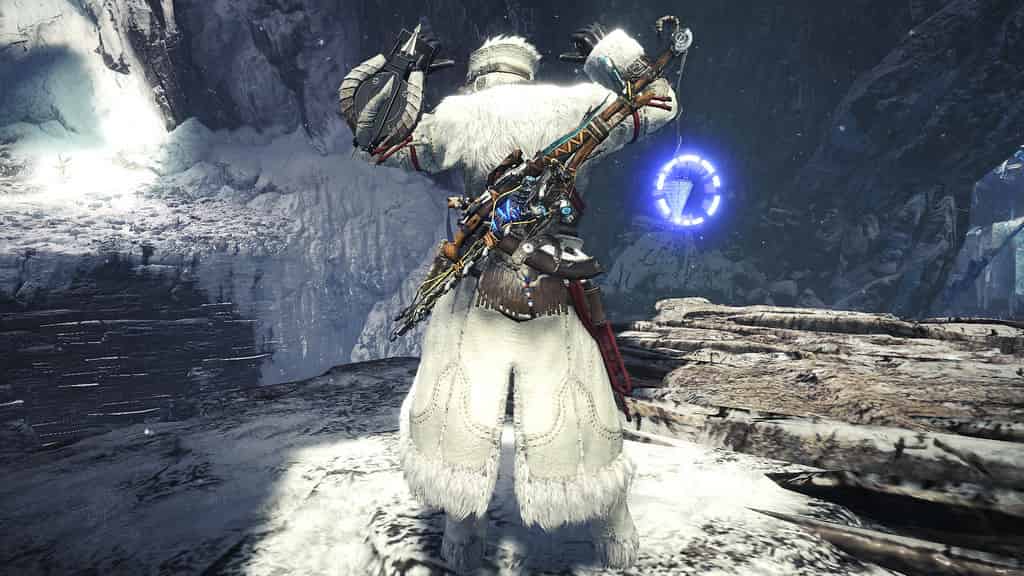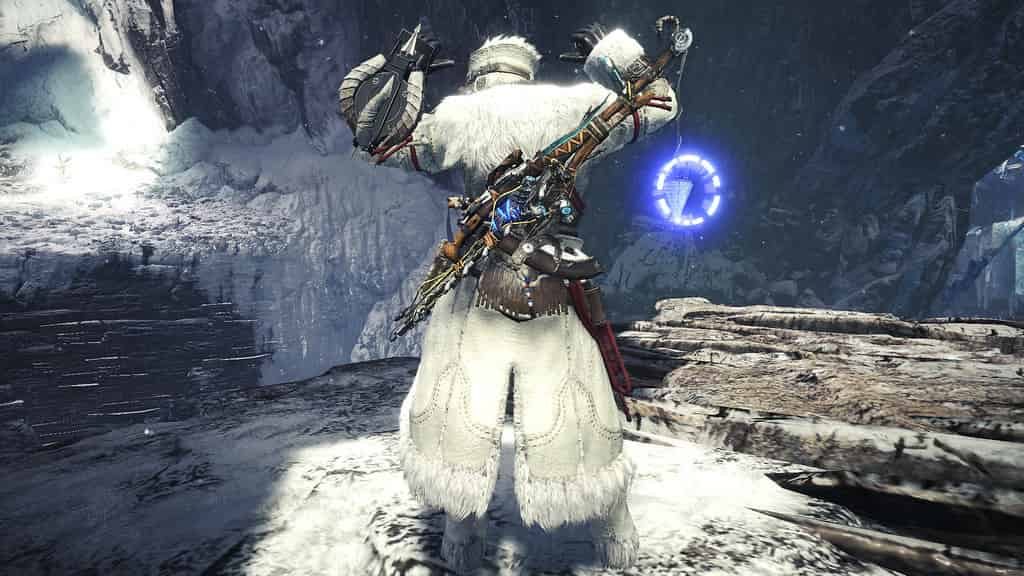 Capcom has announced that it has kicked off a multi-part Horizon Zero Dawn: The Frozen Wilds and Monster Hunter World: Iceborne crossover event for PlayStation 4 today. The first part of this event will allow players to craft the Light Bowgun – the Stormslinger Prototype, with armor sets and Palico gear following later.
Monster Hunter World: Iceborne x Horizon Zero Dawn: The Frozen Wilds Detailed
The weapon is based off the Improved Stormslinger from Horizon Zero Dawn: The Frozen Wilds, and includes its iconic Banuk tribe design, including the wooden base frame, light blue tones, feathers and improvised look.
Roy Postm, the art director for Horizon Zero Dawn: The Frozen Wilds, commented:
The Improved Stormslinger started out as an upgrade to the spear that the Banuk shaman Ourea wields in the Horizon Zero Dawn DLC expansion, The Frozen Wilds. For the design, we took the technical parts from that spear and arranged them on a ropecaster framework, which allowed us to plausibly extend its power capacity.

Using the concept of "the more power the better" as a guiding principle, we then strapped together additional capacitators and wired all the technological parts together.

Another important concept we wished to convey was the humans' limited understanding of technology; the weapon had to reflect this in look as well as in feel. For the look, we created a very chaotic layout by arranging the capacitators at different angles and snaking the wires all around and through the weapon.

For the feel, we wanted the Improved Stormslinger to behave temperamentally when using its charge-up mechanic. The ability to overcharge the weapon causes the capacitators to glow and spark, eventually resulting in blowback that can cause massive damage to its wielder.
The Horizon Zero Dawn: The Frozen Wilds crossover with Monster Hunter World: Iceborne is live now until January 10, 2020. Get more details on the PlayStation Blog here.