According to a now deleted tweet from Gearbox Software head honcho Randy Pitchford, it would appear that horror auteur Eli Roth is seemingly on tap to direct a live-action Borderlands movie at some point in time.
Luckily, the eagle-eyed folks over at Kotaku were able to snap a shot of the tweet prior to its removal which you can see below: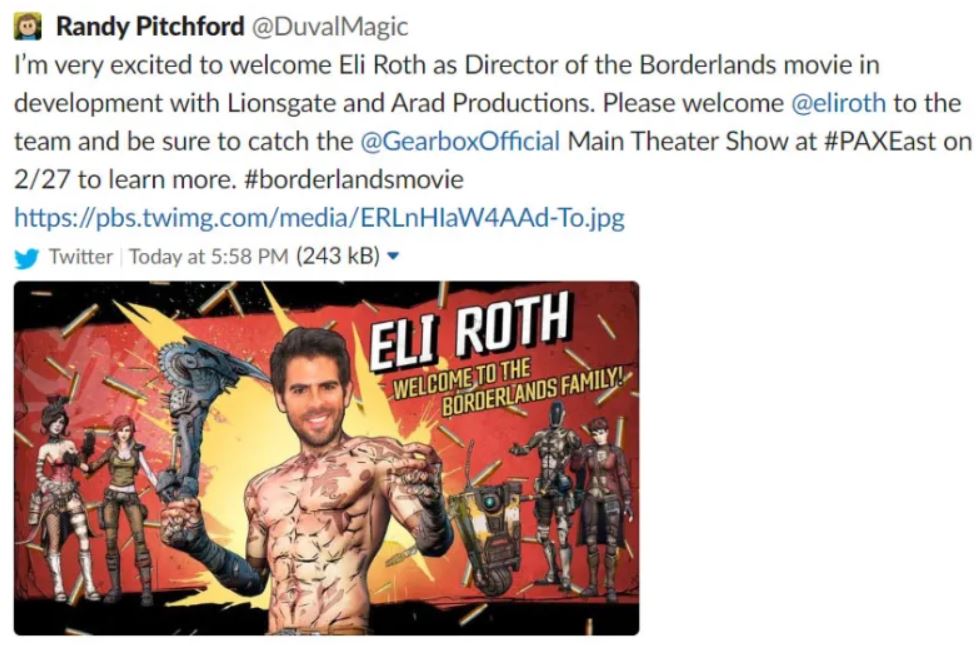 As Kotaku also speculates, presumably the tweet was nuked simply because it was accidentally (on purpose?) revealed ahead of time since it would appear that Lionsgate hold the rights to a silver screen adaptation of Gearbox's furiously popular loot shooter.
The movie, which was officially announced *all the way back* in 2015, has been in development hell for sometime, so the announcement (albeit somewhat haphazardly) that Roth will be stepping into the director's chair is hopefully indicative of an uptick in the fortunes of the Borderlands movie.
Related Content – Best PS4 FPS Games – Shooters That Excel
In related news, another movie based on a popular first-person shooter franchise has also seen a change in its fortunes (for the worse), as it was recently confirmed that the long in development Call of Duty movie has been put on hold while the studio tries to make the film happen.
Indeed, it's fair to say that big-screen movies based on video games have been somewhat hit and miss. Well, mostly miss. Obviously you can point to the likes of Super Mario Bros and both DOOM movies as being poor examples, but other efforts, such as Silent Hill, Detective Pikachu and most recently (and surprisingly), the Sonic the Hedgehog movie all show that it is possible to create a decent movie from video game source material.
Until we hear more on the Borderlands movie, what do you think? Would Eli Roth make a good director for a live-action adaptation of Borderlands? Sound off in the comments below!
Source: Randy Pitchford via Kotaku