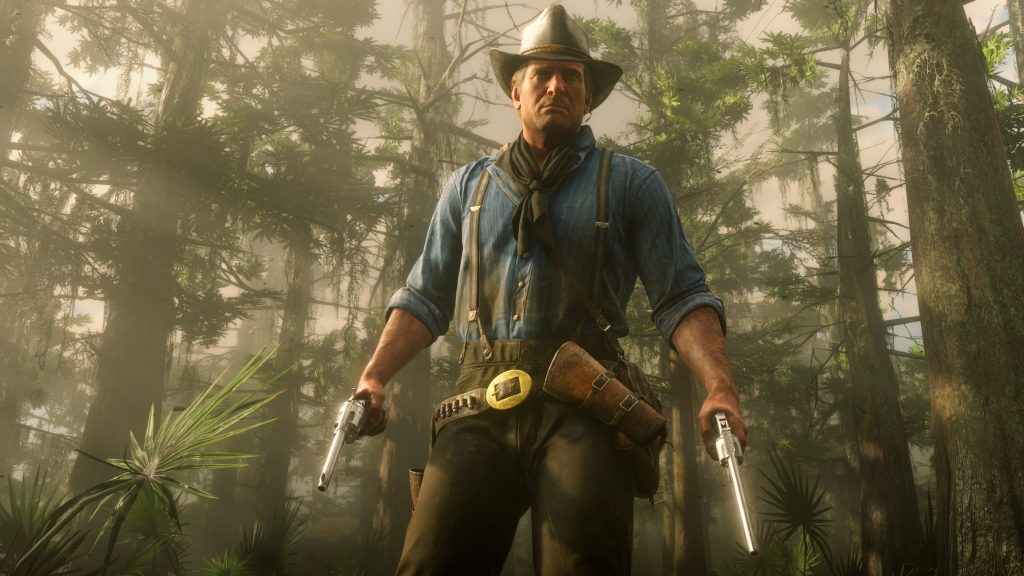 One of the Stranger Missions in Red Dead Redemption 2 that you can tackle is The Noblest of Man and a Woman. This side quest takes place in the Valentine region.
In this guide, we'll show you how to complete The Noblest of Man, and a Woman mission. First up, you can pick up the mission from the saloon in Valentine.
You'll meet up with Theodore Levin, a writer who is penning a book about a tough cowboy called Jim Boy Calloway. In order to get more information for the biography, he asks you to see out other outlaws who may have more details about him.
You get given images of the four outlaws and a camera. Now it's time to track them down! First up, make sure you take a good look at the photos as this will flag up their location on the map.
Here's how to kill the four outlaws.
Emmet Granger
You'll find Emmet on his pig farm. He asks you to help him on the farm by using a shovel to tidy up the pig shit. Though he says he'll give you information, he doesn't. After a funny seen where pig shit goes everywhere, you'll have to duel against him. Remember your camera? Take a photo!
Billy Midnight
Head to Rhodes Train Station and speak to the clerk. Stand on the platfom and hop on the next train that pulls up. Head down the train to the end wagon. He's not interested in speaking either. You'll need to head up after him onto the train roof.
Kill him in the duel and make sure you take a photo.
Flaco Hernadez
Check your map and head to Cairn Lake and you'll come across a bunch of Hernadez's men guarding him by a hut. Kill the men and you'll face another duel. Don't forget to take a photo when done.
Black Belle Location
This is the toughest of the challenges! You'll find Black Belle North of Saint Denis. She's expecting your arrival and there's a lot of enemies to kill. Take them all down and you'll be able to take a photo of bell.
How To Complete The Noblest of Man and a Woman
The mission isn't over. However, you cannot continue until you've reached Chapter 4 and finished the mission called: "A Fine Night Of Debauchery". Complete this and go back to the saloon in Valentine.
You'll now be on the hunt for Slim Grant. Head to Annesburg and check out the Sheriff's office. You'll now need to head to the North West of Annesburg to the Outlaw camp to find him guarded by some gunslingers.
Get him on your horse and head to the next point marked on the map. Calloway will kill him, but now you end up in a fight with him! Kill him and you're done!
Check out more Red Dead Redemption 2 guides below.