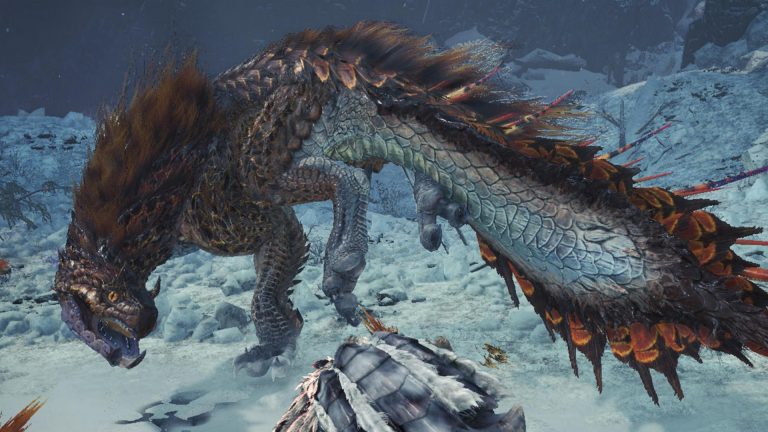 Capcom has released a new story-centric trailer for Monster Hunter World: Iceborne, the first and only major expansion for its critically acclaimed beast-hunting opus. Aside from setting the scene for Iceborne's narrative, we're also given a look at a ruck with the brand new elder dragon, Velkhana. Be sure to tune in to all our Gamescom 2019 coverage here.
Monster Hunter World: Iceborne Story Trailer
Check out the trailer below.
Monster Hunter World: Iceborne is due for release in September for PlayStation 4 and Xbox One. While this is the only expansion for the game, Capcom has revealed that players will still receive free updates for Monster Hunter World as part of the DLC.
Iceborne will receive its own Platinum Trophy and Capcom has promised that fans can expect a tougher endgame experience.
In addition to Velkhana, Monster Hunter World: Iceborne will also introduce Brachydios, a marine-blue wyvern that attacks using explosive attacks, as well as Barioth, a snow-white wyvern with that packs a punch with its huge tusks. In addition, players will also encounter a new HQ in the Hoarfrost Reach, which includes an array of useful facilities and features.
Monster Hunter World hit stores back in January 2018 for the PS4 and Xbox One, and broke records as Capcom's best-selling individual title to date, surpassing Resident Evil 5 in the process. Well, that is, if you don't count the numerous ports of Resi 5 there have been, as it would otherwise still rank at the top of the pile.
Capcom recently celebrated Monster Hunter World eclipsing the 13 million shipments milestone, and said that its RE Engine is fully equipped for the arrival of next-generation consoles, the PS5and Xbox Scarlett.
Read our review of Monster Hunter World here.
In related news, Sony Pictures is working on a movie adaptation of Monster Hunter, which is being directed by Mortal Kombat and Resident Evil helmer, Paul W.S. Anderson.