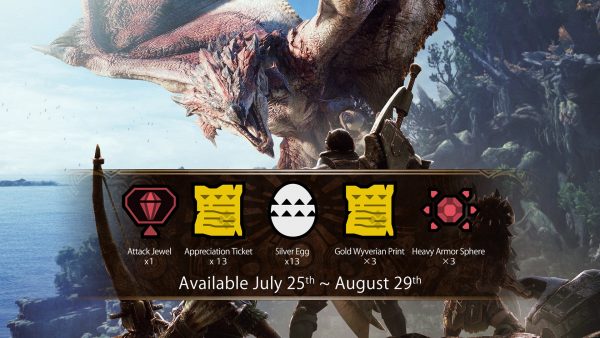 Capcom has announced that Monster Hunter World has shipped 13 million units worldwide, and to celebrate the milestone, is giving away a free item pack to all players. The pack will be waiting as a Daily Login Bonus between July 25 and August 29, so you've got over a month to claim the freebie.
Monster Hunter World Celebrates New Milestone With Free Gift For Fans
The free item pack will include the following: Attack Jewel, 13 Appreciation Tickets, 13 Silver Eggs, three Gold Wyverian Prints, and three Heavy Armor Spheres.
Monster Hunter World was released for PlayStation 4, PC, and Xbox One back in January 2018, and quickly established itself as Capcom's best-selling game of all time. That's a massive achievement, considering the previous game to hold that crown was Resident Evil 5. Still, if you combine all the versions of Resi 5, then it is still technically Capcom's no.1 game.
Capcom is releasing a major expansion for Monster Hunter World this September, Iceborne, which adds a wealth of new content including a brand new location to explore. The developer has also said that players can expect a more difficult endgame thanks to feedback from fans.
Iceborne will be the only expansion for Monster Hunter World, so make the most of it.
The Monster Hunter franchise has sold over 54 million units worldwide, making it Capcom's second best-selling video game franchise behind Resident Evil. The series first launched back in 2004 for the PlayStation 2, and while initially mostly successful in Japan, has gradually become more popular in western markets.
Director Paul W.S. Anderson is bringing Monster Hunter to the big screen in September 2020, with the film starring Milla Jovovich (who also featured in the Resident Evil movies, many of which were helmed by Anderson), Ron Perlman, and Tony Jaa.
Capcom has said that its RE Engine is equipped for PS5 and Xbox Scarlett, so one can assume it will eventually churn out a new Monster Hunter game for new systems.