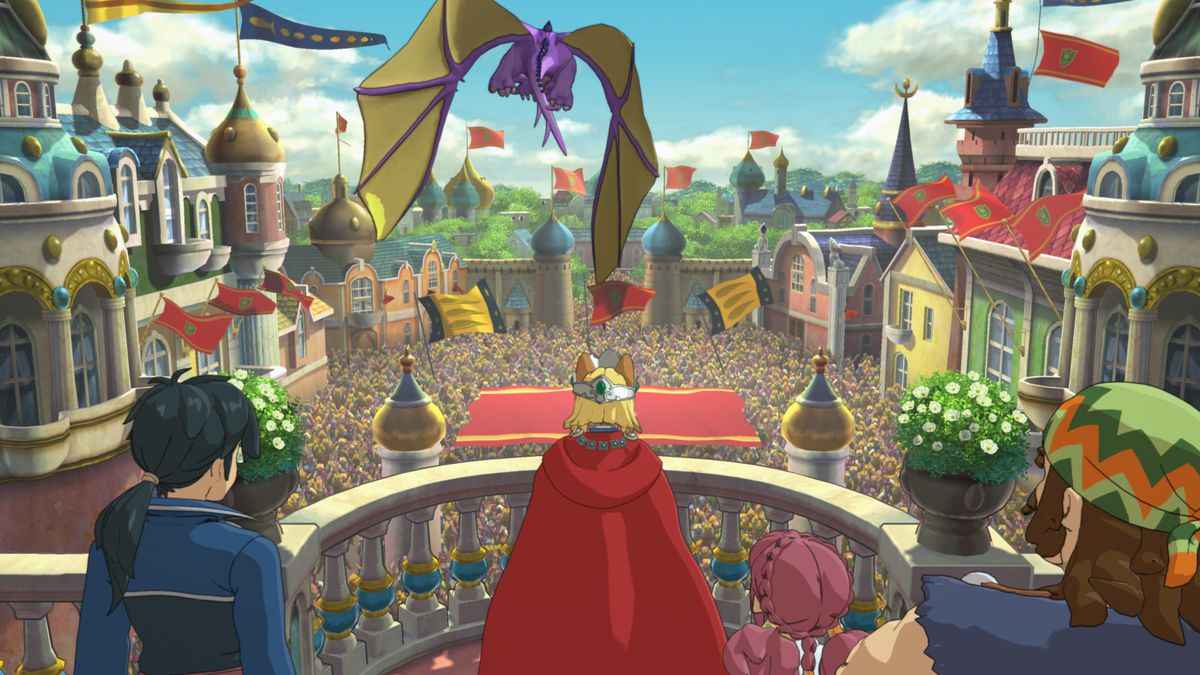 Discovered in chests, picked up as rewards for side-quests and dotted around the wonderful world of Evermore, you'll discover many Ni no Kuni 2 Songbook locations. As one of the collectibles in the Revenant Kingdom, you'll unlock the Music Buff trophy if you find them all!
You can start hunting for Songbook pages from the start, but to use them you'll have to complete a few tasks. First, you need to have built your Kingdom to level 2. You can do this by earning Kingguilders to create buildings and recruiting more citizens.
At level 2 in Ni no Kuni 2, you'll be able to build the Symphonium, a place where your songbooks have a real purpose. Next up, you'll need to complete the 'A Career Cut Short' side quest. This allows you to recruit Nereus.
You can then assign Nereus to the Symphonium. Now head to that building and you can play each of the songbooks for some delightful new tunes!
Ni no Kuni 2 Songbook Locations
To find all the locations of the Ni no Kuni 2 songbooks, follow this guide:
Songbook Page 1: Complete side quest 48
Songbook Page 2: Complete side quest 161
Songbook Page 3: Head to Nogo Plateau and unlock the blue treasure chest
Songbook Page 4: Head to Starboard Isle via boat or zeppelin and unlock the treasure chest.
Songbook Page 5: Go to Upheer Plain via zeppelin and find the treasure chest.
Songbook Page 6: Complete side quest 170
Songbook Page 7: Complete side quest 34
Songbook Page 8: Complete side quest 62
Songbook Page 9: Complete side quest 92
Songbook Page 10: Complete side quest 152
Songbook Page 11: Complete side quest 129
Songbook Page 12: Go to Ding Dong Dell and check the well near the front entrance for the chest.
Songbook Page 13: Search the chest in Cloudcoil Canyon
Songbook Page 14: Head to Hard Woods in the Forest of Niall and open the chest.
Songbook Page 15: Go to the Abyss (3,000 Fathoms Deep) and unlock the treasure chest.
Songbook Page 16: Find the chest location in Broadleaf in Dynafloor No.3
Songbook Page 17: Complete side quest 168
Songbook Page 18: Head North East to Ruby Ruins and case the lockpicking spell to open the blue chest.
Songbook Page 19: Discover the chest at Snaketooth Ridge
Songbook Page. 20: Defeat Skyrch – Tainted Monster 27
Songbook Page 21: Defeat Swellhorn – Tainted Monster 30
Songbook Page 22: Defeat Starless Knight – Tainted Monster 48
Songbook Page 23: Defeat Ziggy – Tainted Monster 49
Songbook Page 24: Make sure you've got some Kingguilders handy to buy this one in side quest 106.
Songbook Page 25: Complete side quest 144
Songbook Page 26: Complete side quest 164
Songbook Page 27: Complete side quest 60
Songbook Page 28: Complete side quest 155
Songbook Page 29: Reward for completing Side Quest 066
Songbook Page 30: Reward for completing Side Quest 087
Songbook Page 31: Reward for completing Side Quest 022
If this Ni no Kuni 2 Songbook locations guide, helped you, check out some of our other tips!
Related Ni no Kuni 2 Guides
Check out the Ni no Kuni 2 guide hub for more, or click on the links below.