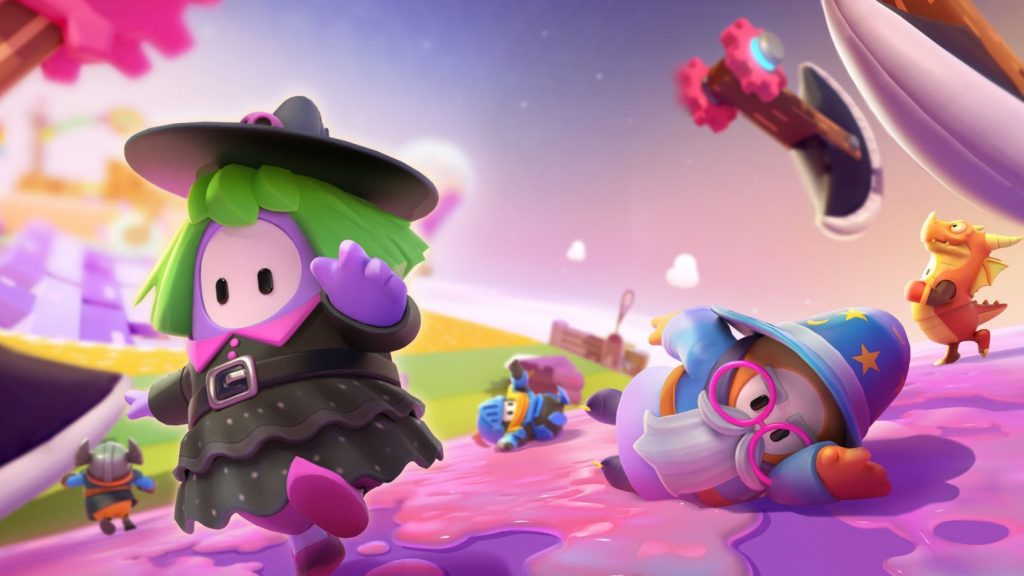 It's a brand new week and we have a ton of PS4 games coming soon between October 5 and October 11. Highlights this week include Fall Guys Season 2, Ride 4, FIFA 21, and The Survivalists.
New PS4 Games Coming Soon: October 5 – October 11
---
9th Dawn III: Shadow Of Erthil (October 6)
Shadow of Erthil is the third instalment in developer Valorware's 9th Dawn series. This RPG features a massive 2D open world with plenty of dangerous dungeons to explore. You can fight over 270 unique monsters, and customize your equipment from the 300 weapons and 550 armor pieces in the game. Furthermore, you can unlock spells, go fishing, cook food, and collect rare power-ups.
Nickelodeon Kart Racers 2: Grand Prix (October 6)
Nickelodeon's most beloved characters come together in this sequel to the current-gen kart racer. With 30 playable racers, 70 other Nickelodeon characters to form a Pit Crew with, and 28 new and reimagined tracks, there is a lot for fans to get stuck into.
Fall Guys Season 2 (October 8)
Fall Guys Season 2 kicks off on October 8, spotlighting new medieval-themed challenges and costumes. New costumes include a knight's armor, a dragon, a wizard, and a Viking, among many more. New rounds will feature drawbridges, swinging axes, and other props inspired by the middle ages. The way you can earn crowns will also be changing slightly in Season 2, with the team stating they will be increasing crowns by 600%. New customisation options will also be added this season.
Ikenfell (October 8)
A turn-based tactical RPG about a group of magic students seeking to uncover the dark secrets of their school. Overall, Ikenfell features 48 unique spells, 100+ enemy types, and 22 bosses. You can choose from six students, each with their own unique powers and strengths.

Ride 4 (October 8)
Ride 4 is the latest entry in the motorcycle enthusiast series, featuring hundreds of new licensed bikes, dozens of tracks and a whole new level of realism. The game spotlights a fully dynamic weather conditions system and a complete day/night cycle. In addition, Ride 4 utilizes a new system called A.N.N.A. (Artificial Neural Network Agent). This neural AI system allows for faster, smarter, and more accurate computer riders.
The Watchmaker (October 8)
The Watchmaker is a steampunk puzzle-adventure game, made up of five amazing worlds. The game features special powers, such as the ability to turn back time. In addition, you can use a magnetic glove to transport objects in the air. You will explore intricate levels filled with mechanical enemies, colossal bosses and complex puzzles.
Ben 10: Power Trip (October 9)
Ben 10: Power Trip is an adventure game in which you explore a 3D world filled with combat, puzzles and secrets. Use your skills to help out the townspeople you meet, and collect power-ups to upgrade your aliens. Traverse the cities, forests and mountains of Europe both in singe-player and online/split-screen co-op.
FIFA 21 (October 9)
FIFA is making it's annual return, with 17,000+ players, over 700 teams in 90+ stadiums, and more than 30 leagues from all over the globe. Play in a variety of game modes including Volta Football, FIFA Ultimate Team, Career Mode, and House Rules.
The Survivalists (October 9)

Explore, build, and craft in this sandbox adventure game where you and other shipwrecked mates will make a procedurally generated island your new home. You can hunt animals, obtain quests, discover loot, trade, and more. Need an army of builders, lumberjacks, or soldiers? Tame monkeys to do your bidding with The Survivalists Mimic System. There is also a robust crafting tree for learning food recipes, building structures, and piecing together tools and items. Furthermore, you can play by yourself or with up to four-players in survival co-op. The game is set in the same universe as The Escapists, so if you're familiar with its gameplay, you'll be able to jump right in.
So, that is it for this week's releases. Which game or games are you most looking forward to playing this next weekend? Let us know.