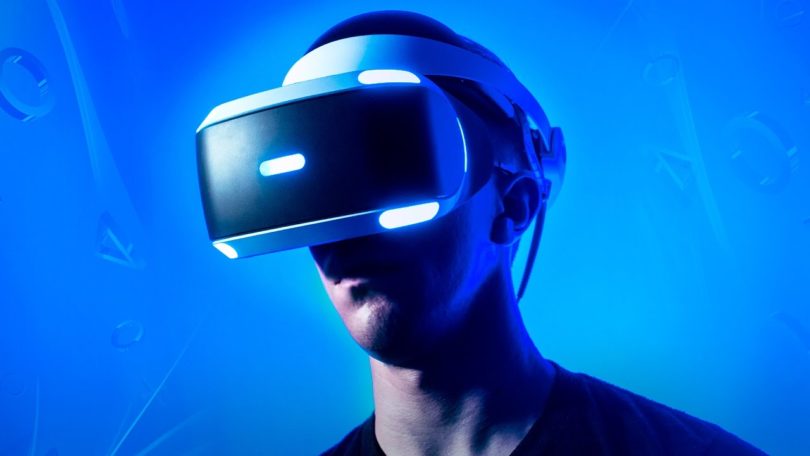 Sony has added more credence to rumours about development of PSVR2, with the discovery of a new patent filing describing a VR device featuring a see-through display. According to the patent filing, the device accommodates an opaque mode and transparent mode, and is 'configured for rendering media content.'
PSVR2 Headset Rumours Gather Pace
The full patent description can be read below, and it's pretty interesting stuff.
Systems and method for providing a see-through screen in a head-mounted display (HMD) includes a display screen having a front side and a back side. The display screen is configured for rendering media content. First optics is provided adjacent to the front side of the display screen and configured to provide a focus for viewing the media content.

A shutter screen is provided adjacent to the backside of the display screen and is switchable between an opaque mode and a transparent mode. Second optics is provided behind the shutter screen such that the shutter screen is between the display screen and the second optics. The second optics provides an adjustment to the focus to allow clear view through the first optics, the display screen, the shutter screen and the second optics, when the transparent mode is activated on the shutter screen.
Sony has previously said that it has nothing to reveal about a potential PSVR2, although it has confirmed that the existing headset will be compatible with the upcoming PlayStation 5 console. However, it is widely believed that the console maker is chiselling away on a true success to its virtual reality gaming headset.
This latest patent filing is but one of many we've seen over the past few months. Earlier this year, Sony teamed up with Immersion Corp to utilise the company's haptic feedback for game controllers and VR devices, suggesting this could be a feature in the next iteration of the PSVR.
The PS5 is slated to arrive in holiday 2020, according to a recent report.
Source: JOC