Yakuza 7 was officially announced for PS4 today during a previously scheduled press conference at UDX Theater in Akihabara, Tokyo. It was a massive reveal event too with details about the release window, new characters, new story and all-new gameplay systems being announced for the latest game in the series.
Of perhaps all the new details revealed for Yakuza 7, the most surprising of them all is the revelation that the game will eschew the real-time combat that has been a staple of the series since 2005. Instead, Yakuza 7 will boast turn-based battles much more inline with those you'd normally see in a 'regular' JRPG.
Yakuza 7 To Have Turn Based Battles
At present, details are fairly light on the specific machinations of how these turn-based battles will exactly work. However, it looks like that all the typical JRPG bases in this regard are covered, with players able to enact attack, defense, healing and supporting strategies.
The official blurb on Yakuza 7's turn-based combat can be seen below:
Yakuza 7 uses a "live command RPG battle" system that combines the series' signature action with an RPG command system. It has evolved into a system in which anyone can easily enjoy exhilarating battles. In this completely new battle system, Ichiban Kasuga and his party will fight by selecting techniques with various effects such as attack, recovery, support, and more. Enjoy immersive and dynamic battles against all sorts of enemies.
Obviously the shift to a turn-based system will upset some of the Yakuza faithful, but after countless games that all boast incremental variations of the same combat system, surely we're due for a change?
Related Content – Yakuza 7 PS4 Release Date Announced For The West
Also, if fans really do feel that badly about it, Sega has confirmed that it will develop additional games in its new Judgment spin-off series too, with the first game boasting some of the most polished real-time combat the series has seen to date.
You can catch a glimpse of how the turn-based battles in Yakuza 7 will work by taking a peek at the screenshot below.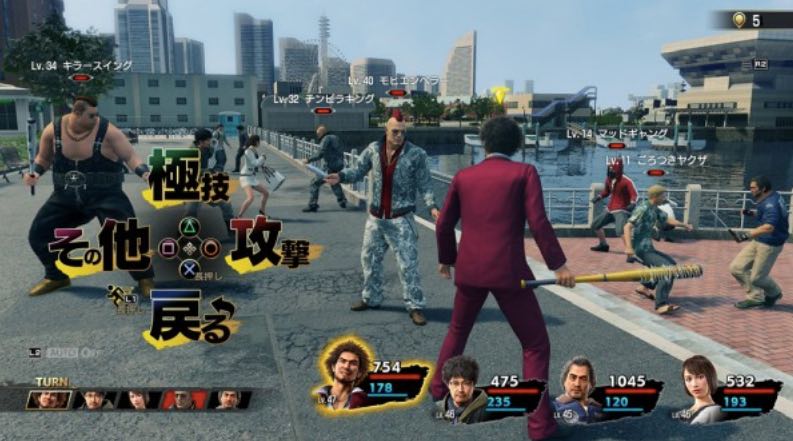 After all, there are only so many times you can wallop someone in the skull with a bicycle. Right?
Source: Official Sega Site