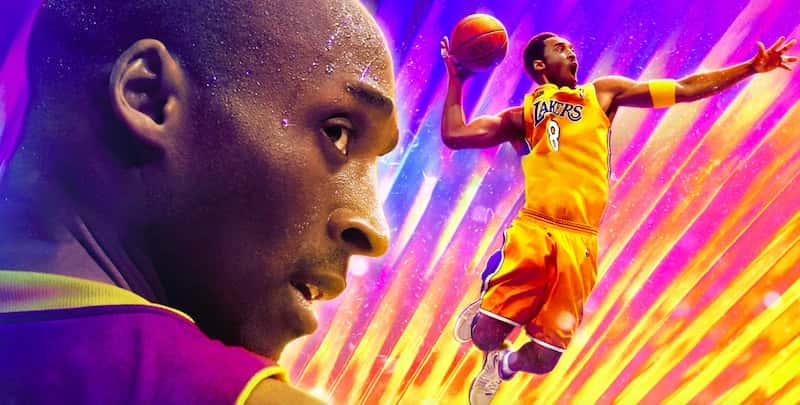 NBA 2K24 PS5 Review – One of my biggest gripes with last year's NBA 2K23 was the heavy-handed implementation of microtransactions. After a couple years of feedback on the matter, 2K had the opportunity to respond to it with NBA 2K24. Unfortunately, that response is one that doubles down instead of trimming down.
---
NBA 2K24 PS5 Review – A Solid Basketball Game Bogged Down By Poor Choices
This year, one gameplay change brings some interesting flexibility. This comes in the form the Takeover bar, which sits at the top right of the screen in every ball game. With regular success, that bar fills up, giving you the opportunity to strengthen some aspect of your character's skill set.
For instance, if you're behind and need points quickly, you can activate additional accuracy to help make scoring a little easier. You can build up up to three bars for this, with the advantages growing with each additional bar you earn.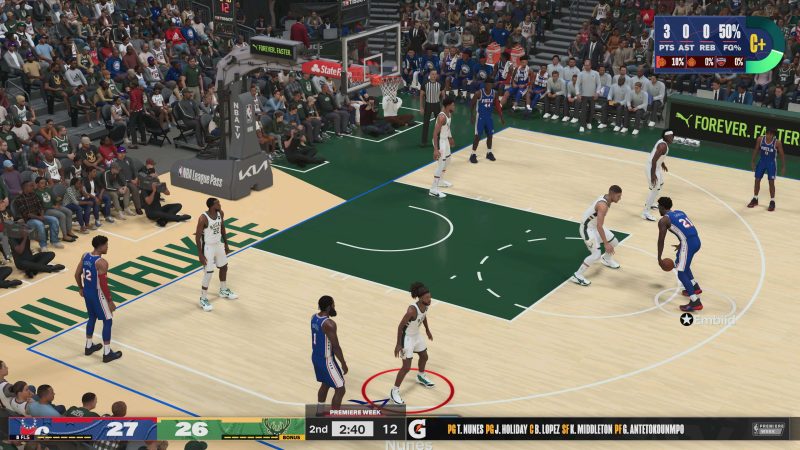 On top of being a useful tool, Takeover makes for a nice homage to Kobe Bryant. He was a jack of all trades on the court and could always give his team what it needed at any one time.
Not Quite Perfect ProPlay
ProPlay is a fantastic addition to the NBA 2K formula. This new system allows for the game to recreate actual movement from footage of NBA players instead of relying on motion capture. The devs take information from actual court footage and apply it to gameplay. This is already a smart concept, and it can only get better with more and more player data and footage.
On paper, and in fact most of the time, this adds welcome realism to the game. However, this doesn't mitigate some existing issues. In several cases, opposing players would appear to be in a full stop after a hard run and then return to running without any change of pace.
To be specific, the player's feet are planted ahead of him to stop before the rest of his body moves forward, with the legs starting to move again like he hadn't tried to stop. This isn't a juke either. There is no change in direction or pace. These incidents make playing defense much harder than it already is and feel cheap. These might be able to be patched out, but that doesn't change things as of this publication.
Presentation Takeover
Still, the overall presentation has a unique level of realism to it, and ProPlay is a key component of that. Despite this, the TV broadcast emulated in 2K24 demands far too much of your time to get through.
Yes, you eventually can click past most of it, but some displays and scenes just linger. These are quite cool the first time or two, but dedicating hours to the game leaves you wasting several minutes of each hour just looking at bits you can't skip past.
The City continues to maintain its annual practices (including keeping the game mode exclusive to men). The game flexes much more spectacle in the geography itself, but the actual amount of things to do remains limited in comparison.
Fast travel helps make getting around much faster than running around everywhere. This does make for a slightly better gaming experience, but it contradicts all the effort put into making the setting look so good. There has to be some sort of middle ground between a gorgeous setting and an interesting game experience.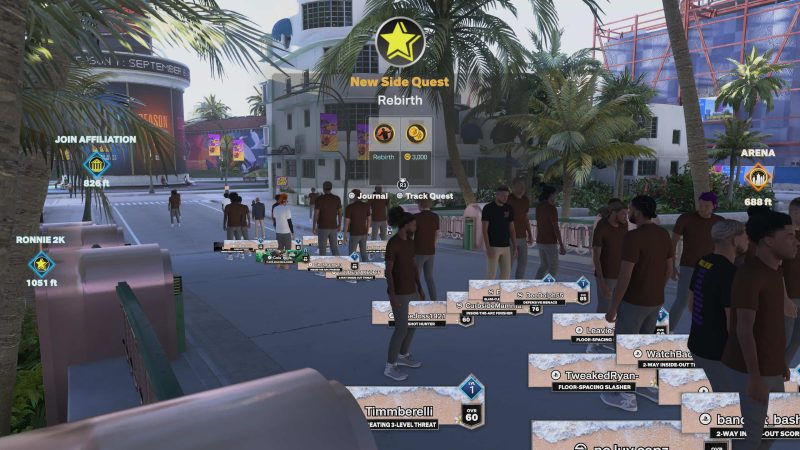 Also, every crowded area will have groups of people standing in a sea of player banners like above. After a while you stop caring about it, but you never stop seeing them block up a ton of your screen.
Full Price Free-to-Play Basketball
MyTeam continues to lean heavily into microtransactions, an aspect of the game that creeps more and more into every aspect of the NBA 2K franchise with each release. Here, building your team requires a great many coins in order to properly compete.
MyTeam does provide you with single player content to play, such as 5-on-5 and 3-on-3 matches against the computer. Following this path requires a great deal of time to build up your coins, but the option is there. This can also be described as the free-to-play grind, which makes the $70 price of entry sting.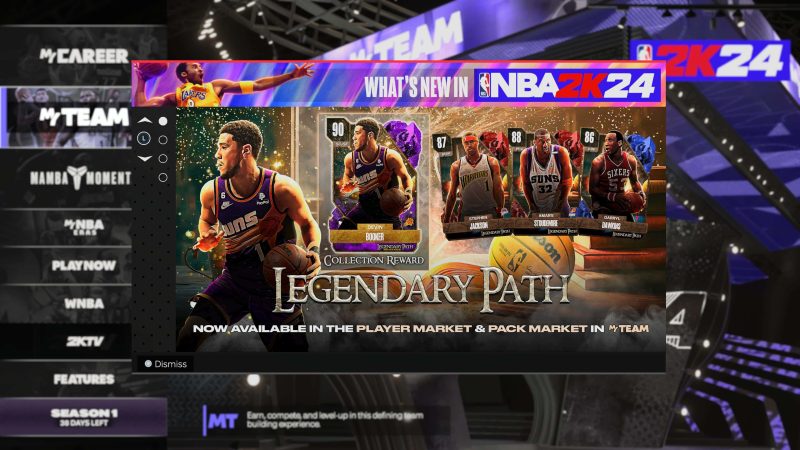 Every time you load up NBA 2K24, the first thing the game shows you is a pop-up of the latest card packs and bundles you can buy. Yes, these screens can be skipped, but it's there every time you boot up the game. It also appears again front and center when you open up MyTeam.
Finally, about every other time I boot up the game, I get a prompt to restart it due to an update. These updates are in-game patches implemented directly from 2K and not new versions of the game downloaded outside of the game. The nice thing about traditional game updates is they can be downloaded and installed prior to starting the game.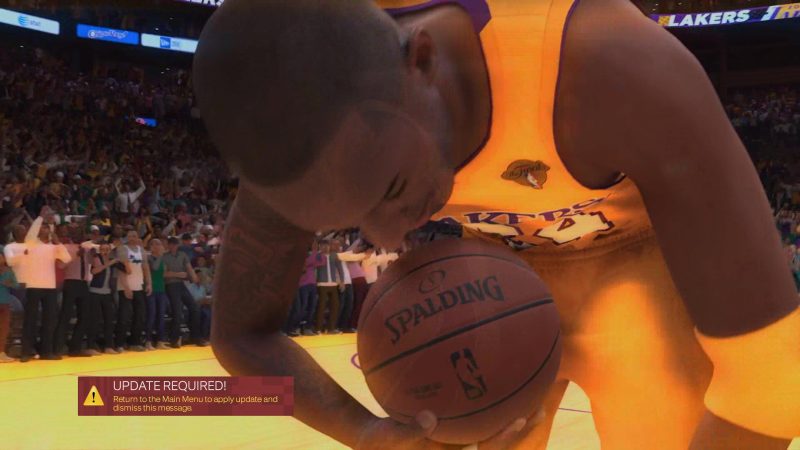 A Die Hard Basketball Fan's Annualization
This year's NBA 2K24 offers a couple great new gameplay components in Takeover and ProPlay. These add extra flexibility and realism to an already compelling gameplay experience.
However, despite some fun historical moments to reenact and minor tweaks to general gameplay, the offerings on the table remain very much the same as previous years. The City is still a big and gorgeous place you end up ignoring, and MyTeam continues its heavy lean into microtransactions by doubling down on it.
This is a few days after launch, and unfortunately many of the regular fans who fork out the cash every year for an NBA 2K game have likely already purchased this latest instalment. For everyone else, NBA 2K24 is another annualised release that, unless you haven't played for a couple years, will probably only be worth a shot when it gets a discount.
Review code kindly provided by publisher
NBA 2K24 is now available for PS5, PS4, PC, Xbox Series X/S, and Xbox One.