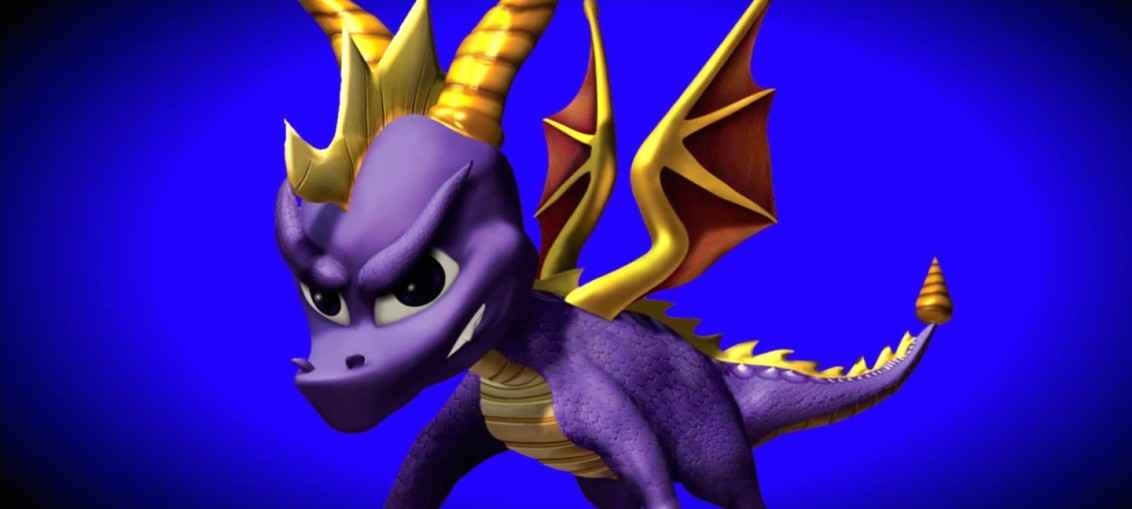 [Update] Spyro Reignited Trilogy has been confirmed following a listing on Amazon. Alongside a September release date, we also got a look at the new box-art!
The Spyro Trilogy For PS4 is coming, there's no pretending it isn't. There's been so much evidence over the past few weeks, and this latest clue to its impending announcement is the best yet.
Numerous people in the gaming press have been receiving purple eggs, with a note attached that reads: "Something is about to hatch". It's got to be the purple dragon, but it appears that no-one knows exactly when Activision is about to drop it on us.
Something's about to hatch, apparently. I wonder what? (Spyro.) pic.twitter.com/my3QWJp4fq

— Leon Hurley (@LeonHurley) April 4, 2018
The Spyro the Dragon remaster rumour mill has been producing a fine gossip harvest in recent weeks, and a Twitter handle provides the latest batch.
Twitter user JumpButtonCB noticed that the Twitter handle @SpyroTheDragon had not only changed its main name to Falcon McBob, but then set the account to private.
Sounds a bit tenuous? Nonsense? Yes it does, until you see two things. The email associated with the account is seemingly an Activision one. Supposedly it was not the case before recently, with a join date of February 2018.
SPYRO IS HAPPENING!@SpyroTheDragon account is now protected and changed its name to "FALCON McBob".

Acti has a voice over project in the works with the codename "FALCON".

And the email behind the account is an Activision email.

Team effort w/ @SaveMedievil @Motwera pic.twitter.com/LQ2jufRrdI

— JumpButton (@JumpButtonCB) March 2, 2018
And why Falcon McBob? Why that's the name given for a voice over project on an Activision publishing title known simply as FALCON.
This could well point to an imminent announcement. The evidence has certainly ramped up recently, with Kotaku UK's Laura Kate Dale having several sources confirmed details of the game's existence. You can read all about that just below.
According to Kotaku UK, multiple sources familiar with the project have confirmed Activision is currently working on a Spyro the Dragon Trilogy Remaster, which will be announced in March 2018 and released in Q3 2018.
The release would likely coincide with Spyro's 20th anniversary in September, and will include Spyro the Dragon, Ripto's Rage!, and Year of the Dragon.
Akin to last year's Crash Bandicoot Trilogy, Spyro Trilogy will contain new assets, lighting, animations and cinematics. Plus a remastered soundtrack and an update to the save feature, to replace the original password system.
The game will apparently be a one-year timed exclusive for PS4, before being ported to other systems in 2019. Crash Bandicoot N. Sane Trilogy is allegedly tied to similar one year exclusivity deal, so expect to see multiple ports of that in 2018.
You'd expect that Vicarious Visions, the team behind last year's PS4 Crash Bandicoot Trilogy remasters would still be doing a really long lap of honour after bringing the orange fuzzball back to relevance, and probably more importantly to publisher Activision, bringing in a heap of cash.
Could a Spyro Trilogy be in the works?
The Wumpa Zone, a Crash Bandicoot fan Twitter account, showed that the game's director, Dan Tanguay, has revealed via his LinkedIn profile, that he's on to an as yet unannounced project. He's still listed as working for Vicarious Visions, so the rumour mill begins to churn heavy once more with whispers, hopes, and dreams of a possible stab at bringing Activision's other colourful mascot to life once more. Namely one Spyro T. Dragon. Could we see a Spyro Trilogy remaster announced at this year's E3?
Of course, there's plenty else Vicarious Visions cuold be working on, but the liklihood is that we'ree getting some sort of treatment for an older property. Spyro seems a logical fit, but there's a good bet that Activision, seeing how well the Crash Trilogy was recieved, have asked for the rebirth of more Crash titles.
To be fair, there's only one good one left to remaster. Crash Team Racing. Short of a return for the purple dragon, this would be the next most interesting project.
A Spyro the Dragon PS4 rumor has been doing the rounds for well over a year after the dragon appeared on some Sony marketing materials. The little fella still has a huge fan base so a Spyro Trilogy would be a very wise move.
However, judging by the success of the Crash Bandicoot Remasters, which became one of the best selling games on PS4 in 2017, surely the developer is also going to be thinking hard about a new game in the series?
What would you prefer to see? A new Crash Bandicoot game, or a Spyro Trilogy for PS4?