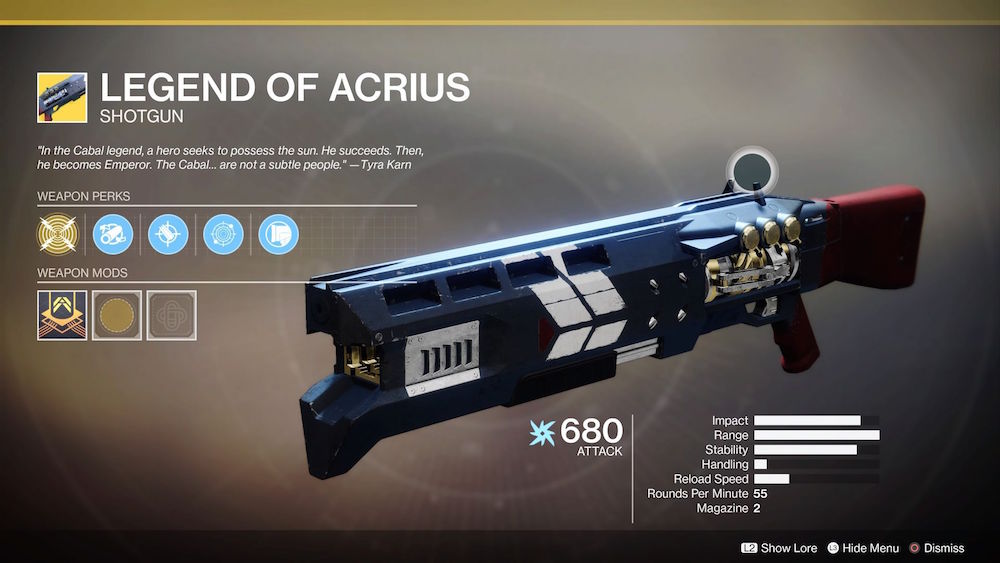 Legend of Acrius is the original Destiny 2 raid weapon. After completing the Leviathon raid, Cabal have a chance of communications to further your quest for this gun. Although Acrius doesn't perform exceptionally well in Crucible, the gun is an absolute beast in PVE. This gun will require a few raid runs, so hopefully you have a fairly reliable group of friends to raid will. Let's get to it!
---
Step 1
The Leviathon
This step is pretty straight forward, but not easy. Complete the Leviathan raid.
Step 2
Hunting Cabal
Return to Nessus and recover Communications Ciphers from Red Legion troops; 0/5
Step 3
Again with the Arms Dealer
Like the Rat King quest, you will need to play the Arms Dealer strike. However, this time we aren't timed.
Step 4
Objection
Eliminate Cabal with Acrius: 0/25
Wirth Acrius Eliminate Cabal at close range: 0/15
Eliminate multiple Cabal without reloading with Acrius: 0/10
Step 5
Back to Leviathan
Collect 10 seals. These seals are awarded at the end of each major encounter. This means you will have to run Leviathan twice to collect all the seals you need.

Optional
Step 6
Make it pretty, and powerful
Complete Leviathan raid on Prestige difficulty.
Completing step 5 will grant you the weapon. You will finally be able to store it in your vault and pull it from your collections., However, the quest will have a sixth step. This step will reward you with both the ornament for the gun, but also the catalyst. However, Prestige mode is much more difficult than normal mode.
---
Legend of Acris may be a more guaranteed raid weapon since there's no relying on RNG. However, you are required to do multiple raids. Hopefully, this doesn't pose a problem for you and your clan. The gun is worth the small grind to get.
Below are more Exotic quest we have completed for you to help you get your collections filled up. As always, keep your eyes up to PSU, Guardian, for all things Destiny.
How to get: