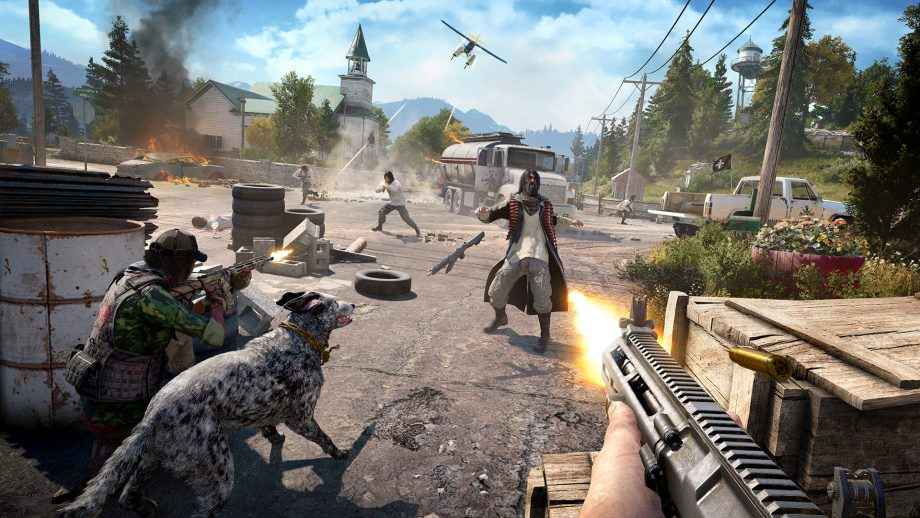 It's one thing recruiting Friends For Hire that are actually NPCs, and it's another getting a Friend For Hire. In Far Cry 5 co-op, you can do just that, but there's some things you need to know.
First up, if you're playing any multiplayer game on PS4 or Xbox One you're going to need a subscription. So, you'll have to be either a PlayStation Plus or Xbox Live member to play Far Cry 5 online.
Far Cry 5 Co-Op Guide
We've been thinking hard about the questions that players may want to know the answers too. So here's 15 things that you might like to know about Far Cry 5 co-op.
You can only play two-player co-op.
If you're joining a game you'll earn Player Progression that will cross over to your own game. This includes XP, currency and items.
You can play story missions in co-op, however, you will not earn progress. This will only be saved for the host.
Far Cry 5 co-op doesn't support cross-play, so you can only invite one person from your platform.
You invite players through your friend's list in the main menu. The game doesn't support matchmaking, so you can only invite friends.
You will be able to communicate via in-game chat.
Far Cry co-op is drop-in and drop-out. That means if you've got co-op play enabled, a player on your friend's list can drop-in at any time. You can disable co-op in the menu.
If you're a Friend for Hire your Quest related unlocks, Resistance Meter Progress and World Progression are not saved once you return to your own game.
You can't join a game if that player is in the middle of a cut-scene, or if that player is in the middle of a mission.
The difficulty level of enemies does not change in multiplayer.
If you're the invited player, you can interact with quest-giving NPCS. That can only be done by the host.
Only the host can hire 'Guns For Hire' during co-op play.
Want to add a bit of spice to co-op? Turn on friendly fire.
You can heal your teammate and give them ammo.
You need to stay fairly close together. If you move too far away, the 'Friend For Hire' will spawn near to the host.
Alongside this Far Cry 5 co-op guide, we have many other tips to help you out in Hope County. So, check out our review, and the following tips.
Far Cry 5 Guides