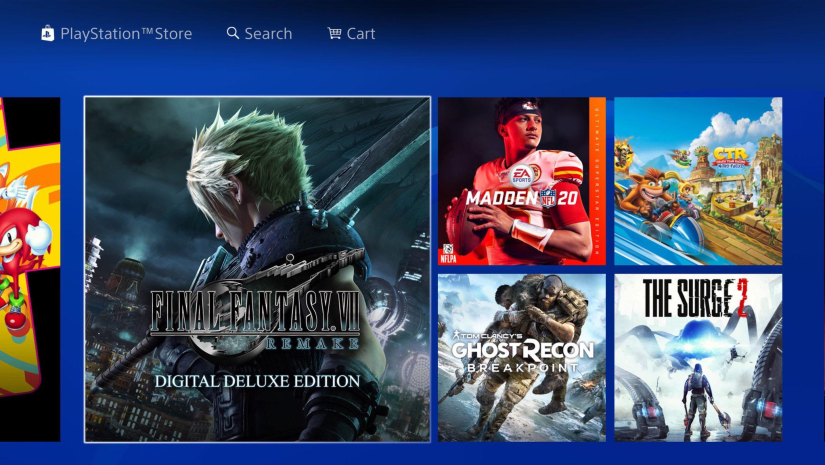 The PlayStation Store has posted up a listing for a Final Fantasy 7 Remake Digital Deluxe Edition, little over an hour ahead of Square Enix's E3 2019 press conference. There's currently no details what it will include, but we're bound to find out soon enough.
Final Fantasy 7 Remake Digital Deluxe Edition Leaks
It's probably not surprising that Square Enix is planning more than just a standard version of Final Fantasy 7 Remake. With any luck, they'll thrown in a lovely physical Collector's Edition with a figurine of Cloud Strife on his bike. I'd gladly throw my money at the screen if that happened.
Square Enix announced Final Fantasy 7 Remake back at E3 2015, during Sony's press conference. The game will feature a revamped combat system similar to Kingdom Hearts 3 and Final Fantasy XV, and will delve deeper into the members of AVALANCHE. We're also going to be visiting new areas that weren't present in the original 1997 version of the game.
Final Fantasy 7 Remake is expected to form a major part of Square Enix's E3 2019 press event, so we'll probably get a new trailer and plenty of fresh information during the presentation. Hopefully, the publisher will detail exactly how the game will be split up, as we know it's going to be released in episodic form.
E3 2019 is home to a bunch of new announcements and info on the latest games. You can watch all of the livestreams, as well as every conference at E3 2019 on our E3 2019 Livestream page.
Struggling to keep up on the news at E3? Check out our full E3 Announcements and News list, containing every reveal during the week-long show across all the conferences. You can also check out a variety of rumours that are surrounding the show. If you would prefer to see the reveals as they happen, you can take use our E3 2019 live feed, which will update with the new announcements as they happen.
Final Fantasy 7 Remake (or rather, the first part of it) is scheduled to ship for PlayStation 4 on March 3, 2020.