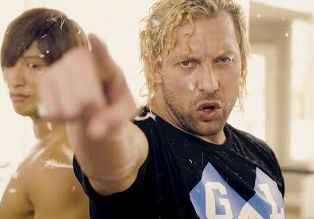 Look, we're a bit bloody excited to finally get our hands on Fire Pro Wrestling World next month, and every new bit of info and every new trailer only amplifies that excitement.
By the time Spike-Chunsoft's grappler finally arrives on PS4, I imagine the excitement levels will have reduced certain staff members here at PlayStation Universe (myself included) to puddles of fizzing sweat.
The latest trailer for Fire Pro Wrestling World is an overview of what to expect from the game. It details the high level of customization available, the various match types (with plenty of claret splashed about) and of course, a little bit on the NJPW factions you can find in the game (with a video-ending cameo from the Golden Lovers, Omega and Ibushi).
There's also a bit on the online side and the career mode too, basically a decent overview of the game's https://www.psu.com/news/new-fire-pro-wrestling-world-story-mode-dlc/best features in a tight video package of under three minutes.
Fire Pro Wrestling World hits the ring on PS4 August 28, 2018.