How to factory reset PS5 – The PlayStation 5 is a sturdy and reliable piece of hardware certainly, but like any games console it's prone to various technical issues, and sometimes it pays to carry out a PS5 factory reset. This is something a fair few users have recently been doing after their consoles would refuse to download certain PS5 games and updates. This is how to factory reset your PS5.
How To Factory Reset PS5
---
Since its launch in November 2020, Sony's PlayStation 5 console has seen various wrinkles in its performance, with gamers reporting issues that range from not being able to queue up downloads, to system software updates not installing properly.
A hard reset of your PS5 is sometimes the only way to fix these problems. However, before you carry out any major troubleshooting process on your PS5, you should contact PlayStation support via email, live chat or telephone in case they can help.
If you've been unlucky to experience any software issues or other performance hiccups with the PS5, then it's probably best to do a hard reset. This will restore your console to factory settings, and is the safest way to reboot your console to iron out any potential problems.
Related Content – Sony PS5 Complete Guide – A Total Resource On PlayStation 5
PS5 Factory Reset – What Should I Do First?
As you might have expected, backing up your console is your first priority before you attempt to restore your PS5 to factory settings. Go to the Settings Menu, then head to System > Backup and Restore > Back Up Your PS5, and transfer everything to a USB drive.
For additional information, you can read our full guide on how to back up and restore your PS5 console.
PS5 Factory Reset – P55 Safe Mode
Turn off your PS5 console by pressing the power button. This is the largest of the two buttons on the front of the console. The power indicator will blink for a second or two before turning off completely.
With the system completely off, press and hold the power button again. Release it after you hear the PS5 make a second beep. The first beep will sound when you first press the power button. The second will occur and roughly seven seconds later.
Connect the controller with the USB cable and press the PS button on the controller.
Your PS5 has now started in Safe Mode.
For further reading check out our full PS5 Safe Mode guide.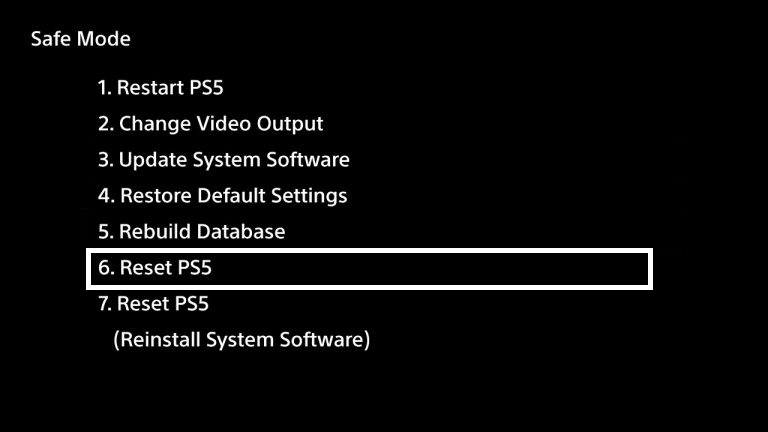 PS5 Factory Reset – What Are My Options?
These are all of the PS5 Safe Mode options that are available to you once you boot your PlayStation 5 into Safe Mode:
Restart PS5 – Exits Safe Mode and restarts the PS5 console in its normal condition.
Change Video Output – Changes the native display resolution. This option can be helpful when troubleshooting issues with blank screens and other display problems.
Update System Software – Allows you to update the PS5 system software via direct download or if you have a PS5 system update stored on a connected USB storage device.
Restore Default Settings – Restores the PS5 console to the default factory settings. Restoring Default Settings will not delete the saved data on your system storage.
Rebuild Database – Scans the drive and creates a new database structure of all content on the system. This option is worth selecting if you find yourself running into the infamous PS5 download queue bug.
Reset PS5 – Deletes all user data and restores the PS5 to its original factory state. This is what you want to do if you want to factory reset your PS5 to either give it a clean slate or sell it onto another user.
Reset PS5 (Reinstall System Software) – Deletes all user data and removes PS5 system software. This will reset the PS5 system software to its original launch factory firmware state.
When carrying out a Factory Reset for PS5, you should always go for the Reset PS5 Option. You should try every other avenue to try and fix your console, and be aware of what all these options mean.
For more information on these options, take a look at our larger PS5 complete guide for greater detail.