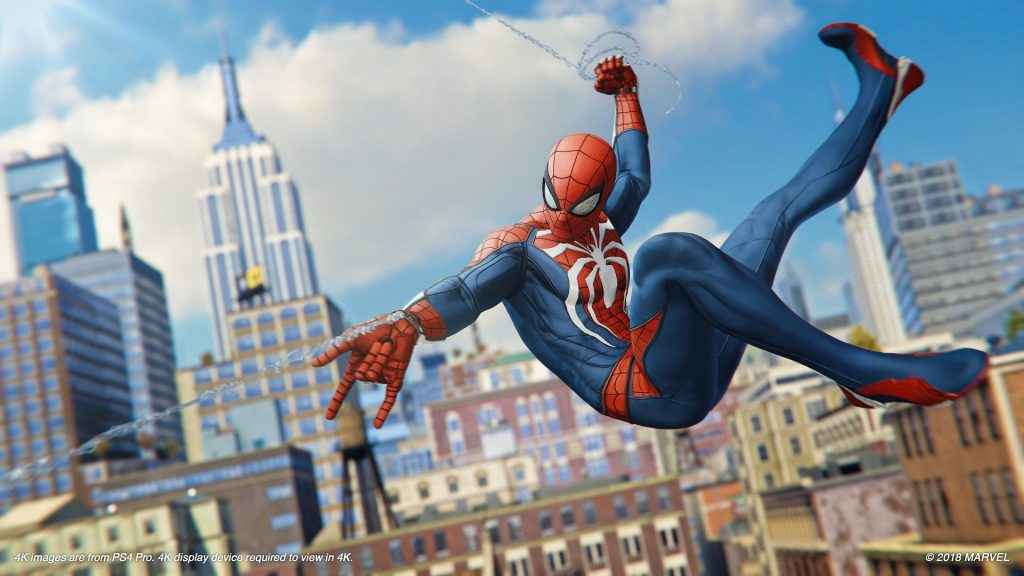 Spider-Man on PS4 Pro will be the ultimate way to play Insomniac Games' upcoming Marvel action-adventure. Releasing alongside a rather stunning Spider-Man PS4 Pro bundle, if you own Sony's latest console you're in for a real treat.
The first analysis of Spider-Man PS4 came from E3 2017, when Sony showed off the following trailer. During testing, Digital Foundry uncovered that the Spider-Man PS4 Pro framerate will not run at 60fps. Instead, it will run at 4K via temporal injection at 30fps (non-native 4K).
However, further analysis has now been made. Taken from source files supplied to Digital Foundry from Spider-Man PS4 Pro gameplay shown off at E3 2018 in June, we now have further details.
Spider-Man PS4 Pro Resolution Confirmed
Their findings uncovered that the Spider-Man PS4 Pro resolution is 1440p resolution (2560×1440) and ran at 30fps. This puts it on the same scale as the glorious-looking Ratchet & Clank. They note that the quality of the upscaling from native 4K is excellent.
Watch the Spider-Man PS4 Pro analysis in the following video.
Will Spider-Man PS4 Pro Outshine Batman Arkham Knight?
So, will Spider-Man PS4 Pro be the best-looking game on Sony's super-powered console? Well, it's certainly close. However, the tech analysts believe that it could be a close call with Rocksteady's Batman Arkham Knight.
In both games, stunning facial animations, light reflections and particle effects combine with depth-of-field effects to deliver a stunning visual treat. The one area noted that Spider-Man outdoes its Batman rival is with motion blur, which they say gives the game near-CG-looking gameplay.
In Spider-Man there's also far more pedestrians and vehicles on the street, which brings New York to life in comparison to the barren streets of Gotham City. There's no doubt that Spider-Man PS4 Pro will be one of the most incredible-looking games to have graced Sony's console. And, with the game world feeling more alive that Arkham Knight, it may just outshine it.
However, what we've seen so far is only a small amount of the overall gameplay. With the Spider-Man PS4 release date not too far away on September 7, 2018, there's not long to wait (the game has now gone gold) to see whether it delivers as much as it promises.
Source: Digital Foundry