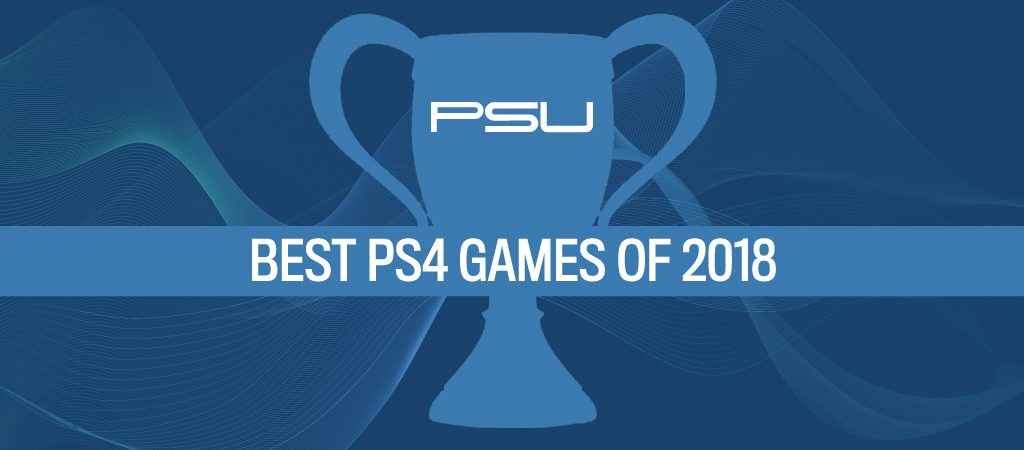 Join us as we take a look at upcoming titles in this 'Best PS4 Games: 2018 edition'. We've thought long and hard about the most anticipated PlayStation titles we're looking forward to throughout 2018, and here's 10 experiences that we simply don't want to miss.
While there's plenty of other great PS4 games due for release in 2018, here's our top picks. Let us know which games you're looking forward to in the comments below.
Also, 2018 should be another great year for PS Plus members, starting with the PlayStation Plus Games for January 2018.
Best PS4 Games: 2018 – 10 Top Titles
Set to be released early next year, God of War takes us on an epic journey through Norse mythology with 'Dad of War' Kratos and son. Boasting at least 25 hours of gameplay, it's time to delve deeper into Kratos' story than ever before. Check out our preview here: God of War PS4 Preview: Kratos is back, and looking awesome!
Why are we excited?
Chris DeVisser:

With years of anticipation built, and new trailers peaking my curiosity about Kratos' new past, I'm eager to once again step into the world of mythology and kill some Gods as only God of War can. From what we've seen so far, I'm putting my money on Game of the Year 2018 already.

John-Paul Jones:

The return of everybody's favourite and eternally angry Spartan has been long overdue, and equally pressing is the need to get him out of his narratively stripmined Greek mythological setting and into something a little fresher. Where better than slapbang in the middle of Norse mythology eh? With a carefully curated selection of fresh gods to violently murder, a brand new rune-etched axe wield and, somewhat surprisingly, a wide-eyed son to take care of, God of War looks like it has all the tools to reinvigorate one of PlayStation's most legendary franchises.
In what looks set to be a prequel to John Marston's emotionally raw tale, it's finally time to get back on the horse in Red Dead Redemption 2! With the most recent trailer providing just enough meat to chew on until the new year, we're more than ready to find out more about Dutch's gang as one of his enforcers: Arthur Morgan.
Why are we excited?
Neil Bolt:

After what will be almost five years, Rockstar's return to big-time gaming is an event in itself. That it's also a sequel to one of the finest games of the decade is the icing on the cowboy cake. I can't wait to sling some guns in another big and beautiful open world.

Emma Withington: Yee-haw! Red Dead Redemption was arguably last generation's number one game (The Last of Us aside) – it certainly was for me – and the anticipation and intrigue is sky high. Not to mention the unexpected appearance of Dutch, which supposedly makes this a prequel tale (considering how Red Dead Redemption ends), and turns its focus to the dastardly deeds of his gang. As John Marston was a former member of Dutch's gang, we might even catch a glimpse of our most lamented protagonist somewhere along the line…Either way, I look forward to donning the boots of Arthur Morgan and spurring back into some cowboy action – see what I did there?
John-Paul Jones:

Every Rockstar game feels like a true milestone and the release of Red Dead Redemption 2, being in addition one of the most anticipated sequels of recent years, will certainly prove no different. Building upon the foundations of its GOTY caliber predecessor and infusing it with the next iteration of online gaming superstructure witnessed in Grand Theft Auto V, Red Dead Redemption 2 looks set to be the critical and commercial darling we all know it's destined to be. I can imagine it now – breathtakingly realised and untamed expanses of the West giving way to the intimacy of its boomtowns and struggling pioneer settlements which in turn set the evocative backdrop for numerous showdowns, gun duels and dramatic double crosses.
https://www.youtube.com/watch?v=odfYSiTpXpo
Dreams is an insanely ambitious creation engine, providing a limitless scope of opportunities – when we say limitless, we mean it! You have the power to create all aspects of a game's production from the ground up in Dreams – from creating your own music, environments, characters, and beyond. Media Molecule, the creators of Little Big Planet and Tearaway, have 'dreamed up' something incredibly special. Check out out hands-on impressions of Dreams here: Dreams for PS4 is the ultimate creation engine.
Why are we excited?
Neil Bolt: Now we have a clearer idea of what to expect from Dreams, I'm highly enthusiastic at the prospect of what it could do. It really does look like Media Molecule could meet the ambition of Little Big Planet with a truly accessible and flexible game to match them.
John-Paul Jones: As mercurial and nebulous as its namesake, Dreams has long been an indefinable entity ever since its mystifying though entrancing debut at E3 2015. Now closer to release, we have a surer idea of what to expect from the latest game from Little Big Planet developer Media Molecule; an effort which, in keeping with the spirit of its joyful predecessor, provides an almost limitless canvas for players to let their imaginations run wild upon. With the promise of being able to fashion not just isolated concepts but rather whole, substantial games, Dreams does that rare thing that few games manage to do; it empowers us as creators, rather than just occasional visitors of someone else's labour of love. Clearly, few games possess the ambition that Dreams encompasses and in early 2018, at long last, we'll get to see our own far-flung gaming ambitions and fantasies come true too.
4. Spider-Man
Peter Parker is back in an all-new self contained virtual universe to (literally) get stuck into! Ratchet and Clank developers Insomniac are fully re-invigorating the franchise, in what looks to be a stunning strand in Spider-Man's web, following his successful theatrical revival this year.
Why are we excited?
Neil Bolt:

After Activision handled the Spider-Man license with growing disinterest, it's great to see Ratchet and Clank developer Insomniac take the reins. Spidey is already back to his best in the movie universe, and I have faith Insomniac will bring ol' webhead back to glory days on PlayStation.

Emma Withington: After hitting his peak cinematically and virtually in Spider-Man 2 back in 2004 (groans with age), Spider-Man games have increasingly fell flat. In particular those focused on the open world Manhattan traversal, with the exception of Ultimate Spider-Man and Web of Shadows – while not quite holding a candle to Spider-Man 2, each provided enough mechanical and visual diversity to the idea of a 'Spider-Man game' as a whole. As the webbing disintegrated and I fell off the Spider-Man train completely after Shattered Dimensions (which admittedly I still enjoyed as a beat-em-up – plus I am a huge Mysterio nerd, so…), for the first time since then, I am genuinely excited about Insomniac's Spider-Man. After years of waiting to witness that Spider-Man spark I fell in love with back in 2004, I have high hopes and enough faith in Insomniac to believe these expectations will be met. With more intuitive web-swinging and combat, which personally hasn't been matched in the Spider-Verse since the PS2 era. I can't wait to return to Manhattan and 'shot web'.
John-Paul Jones:

Arguably, Rocksteady's Batman: Arkham games represented the last time that comic book tie-in games really experienced a positive paradigm shift. Indeed, those titles strove towards something a great deal more substantial than a bunch of under-cooked mechanics slung together to cynically trade off of a popular IP; they were good, well-designed games that stand on their own merits even when stripped of their prestigious license. Following in those steps, Insomniac Games take on Spider-Man looks set to carve a similar path; offering up staggeringly gorgeous visuals, intuitive combat and the sort of freewheeling, gleefully whoop-worthy freedom that has long since defined Peter Parker and all those after him who have donned the arachnid mask.
While much is still shrouded in mystery, there is no denying that The Last of Us: Part II is one of, if not the, most hotly anticipated game of 2018 for you guys out there. Winning Most Wanted Game at the Golden Joystick Awards and Most Anticipated Game at The Game Awards, expectations are high for Naughty Dog to deliver a mind-blowing sequel to their universally acclaimed The Last of Us. We certainly can't wait to play as Ellie and continue her heart-wrenching journey with Joel.
Why are we excited?
Chis DeVisser:

I'm both ecstatic for and terrified of the new story that awaits our beloved Ellie and Joel. I can only assume at the end of their next violent and terrifying journey, tears will be shed, and I'll need a weeks vacation to contemplate my life and call my loved ones.

John-Paul Jones:

There is a desperate, clawing savagery to everything we've seen from The Last of Us: Part II; a furthering of the cloying nihilism that the original so elaborately threaded throughout every aspect of its being. Though no gameplay footage has yet been released, the upping of the dramatic stakes in The Last of Us: Part II has us salivating for the heart-wrenching encounters that this particularly nasty sort of grim theatricality will play host to. If The Last of Us: Part II does make its bow next year, don't be surprised to see it on GOTY lists everywhere, such are the reasonable expectations which now sit upon its broad shoulders.
5 More Best PS4 Games 2018
Ni No Kuni II charmed us earlier this year, as we embarked on Evan Pettiwhisker's journey to reclaim his throne. Sadly you will have to wait a little longer than planned to get your hands on it, as its release date was recently pushed back to March 23, 2018! However, this doesn't subdue our excitement, as we have spent enough time with Ni No Kuni II to see that it is a worthy sequel to its predecessor – even with the more westernised combat system. Make sure you check out our in-depth hands-on previews: Ni no Kuni 2 gameplay totally charms us in the Revenant Kingdom and Ni No Kuni II gameplay videos - Two quests from the Heartlands!
Why are we excited?
John-Paul Jones: Even though the boundless talents of Japanese animation powerhouse Studio Ghibli aren't returning for Ni No Kuni II, you would be hard pressed to acknowledge their absence, so fully realised and endlessly charming does LEVEL-5's sprawling JRPG sequel appear to be. The aspects that are returning from the previous game though are comforts indeed as the engaging real time combat, coupled with an overly generous epic narrative and open world to explore all combine to put Ni No Kuni 2 on track to be one of the, if not the best JRPG of 2018. If you liked the original or, even have the smallest love for JRPG's in general, than Ni No Kuni II looks to be utterly essential.
Would you have Ni No Kuni 2 down in your best PS4 games: 2018 list?
Not being on PlayStation since 2006 and cuddled up closely with Nintendo ever since (PSP iteration aside) epic JRPG Monster Hunter bellows onto PS4 in a big way with Monster Hunter: Worlds – providing millions of players a chance to finally delve into the hugely successful series, in what will be the first time for many of us!
Why are we excited?
John-Paul Jones: Finally wrested out of Nintendo's exclusive grasp, Capcom's venerable Monster Hunter franchise arrives on PS4 in Monster Hunter World, a sprawling and visually opulent take on one of gaming's most enduring action adventure series. Including all fourteen types of weapons from Monster Hunter 4 and Monster Hunter Generations, Monster Hunter World takes players across several very different environments as they spend hours (perhaps hundreds), improving their skills, abilities and gear as they seek to co-operatively bring down larger and larger prey. Certainly, there doesn't look to be a better way to kick off 2018 than getting some friends together and taking on the menagerie of monstrosities in Monster Hunter World.
Dragon Ball Fighter Z is an explosive fighter bringing the much loved anime to life in superior detail and fast paced battles all fighters will enjoy, fan or not! Coming in January, you don't have long before one of our most anticipated games hits the shelves! Do you think this will be one of the best PS4 games in 2018?
Why are we excited?
Chris DeVisser:

From the first moment we met God of Destruction Beerus in Dragon Ball Z: Battle of Gods, and once again in the new Dragon Ball Super series, he has instantly become my favourite character. Now that I'll get to play as him in Fighter Z, I'm even more hyped for Arc System Works take on the established brand.

John-Paul Jones:

Looking like the Dragon Ball Z anime come to vivid, colourful life, Dragon Ball Fighter Z easily stakes its claim as the single most attractive fighting game you'll see next year. Better yet, given the tremendous developer pedigree behind the title (ARC System Works – they of BlazBlue fame no less), it's more than reasonable to assume that Dragon Ball Z will have the technical fighting chops to match the irresistible calibre of its visual design, too. Though the game is ostensibly a labour of love for fans of the long-running anime and manga that share its name, the quality of the fighting engine that hums beneath its retina-searing anime veneer ensures that non-fan, genre aficionados will also find themselves pulled into its irresistibly zany orbit. If you're a fan of fighting games you'd be a fool to sleep on Dragon Ball Fighter Z.
"With Detroit: Become Human, Quantic Dream has Heavy Rain's true spiritual successor. From its multiple playable characters and no-fail-state design to the butterfly effect of moral dilemmas, Detroit has all the makings of a game with pulse-pounding choice and consequence." for more on Detroit: Become Human, delve deeper with Kyle Prahl's preview and we can guarantee this will make your list!: Detroit: Become Human PS4 Preview: 'Riveting, cinematic story-telling'
Why are we excited?
John-Paul Jones:

Regarded as the Zack Snyder of gaming (by me, at least), it's fair to say that David Cage is much more a visual and spectacle driven auteur rather than the thematically conscious sort he often fancies himself to be. And though I'm not entirely sure he can be personally trusted to conscientiously shepherd such weighty themes as existentialism and domestic abuse without tripping over his own heavy-handed tendencies, few can deny that Detroit: Become Human paints a mesmerizingly glossy and intriguing choice-driven adventure around such delicate concepts.
Sucker Punch takes a leap away from inFamous into an epic open world adventure set in feudal Japan (specifically 1274). It's time to take on the role of a Samurai, in what looks to be a stunning and enthralling world. While there's still so much more to learn about Ghost of Tsushima, what we have seen so far has made us salivate enough for it to enter this list!
Why are we excited?
John-Paul Jones:

A seeming world away from the concrete jungles and urban grime of their Infamous games, Ghost of Tsushima marks a pronounced departure from Sucker Punch's previous output, and it's one I couldn't be happier about. Despite the mere slivers of footage that have been released for it both during and since its PlayStation Paris Games Week debut, Ghost of Tsushima's feudal setting looks deliciously realised and toweringly compelling. Couple this with Sucker Punch's exceptional action adventure leanings and you have a title that could well steal a great many GOTY considerations by this time next year.
Do you agree with the games we've chosen in our Best PS4 Games: 2018 list? Let us know in the comments below.