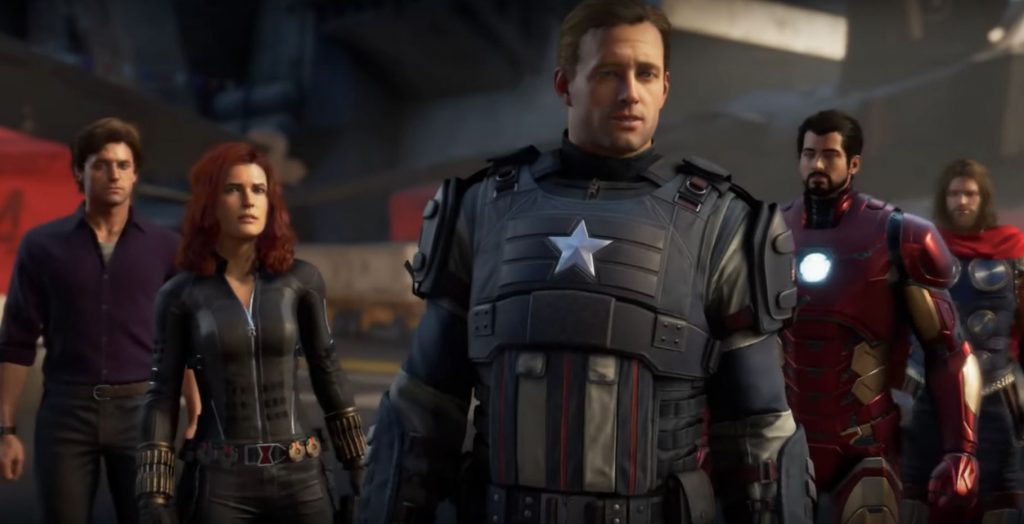 After finally being unveiled at E3 2019, there are a lot of questions still surrounding Marvel's Avengers. Luckily, we have compiled a guide of everything to know about the next game from Crystal Dynamics.
Marvel's Avengers FAQ
When Will Marvel's Avengers release?
Marvel's Avengers is currently scheduled for release on May 15, 2020.
What platforms will Marvel's Avengers be playable on?
Marvel's Avengers is currently set to release on PlayStation 4, Xbox One, PC, and Google Stadia. Though given that the game is embracing a long-term content delivery approach, a PS5 release also seems extremely likely.
What is Marvel's Avengers?
Marvel's Avengers is a co-operative third-person action game where you and up to three other friends can assemble as The Avengers, taking on ever-increasing threats to humanity.
Marvel's Avengers begins at A-Day, where Captain America, Iron Man, the Hulk, Black Widow, and Thor are unveiling a hi-tech Avengers Headquarters in San Francisco — including the reveal of their own Helicarrier powered by an experimental energy source. The celebration turns deadly when a catastrophic accident results in massive devastation. Blamed for the tragedy, the Avengers disband. Five years later, with all Super Heroes outlawed and the world in peril, the only hope is to reassemble Earth's Mightiest Heroes.
Which Avengers can you play as?
At launch, you will be able to play as Iron Man, Captain America, Thor, The Incredible Hulk, and Black Widow.
Will there be new Avengers post-launch?
Square Enix did confirm that more Avengers will be added post-launch, free for all players. With that news at E3 2019, they confirmed that new areas and regions will be added to the game.
Who plays the Avengers in Marvel's Avengers?
Iron Man/Tony Stark is played by Nolan North (Uncharted, Destiny 2). Captain America/Steve Rodgers is played by Jeff Schine (The Walking Dead: A New Frontier, Call of Duty WWII). Thor is played by Travis Willingham (Batman: The Telltale Series, Injustice 2). The Incredible Hulk/Bruce Banner is played by Troy Baker (Death Stranding, The Last of Us). Black Widow is played by Laura Bailey (Uncharted: The Lost Legacy, Gears of War).
Is Marvel's Avengers a Games As A Service?
Yes, Marvel's Avengers will be a Games As A Service style product, with new regions and heroes added to the game over the coming years.
Is Marvel's Avengers a co-op game?
Yes, you can play the game with up to four other players. From the early snippets of information, it appears that the main campaign will be separate from the co-operative missions and areas of the game. During the main campaign, you will switch between the Avengers during missions at designated points.
How many players can I play with?
The co-op in Marvel's Avengers will support up to four players.
What gameplay details do we know about Marvel's Avengers?
Unfortunately, we don't know really anything about the moment-to-moment gameplay of Marvel's Avengers at this point in time. However, the game will feature abilities. Two of them are standard ones that recharge over time, whilst the third is an ultimate-style ability that charges up.
Is Marvel's Avengers an open world game?
No, instead the game will feature set missions in a wide variety of locations around the world.
Will Marvel's Avengers have microtransactions?
Probably. Whilst it hasn't been confirmed, all areas and heroes will be free for everyone, so we will likely see cosmetics as microtransactions. However, Square has confirmed that there will not be any pay-to-win mechanics or randomised lootboxes.
Who is developing Marvel's Avengers?
The game is a collaboration between Marvel Games, Eidos Montreal, Crystal Dynamics, Nixxes, and Square Enix. However, the primary studio behind the game is Crystal Dynamics.
Will Marvel's Avengers have platform exclusive content?
Yes, PlayStation 4 players will gain exclusive content in the game.
Will Marvel's Avengers have a beta?
Yes, there will be a beta for the game. PlayStation 4 players will gain early access to it before any other platform. You can read more about the beta in our guide here.
Hopefully, we've answered the most burning questions you have about Marvel's Avengers. However, if there's anything else you want to know, don't be afraid to ask. We'll update this article with your queries just as soon as we receive them.
We'll also be keeping our eyes out for any additional details that might emerge over the coming weeks and months. So be sure to check back with PSU regularly.