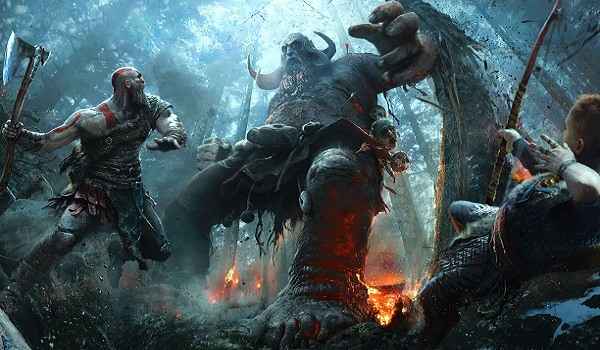 Sony has now confirmed the God of War PS4 release date with an epic new trailer you can watch below!
Sony announced the date by saying: "This has been a long journey just to reach this point so it is a little bittersweet to think that we are only a few months away from that journey finally coming to an end. While I am sad, I am also excited because it means everyone will get their hands on this crazy adventure we have been crafting for nearly five years!"
Original Story: Amazon's US site has listed a Collector's Edition of Sony Santa Monica's upcoming PS4 exclusive God of War. More importantly, it has a new release date attached to it.
Previous listings, including the $149.99 Mason's Edition, had a placeholder date of June 30. Then there were other sites that pegged Kratos' extreme father/son bonding simulator for a March 22 release. A date that makes sense on many levels.
God of War Collector's Edition Release Date
For this Collector's Edition, retailing at $129.99, the date is quite different. It comes up as April 20, putting it in line with the release of Nintendo's Labo.
April 20 would be something of a departure from the traditional March release for God of War games past, but it is at least making it look increasingly likely that we shall get to kick the bonce off of the God of Thunder and his pals sooner rather than later.
As with any release date, it could be an elaborate placeholder or simply a somewhat educated stab. We here at PSU still feel the March 22 date is/was closest to the truth, but the secrecy over the date is probably designed to avoid disappointment in any potential delays.
So, our theory goes that there's a possibility that the rumored March 22 release has slipped to April 20 for some last minute polish.
In the meantime, we have learned a fair amount of concrete information about God of War itself. We learned that Atreus, Kratos' son, is an extension of the Ghost of Sparta's moveset. We learned there's going to be a fair bit of boat action, and we found out that Kratos' new axe made for a few tweaks to the game's combat. We also saw that despite the game not being out just yet, it hasn't stopped fans from creating some lovely art based on the game.
God of War will hopefully be hitting PS4 and PS4 Pro in the near future.
Source: Gematsu