 [Update 13 July at 20:25pm BST] The PSN is down in the UK and U.S. affecting gaming and social channels. The issues accessing multiplayer gaming began to surface in the last hour. So, if you're wondering why you're appearing offline, then it's definitely not an issue with your PS4. Sony has updated the official PlayStation Network Server Status page to reflect the issues.
[Update 13 July at 00:15am] After hours of the PlayStation Network being down in Europe, players are still unable to get online. Gaming and Social features are currently not working. The latest update comes from the AskPlayStation Twitter account, who writes:
"We're aware that users are having issues accessing some features on PSN. Thanks for your patience as we investigate."
There's no indication as to when the PSN will be back online.
[Update 12 July at 21:15pm] PlayStation UK has confirmed that Gaming and Social features are currently affected on the PSN. We're wondering if this is connected with the Fortnite game chat problems earlier today. Dozens of players took to social media to complain that voice chat is broken in the widely popular survival game. Shortly after the PlayStation Network's social channels went offline.
The latest update from Sony reads:
"You may have some difficulty launching games, applications or online features. Our engineers are working to resolve the issue as soon as possible, and we thank you for your patience."
[UPDATE 12 July at 20.20pm BST] Reports that the PlayStation servers are down for some are flooding in. Spikes in reports started on the PSN down detector page this evening (UK time). Some players are reporting seeing a red cross next to their PSN profile. This particular issue appears to be related to EU accounts.
The official PlayStation Network update page does not mention any scheduled maintenance, and reports that all services are up and running. It may just be a temporary glitch for some players, but we'll keep you updated as soon as we know more.
[UPDATE 5 March at 5.30pm PT] The PlayStation Network is offline as Sony carries out maintenance. The PSN will be down for approximately 8 hours between 5.30pm PT on March 5 until 1.30am PT on March 6. Users can expect more downtime during the same times between March 6 and March 7.
Sony says it will "undergo a planned maintenance that may impact the ranking functionality of select titles. During this time, users playing select titles will not be able to view leaderboard rankings or upload scores. All other network functionality, including online gameplay and PS Store, will remain accessible during this maintenance."
[UPDATE 28, Jan at 7.45pm GMT] Though some players have managed to get back onto the PSN and are playing online games, others are still locked out. Some people are seeing a little red X next to their PS4 Profile, but there may be a fix. The PlayStation Network is still having issues four hours after it went down for many. There's currently no further official update from Sony, so we guess it's just a case of waiting!
[UPDATE 28, Jan at 4pm GMT] Sony has confirmed there are server issues on the PlayStation Network. The server status reports that Gaming and Social Features are disrupted. The PlayStation Store, Account Management features and Video features should not be affected.
[UPDATE 28, Jan at 3.30pm GMT] The PSN is down for many users worldwide. Though Sony reports no issues, reports have spiked hugely in the last hour and it seems to affecting gaming and other online features. Stay tuned for updates.
[UPDATE 27, Jan at 7.40pm] Reports have spiked in the last 30 minutes with some players having problems accessing the PlayStation Network's online services. The issues seem to be isolated, but we're monitoring the situation closely. Currently, Sony states that all services should be up and running, but that's clearer not the case for everyone.
Often once the PSN has had problems, there's a knock-on effect over the next few days. Sony is recommending that players who cannot get online follow these steps:
1. Log out of the account that is having difficulty
2. Power down the PS4
3. Access playstation.com and sign in.
4. Confirm signing into the website 5. Turn on the PS4 and log in
Let us know if the PSN is down for you.
[UPDATE 26, Jan at 7.15pm] Sony reports that the PlayStation Network is back online and all services have resumed. We can confirm that in the UK and Europe we can sign in and get onto the PSN.
[UPDATE 26, Jan at 6.18pm] The PSN is still offline, approximately an hour and half after it went down. We have no official update, other than engineers are working on a fix.
We've been monitoring some of the real-time DDoS attack maps in real time to see whether there's a connection with the PSN being down. Now it's not unusual at all to see lots of cyber attacks every minute of the day on the United States, so we're purely speculating here, but we have been seeking frequent attacks on a location in San Francisco, where the PlayStation Network is based.
The attack type is labelled as Telnet, which is another word for DDOS attack, which is essentially a massive flood of traffic designed to disrupt a network. We're no experts in cyber attacks, but the fact that all services are down on the PlayStation Network could mean that this is a possible cause.
Once again, we'd like to highlight that this is total speculation until we hear official word from Sony. We do not monitor cyber attacks regularly, so the current San Francisco DDos attacks could be unrelated to the PSN. This wouldn't be first time, the PlayStation Network suffered a large scale DDoS attack in 2016. There's little you can do about them, but wait! Source: Visual Capitalist
[UPDATE 26, Jan at 5.18pm] Sony has acknowledged that the PlayStation Network is having problems worldwide. The official Server Status page now has all services as offline. This is different to the early outages this week where it was mainly gaming and social features that were affected. "Currently PSN is unavailable. Our engineers are investigating this," writes the official Sony support Twitter account.
Here's the current status: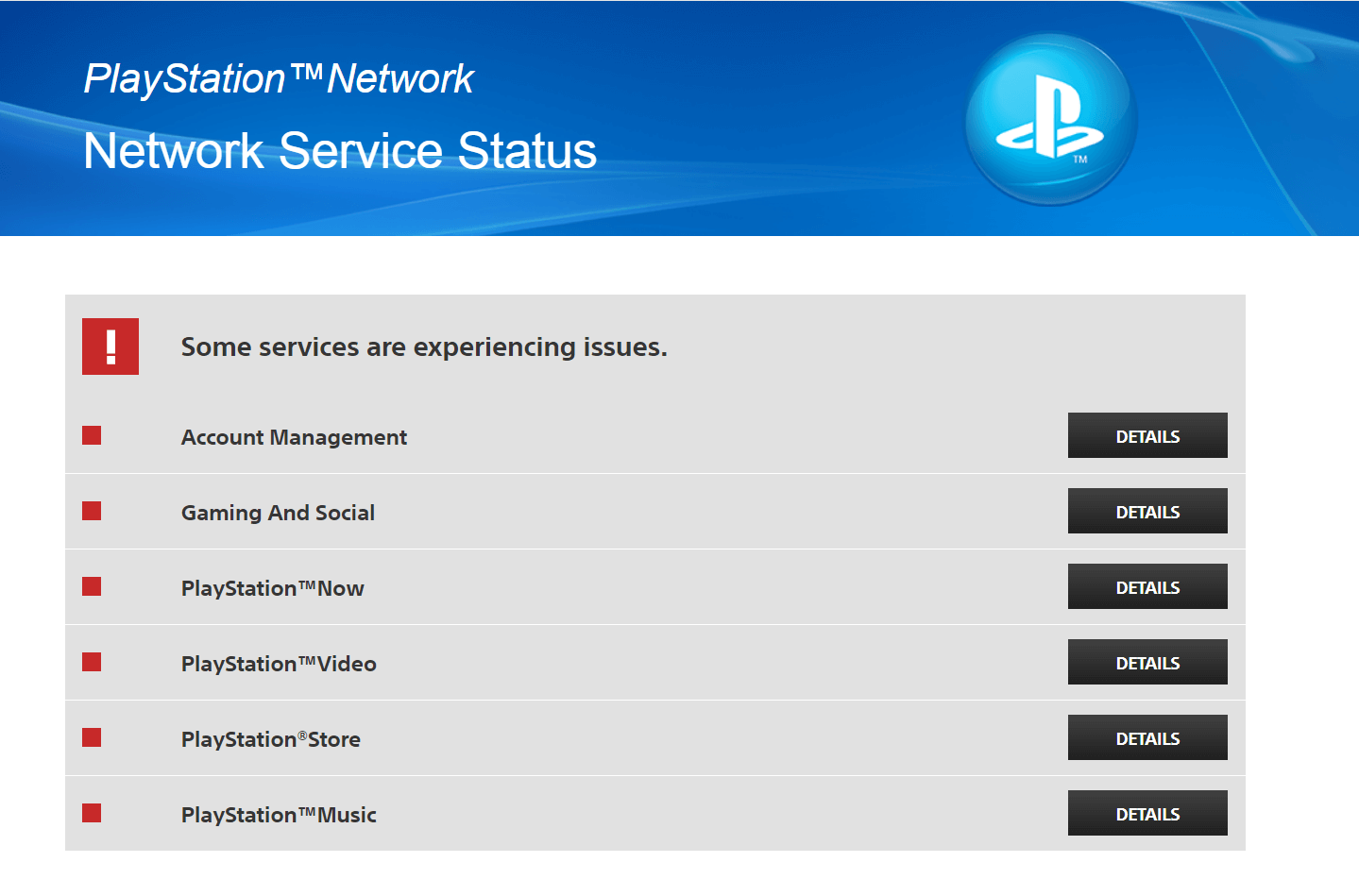 [UPDATE 26, Jan at 4.55pm] Reports are escalating that the PlayStation Network is down. It's been a bad week for the PSN with outages over the last few days, one that lasted six hours. The official PlayStation Server Status page doesn't state that any maintenance is planned, and reports that all services are up and running. The latest problem may be isolated to certain countries, though the reports we're hearing are all from the United States and Europe.
Reports have also spiked on the PSN Down Detector, where users report outages. It's particularly bad timing due to today's launch of Monster Hunter World and Dragon Ball Fighterz. Stay tuned for updates as they arrive as we'll be monitoring the server status every 10 minutes or so and looking out for the official word on what's happening.
Epic Games has confirmed the issues and has released the following statement to Fortnite players: "We're aware of an issue that impacts PS4 players from logging in. We will have an update on this shortly."
[UPDATE 25, Jan at 4.10pm GMT] There's been a modest rise in PSN Down reports in the last hour and Sony have stated that their investigating server issues again. "Some players are experiencing PSN connectivity problems. Our engineers are currently investigating this. Thanks for your patience," writes the official support team. This also could explain why the current Fortnite problems are taking longer than usual to fix on PS4.
Some players haven't been able to get onto the PlayStation Network for over 48 hours, despite the fact it was reported that the PSN was back online and problems with accessing multiplayer games and social features were fixed.
One guy writes off his frustration over at the PlayStation Network service detector:
"Still down. Been 48 hours. In San Antonio texas. We have Google fiber. Unable to bring up friend list. . Apps also doesn't work. online features don't work. Including games. And quit with those messages all in caps talking about how you found the solution…….you didnt. Resetting this and that nonsense doesn't work. Turning apps off, even though you cant sign into them. Doesn't work. Putting it on safe mode will not make it work either. As crappy as it is. Just have to wait it out. Unfortunate to pay for a service you can't use."
[UPDATE 24, Jan at 4.54pm GMT] The PSN went back online for most late last night, but we're still hearing that there are plenty of players affected still and can't get back online. However, there may be a very simple PSN fix that gets you back onto the PlayStation Network.
[UPDATE 10.48pm GMT] We're getting reports that some gamers are able to get online onto the PSN, but for others it's now been down for six hours. One of our team has managed to get onto Rocket League multiplayer in the UK, suggesting that fixes are being rolled out and the network is stabilizing. We've also had reports of players who were offline before the problems now being able to access the Fortnite servers.
Nevertheless, the official PS4 server status page is still showing there's issues with Gaming and Social features, so we're still waiting for a green light to confirm all problems have been fixed. There's also many reports of issues with social features still, specifically problems with friend's lists. Sony has yet to reveal any reason behind the PSN outage. Meanwhile, there's still a lot of PS4 owners unhappy at the situation. This guy has an idea though…
PSN is down? No problem. Spend some time outdoors with the Gf and earn some Brownie points and shoot some really big ass ammo.😁 pic.twitter.com/d4PZw8sWkX

— uncledarcy 🇨🇦 (@noobularscrub) January 23, 2018
Meanwhile the PlayStation Support team have gone off home!
Hey folk, it's 11pm and it's time for the Twitter team to go home!

We'd like to thank you all for your patience while we're sorting the network issue! We can't answer your tweets at night, but do check for updates here, and as always, we'll be back for you at 9am tomorrow.

— Ask PlayStation UK (@AskPS_UK) January 23, 2018
[UPDATE 9.27pm GMT] We're close on nearly five hours with the PSN down. The PS4 servers have been suffering problems since around 4.45pm GMT in Europe and North America. Though some players who were online before the issues are playing games fine, many are still offline and seeing various error codes when they try to connect. Despite one tweet from the official PlayStation Support channel, and the fact that the PlayStation Network page is acknowledging issues with gaming and social features, nobody is any wiser. We're continuing to monitor all channels to find when the PSN will be back online and will update accordingly.
[UPDATE 7.38pm GMT] Though there's still no solution to the current PS4 server problems, which are affecting some people getting onto the PlayStation Network, other publishers have started assuring players about their own games that Sony are looking into it. IO Interactive (Hitman) wrote: "If you're having issues on PS4, Sony are investigating." While the official Rocket League team wrote: "PS4 players: PlayStation Network is currently experiencing issues that could affect online play in Rocket League." The PSN went down for some at approximately 4.45pm and has now been offline for three hours, though some players who were already online are still able to play PS4 games.
[UPDATE 7pm GMT] Finally, there's acknowledgement from the official Sony channels about the PSN being down for some. "We're aware that users are having issues accessing some features on PSN. Thanks for your patience as we investigate," writes AskPlayStation on Twitter. They mention "some features" which we believe to be social features and multiplayer gaming (for those who weren't logged in prior to the PlayStation Network going offline).
[UPDATE 6.42pm GMT] We've had multiple emails and word from some PS4 players on social media that the PSN offline issues aren't affecting everyone. It appears that some players who were gaming online before the current problems are still playing. However, those trying to get into multiplayer games can't get onto the PS4 servers. However, out of the reports we've received those players who are on the PlayStation Network are still experiencing other issues such as their friend's list not appearing or party chat not working. There's still no word from Sony. Seriously, while you're waiting you might as well check out the rumors about the PlayStation Plus February 2018 games.
[UPDATE 6.13pm GMT] An hour and 15 minutes after the PSN went down many are still offline. What's strange about these problems with the PS4 servers is that there's been no main update from the Ask PlayStation team on Twitter, and this type of server problem is usually fixed fairly swiftly. We've had no response yet from PlayStation, but will update you as soon as we hear more.
[UPDATE 5.30pm GMT] The PSN is still down and is affecting games like Fortnite, Overwatch and Star Wars Battlefront II as well as all PS4 multiplayer games. While some users are seeing error codes like CE-34861-2, others are simply getting the login failed issue when trying to get onto the PS4 servers. Sony has still yet to respond but has updated its server status page acknowledging that the PlayStation Network is offline and gaming and social features are affected.
[UPDATE – 4.50pm GMT] Sony has confirmed that there are problems with the PlayStation Network. The official site has updated with the following message: "Some services are experiencing issues." It appears to be games and social that are affected, so many players cannot get online. The problems with the PSN are worldwide.
PSN down reports have started to flood in in the last 15 minutes since 4.30pm GMT. Reports spiked that the PlayStation Network servers are down, though the official PlayStation Maintenance page reports that all services are still running.
Sony's latest update states: "You may have some difficulty launching games, applications or online features. Our engineers are working to resolve the issue as soon as possible, and we thank you for your patience."
As well as reports on the PSN down detector page, users have reported log-in issues and PSN online connection problems. Sony has yet to respond to the downtime and has no current maintenance planned.
The reports of the PlayStation Network experiencing problems arrive just as Sony has announced the new God of War PS4 release date and ahead of the announcement of the PlayStation Plus February 2018 games.
We've reached out to Sony for updates on the current server issues and will be checking every five minutes or so on when players can get back online.