PSP 5G – What We Want From A Next Generation PlayStation Handheld – Sony released the first PlayStation Portable in 2004/2005, with the PS Vita releasing seven years later in 2011/2012. It would only make sense that if Sony were to enter the handheld market again, 2022 or 2023 would be the year. Perhaps they've just been waiting for 5G network infrastructure to catch up, as launching a new handheld that downloads or streams games and other media over 5G seems to be the future if the mobile market is any indicator.
So what would be the system specs, price, and software features of a new Sony PSP include? That's what we're here to speculate. Since information about the potential PSP 5G is still pretty scarce, this article will be pure conjecture. The information here is based on what's currently available in the market and what leaps we've seen from the original PSP to the PS Vita and advances in other handheld devices like smartphones and Nintendo's Switch.
Regarding the latter, Nintendo has announced a new Switch model known as the Nintendo Switch OLED, which boasts the same screen as the Vita did a decade ago. Meanwhile, Valve has unveiled the Steam Deck, which is basically a handheld device for PC gaming.
Naturally, the good thing about the Steam Deck is that you'll be able to play the likes of Days Gone, Horizon Zero Dawn, and Detroit: Become Human on the go, as they are also available on PC. Not only that, but Sony looks set to bring more PlayStation-exclusives to the platform in the future.
Do you have your own wish list? Let us know in the comments section below, or pop on over to our forums.
PSP 5G – What We Want From Sony's Next Handheld
PSP 5G – What We Want From Sony's Next Handheld:
CPU, GPU & RAM Specs Speculation
---
The leap from the later renditions of the PSP to the PS Vita was more than quadruple in both CPU & GPU power. The PSP went from a 333MHz MIPS R4000 CPU to the PS Vita which used a Quad-core ARM Cortex-A9 MPCore setup. The graphics processor went from a 166MHz GPU to a Quad-core PowerVR SGX543MP4+ and the RAM saw a major boost in the PS Vita to 512MB, compared to the 64MB in the PSP.
So what could we expect to see in a newer handheld from Sony in 2022 or 2023? The best way to speculate would be to take a look at what is currently in the market. In addition, what types of chipsets not only provide a competitive edge but also can make the handheld stay within a decent price point.
What's In The Market Right Now:
The Nintendo Switch, which released in 2017, uses an Nvidia Tegra X1 chipset. This is a ARM 4 Cortex-A57 @ 1.02 GHz, with a 256 Maxwell-based CUDA cores @ 307.2-768 MHz for graphical processing. The Nintendo Switch also only includes 4GB of RAM.
Since then, Nvidia has improved its technology, revealing the Xavier and Orin chipsets. The Xavier uses an 8 core Nvidia Carmel CPU up to 2.26 GHz and a Volta based 512 CUDA core graphic processing unit that hits 1.4 TFLOPS. As far as RAM goes, there are 8GB @ 51.2 GB/s bandwidth or 16GB @ 137 GB/s options. This chipset would be more in line with the power of the PS4, which is capable of 1.8 TFLOPS.
The Orin chipset which is scheduled for 2022, uses a 12 core Arm Cortex-A78AE (Hercules) CPU and an Ampere-based, 2048 CUDA cores GPU. The remaining details on the Orin chipset are still scarce, but if Sony wanted a handheld device that could compete with the likes of the latest generation of consoles, the Orin might be the way to go.
Going With AMD:
Of course, Sony doesn't have to partner with Nvidia on the design of the PSP 5G architecture. They already have an established relationship with AMD and both the PS4 and PS5 use a custom built AMD chipsets.
The Ryzen C7 leaked last year shows that AMD is working on a mobile chipset with 8 core CPUs up to 3.0 GHz clock speeds and RDNA 2 GPU capable of raytracing and variable rate shading. Watch or play content in 2048 × 1080 resolution with a silky-smooth 144Hz frame-rate in HDR 10+ and 10-bit color depth. This Ryzen C7 chipset also comes packed with an integrated MediaTek 5G UltraSave modem as well as Wi-Fi 6 support.
However, the PSP 5G may not use all the feature sets of a Ryzen C7 chipset. It might be more conservative in CPU clock and dropping features like ray-tracing on the GPU side. Not only would this help reduce cost, but also reduce power usage on the internal battery. There is a fine line between providing graphical performance and eating away at battery life. Just look at the Sega Game Gear vs the Nintendo Gameboy as a prime example.
Depending on the chipset Sony decides to use, Nvidia or AMD, DLSS or FSR can be used to achieve higher frame rates as well. Also, you can expect the PSP 5G to include 6-8GB of RAM, as mobile RAM can also greatly affect the price of the handheld.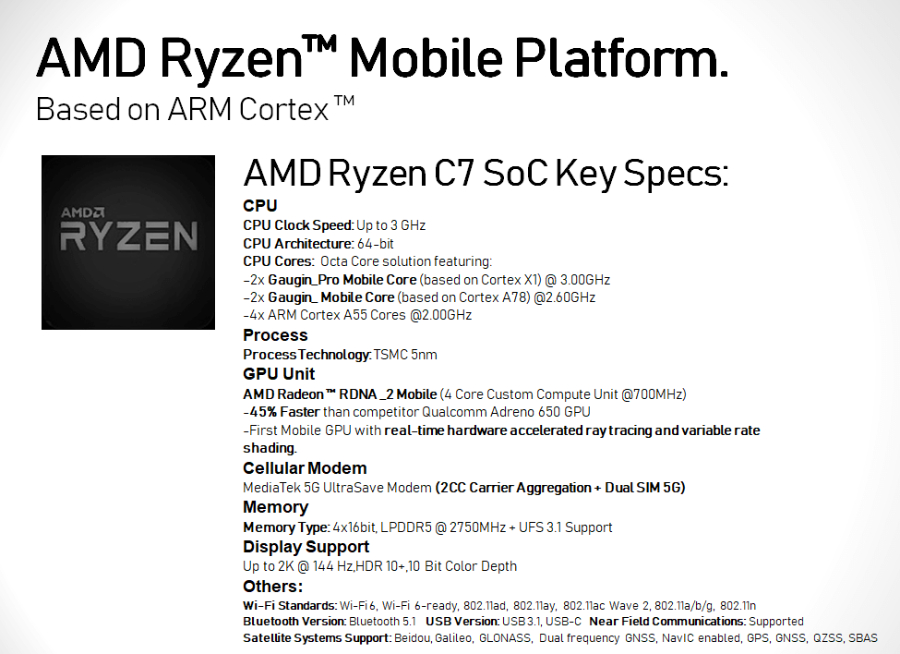 1080p / 1440p OLED Display
System specs aside, the PSP 5G can really shine by providing gamers 1080p or 1440p resolution on a sleek OLED display. This would be a notch above the 720p OLED display that Nintendo is reportedly planning for the Switch Pro. Although, display resolution would really could come down to cost and battery life efficiency that Sony is wanting to reach. Comparing smartphone battery life on a 1080p vs 1440p resolution, the 1080p resolution gains about 11.7%, or 64.6 minutes, of additional usage.
Most gamers probably wouldn't mind 1080p over 1440p on a handheld for a few reasons. Number one, games can run at a faster frame-rate, hitting 30-60fps easier. Number two, longer battery life means more game time on the move. And lastly, if the PSP 5G is capable of streaming games and movies, it'll use less data.
Now what about screen size? The original PSP has a 4.3″ screen and the PS Vita has a 5″ screen. The Nintendo Switch has a 6.2″ screen, whereas the Switch Lite has a 5.5″ screen. It wouldn't be surprising if the PSP 5G has a screen size somewhere in the middle, either at a 5″ or 5.5″ size. One of the perks of traditional Sony PSP devices were they could easily fit in your pocket. Anything above 5.5″ might be too large, and having a reduced screen size will also benefit battery life.

Internal SSD & Expandable Storage
---
When it comes to Sony's new handheld it wouldn't be a surprise if Sony's next handheld is a digital-only console. The PSP 5G would use some kind of expandable SSD memory card similar to Xbox Series console 1TB expandable storage cards and you would just download your games from the PlayStation Store. Where this might run into issues comes from the recent backlash of Sony shutting down the PSP, PS Vita and PS3 stores. Gamers might be hesitant on buying a digital only handheld if 7-10 years down the road Sony decides to lock them out from being able to access their digital games. Personally, I've always valued having physical copies of games for this reason.
On the flip side, Sony hasn't shied away from using proprietary hardware for games. The PSP used UMD discs for both games and movies and the PS Vita used game cartridges similar to the Nintendo Switch. If Sony's has some kind of technology that improves read/write bandwidth speeds or you can install the game to internal memory, physical games might still have a chance on the PSP 5G.
What size would the internal/expandable memory be? Depends on the size of the games, but anywhere from 250GB to 1TB would be a good start. It might be difficult to package a 1TB SSD card with the PSP 5G if Sony wants to keep the entry price point down. Something like 250-500GB would be more cost-efficient. For example, the 1TB storage expansion card for the Xbox Series consoles is $219.99. As you'll see in the next segment, that would eat up much of the hardware costs.
Price Speculation
---
Both the PSP and PS Vita launched with a $249 price tag. However, it might be difficult to come down that low if Sony wants to package some of the aforementioned specs. We're basically looking at a handheld device that has the power of a PS4 Pro, but includes a few modern features such as an SSD and 5G modem or Wi-Fi 6 support. It would be more appropriate to launch the PSP 5G at a price of $299, or even $349, especially if Sony launches it in 2022 or 2023.
Where Sony can recoup some of its manufacturing costs is to make the PSP 5G a digital only device. In addition, Sony can package it with a 3 month subscription for its upcoming game subscription service. This would force gamers to purchase all their games through the PlayStation Store or pay monthly to have access to a library of games.
No Load Times
---
By the time the PSP 5G launches, gamers will be accustom to little to no load times in games. Thanks to both the PS5 and Xbox Series consoles using SSD memory, the expanded bandwidth allows game loads to be near instantaneous.
Could we see Sony's SSD technology in the PS5 come to the PSP 5 GB? Whether or not the PSP 5G read speed will hit 5.5 GB per second is up for debate, but it could still use hardware decompression compatible with Kraken.
Sony Game Subscription Service (Akin to Xbox Game Pass)
---
God of War creator David Jaffe recently made a claim that Sony is working on a game subscription service to match Xbox Game Pass.
What I can tell you is I know they are doing some stuff because I know people at Sony who have told me that they are doing some stuff. There will be a response to Game Pass.
There is not much more to go off of there, other than Sony is working on "some stuff." Where this might be a benefit to the PSP 5G is if it's a digital only handheld. Sony can package the subscription service with the device. Gamers will get access to a large library of games, both exclusive and possibly from other platforms. Imagine being able to play games from the PS1 to PS4 on a single mobile device. Not to mention, PSP and PS Vita titles.
Cloud Gaming (PS5, PS Now, and PS4 Games)
---
Taking things a step further, the PSP 5G could utilize cloud gaming technology similar to xCloud. If Sony didn't have to worry about packing the handheld with expensive system specs and relied more on the end user having access to high-speed internet or 5G service, it could reduce the cost of the handheld. Gamers could stream games from PS5, PS Now, PS4 or the subscription service from their home console or cloud servers. This would build on Sony's partnership with Microsoft using Azure data centers for cloud gaming and content streaming services.
Streaming Services Built-In (Twitch, YouTube, Facebook Gaming)
---
One way to modernize the new handheld would be to integrate streaming services like Twitch, YouTube, and Facebook Gaming. Gamers could seamlessly stream or upload recorded video from their game sessions or watch subscribed channels on the go.
Sony may incorporate streaming in a big way in years to come. Its acquisition of the eSports Tournament EVO Championship Series is a prime example.

Stream 4K Movies & TV Shows (Netflix, Amazon Prime, Disney+)
---
This is a given. In 2021, being able to watch movies and TV shows on any mobile device is pretty much the standard. Watch Netflix, Amazon Prime, Disney+, Hulu, Paramount+, Apple TV+, Crunchyroll and more. If the PSP 5G has a built in 5G modem connection or Wi-Fi 6 support, then streaming high definition video content is a no brainer.
Library Of PSP 5G Games
---
Of course, with the release of any new generation handheld, it's expect that a library of new games will come with it. Developers will be quick to port titles from existing platforms, as well as create new exclusives.
In addition, we could see the return of popular franchises from the PSP and PS Vita. We've highlighted some of the Best PSP Games of All Time, Best Hidden Gems on the PSP, as well as Best PS Vita Games of All Time. Could we see a new God of War or Gran Turismo title on the PSP 5G? Or perhaps the return of turn-based tactical RPGs like Final Fantasy Tactics or Disgaea. Maybe we might see new genres grace the handheld in the form of MMO's like Genshin Impact or Souls-like games like Nioh.

Longer Battery Life & Wireless Charging
---
The lithium battery that powers this puppy needs to be powerful and versatile in order to provide the graphics, audio, and gameplay in high definition. The Nintendo Switch only gets 2.5 to 6.5 hours of playtime on a Lithium-ion battery/4310mAh. Providing lengthy gameplay while also providing mighty performance might be one of the toughest challenges Sony will face when developing its next handheld.
Some of the best smartphones for gaming use a 6,000 mAh battery, which provides about 10-12hrs of usage. However, we're looking at a fine line again between providing performance versus cost. Other options might include; 5260mAh, 5,000mAh, or 4,500mAh. Playtime will depend on what resolution, refresh rate, and the games you are playing, whether they are graphically intensive or not.
An additional feature Sony could throw in with the build of the PSP 5G would be wireless charging. Being able to dock your PSP 5G universally on any wireless charging station would help reduce some of the cost. Both manufacturing costs and end user cost would be reduced as Sony wouldn't need to provide a USB-C charging cable in box. Sony could sell a wireless dock charging station separately.
What do you think might feature in a next-generation PlayStation handheld? Let us know your ideas in the comments below!