Realm Royale Ranks Explained
Find out about the Realm Royale Ranks on PS4 and Xbox One, and get ready to play the Realm Royal beta. Yes, you heard it right! Due to insistent public demands, Realm Royal PS4 is finally here. Here we discuss the Realm Royale ranking system for PS4. This may change during or after the beta testing, so come back for updates on the Realm Royale leaderboard.
Also check out Realm Royale tips, and classes guide.
Realm Royale Ranks Explained PS4 and Xbox One- Ranking Tiers
Realm Royale PS4 has seven tiers representing the rankings. They are Bronze, Silver, Gold, Platinum, Diamond, Master and Grand Master. Each tier in Realm Royale rank list has multiple ranks from I (1) to V (5). The tier I (1) is the highest while tier V (5) is the lowest. To be clear, a Silver II (2) ranks higher than Bronze V (5) and so on.
Below is the list of all Realm Royale rankings that are possible. They are arranged from lowest to highest tier and rank. Badges shown in the main new represent your current rank.
Bronze Rank Realm Royale PS4


Silver Rank Realm Royale PS4

Gold Rank Realm Royale PS4

Platinum Rank Realm Royale PS4


Diamond Rank Realm Royale PS4


Master Rank Realm Royale PS4
Grand Master Rank Realm Royale PS4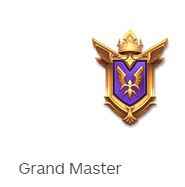 How to Rank Up and Become Realm Royale Grandmaster
In Realm Royale ranking system, your place in your best 50 matches determines your rank. Regardless who many matches you played, the game only counts the best 50 matches where you won.
The ultimate goal is to get as many kills or eliminations as you can. The more kills, the higher your rank will be. Remember that if you are working as a Duo or Squad, all of you will receive credit; and not only the one who last damaged or killed the enemy.
You cannot go down in the Realm Royale leaderboards even if you lose matches. So there's no only way but up. Those who get the whole 50 wins will become a Grandmaster.
Check out our other Realm Royale guides below: