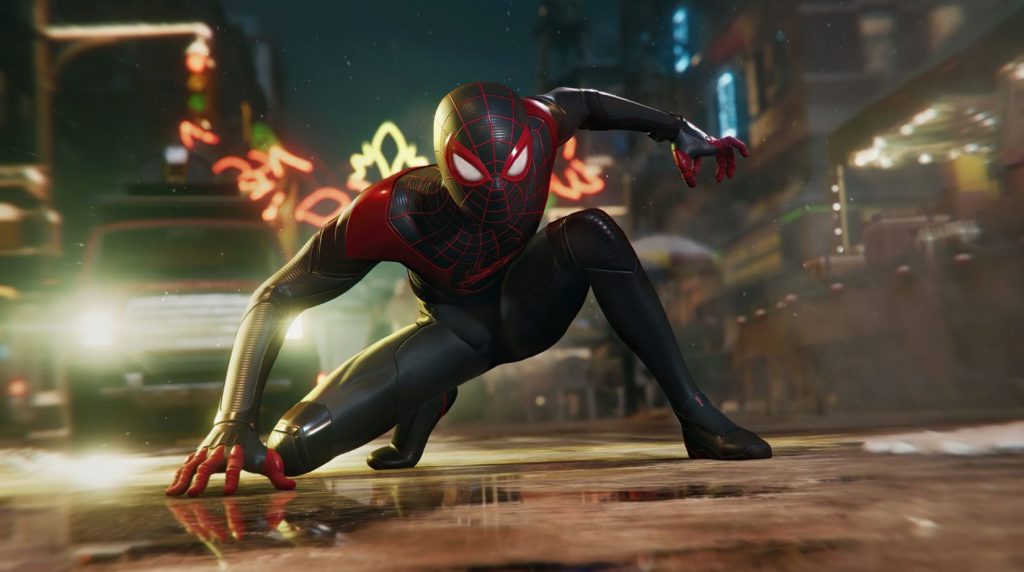 Marvel's Spider-Man Miles Morales has received its first PS5 gameplay at today's PS5 Showcase. Sony has also confirmed that Spider-Man Miles Morales will be a launch day title for the console, with the release date set for Holiday 2020.
In the brand new trailer which was unveiled at the PS5 showcase we had an extended cinematic sequence which showcased protagonist Miles Morales walking through his neighbourhood during a particularly frosty holiday season.
A tremendous showcase of the PS5's ray tracing capabilities, deep reflections were glimpsed in the puddles scattered around the street while light effects from nearby markets look stunning and realistic.
When the gameplay side of things kicked off, we were treated to Miles Morales taking care of business against a legion of Roxxon sponsored goons. While Miles Morales boasts a very similar combat system to 2018's Marvel Spider-Man, it appears to be super-charged, literally, as Miles can energise his attacks in order to smash through the defenses of his enemies.
After a boss battle, we get to see Miles doing his superhero thing as he saves a bus that is falling into the water as a bridge gets destroyed by all the fighting going around it. Again, like Marvel's Spider-Man there's a focus on QTEs and cinematic action and quite simply, it's going to be great to wander the streets of New York in Marvel's Spider-Man once again – this time on PS5.
You can watch the Spider-Man Miles Morales PS5 gameplay below:
This announcement was one of a number of reveals from today's PS5 Showcase which you can rewatch here. You can also catch up on all the announcements from the show here. Miles Morales was announced back at the PS5 reveal event and we have slowly been getting bits of new information about the game since then. The game's haptic feedback features and use of the SSD were recently detailed by Insomniac Games.
Marvel's Spider-Man Miles Morales releases for PS5 this holiday season.