The Star Wars Jedi: Fallen Order pre-order bonus items have been detailed by EA and Respawn Entertainment.
Pre-ordering Star Wars Jedi: Fallen Order will get you three different skins for Cal's lightsaber, as well as the 'Bee-D-1' skin for his droid buddy, BD-1. The special edition is a little more expensive but will give you the Crimson skin for BD-1 and the Mantis. You will also get a digital art book, and a collection of behind-the-scenes feature videos on the game.
The image below shows this all off: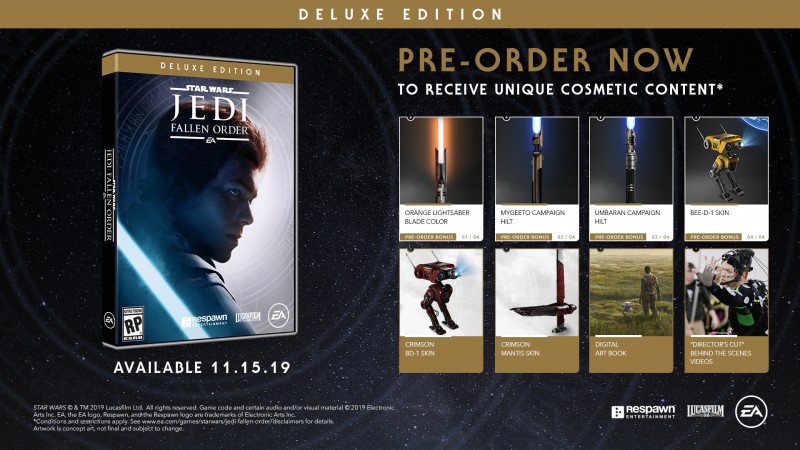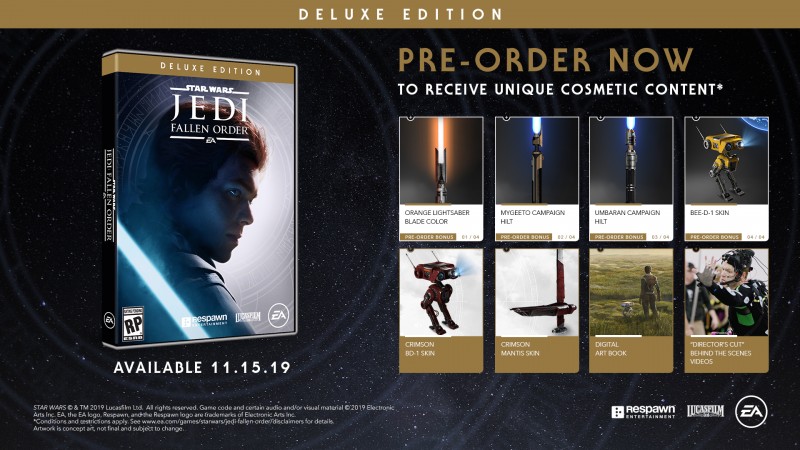 This news came during EA Play 2019. We got the first glimpse of gameplay for the game, which shows that Respawn have taken inspiration from the Souls series in its combat design. The cast list for the game has come out, which includes Forest Whittaker, who played Saw Gerrea in Rogue One. We also have an ever-extending FAQ for the game that tells you everything you need to know.
EA Play is home to a number of new announcements and reveals, including new looks at Apex Legends, EA Sports FIFA, and Battlefield V. You can watch all of the livestreams, as well as every conference at E3 2019 on our E3 2019 Livestream page.
Struggling to keep up on the news at E3? Check out our full E3 Announcements and News list, containing every reveal during the week-long show across all the conferences. You can also check out a variety of rumours that are surrounding the show. If you would prefer to see the reveals as they happen, you can take use our E3 2019 live feed, which will update with brand new announcements as they happen.
Star Wars Jedi: Fallen Order releases for PlayStation 4 on November 15, 2019.
What are your thoughts on the game? Do you like the direction of gameplay or would you have preferred a more cinematic experience?