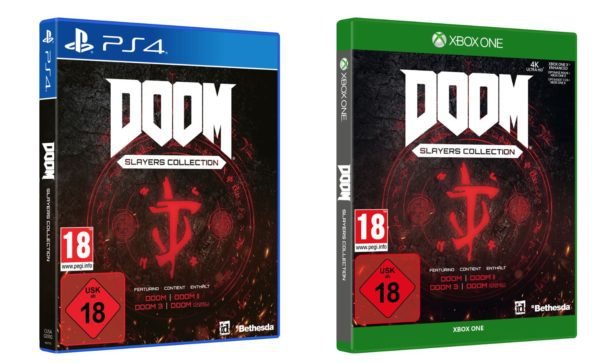 UK retailer GAME has posted a listing for an as-yet unannounced DOOM Slayers Collection, which will reportedly feature four games: DOOM, DOOM II, DOOM 3, and DOOM (2016). According to the retailer, the bundle will launch on December 13 priced at £24.99.
DOOM Slayers Collection Incoming?
There's been no announcement from Bethesda about this yet, but expect something shortly, as retailers are usually pretty reliable when it comes to this sort of thing.
DOOM Eternal was recently delayed, so a DOOM Slayers Collection would certainly help tide fans over until the new game hits shelves. Plus, it's a great way of introducing people to the series, seeing as how it features the original games.
It's also worth remembering that DOOM 64 is also heading to the PlayStation 4, too.
DOOM Eternal will finally be arriving in stores for PlayStation 4, PC, Nintendo Switch, and Xbox One on March 20, 2020. One of the new additions to the shooter sequel is the multiplayer-based Battlemode, which sees one player as the DOOM Slayer going up against two iconic demons.
Recently, the development team behind the highly anticipated title confirmed that its tech is scalable to next-generation systems, indicating the company is more than ready to embrace the PS5 and Xbox Scarlett.
Those of you who feel like splashing the cash on DOOM Eternal can do so with the Collector's Edition, which includes a bunch of bonus content including a Year One Pass steelbook case, and Lore Book.
id Software legend Tim Willits announced his departure from the studio after 24 years with the company just last month. He's since confirmed that he has taken up residence at Saber Interactive.
Here's the full blurb on DOOM Eternal:
As the DOOM Slayer, you return to find Earth has suffered a demonic invasion. Raze Hell and discover the Slayer's origins and his enduring mission to rip and tear…until it is done. Experience the ultimate combination of speed and power as you battle your way across dimensions with the next leap in push-forward, first-person combat.