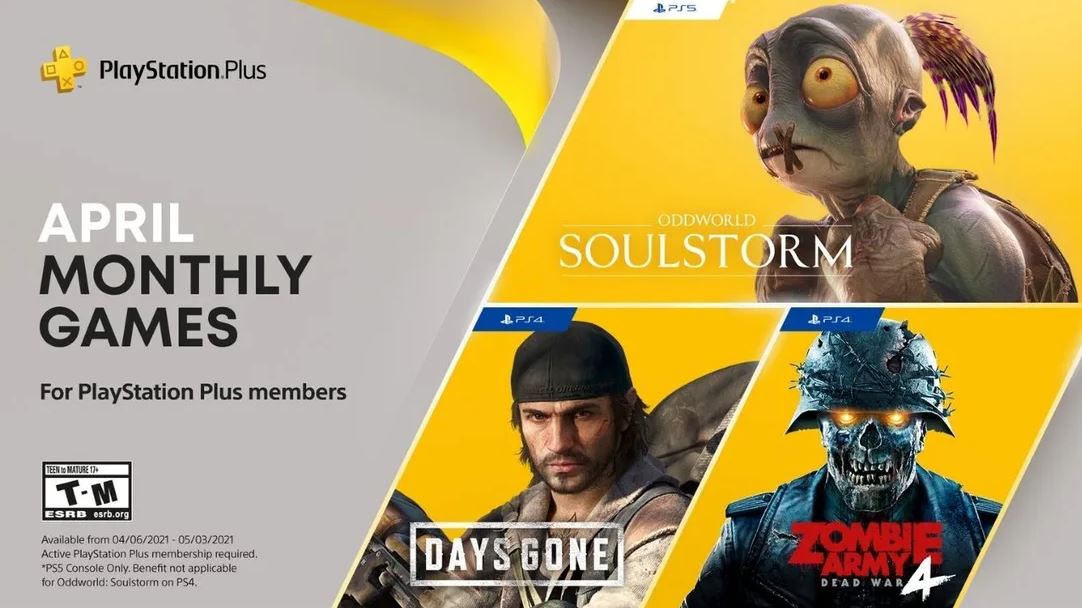 PlayStation Plus Free April 2021 PS4 Games, PlayStation Plus Free April 2021 PS5 Games PS Plus April 2021 – What will be the PS Plus April 2021 free PS4 and PS5 games? We already know what one of the PS5 PS Plus games for April 2021 will be. Also, you can take a look at our PS Plus May 2021 PS4 and PS5 games predictions. You can also catch the complete listing of every PS Plus title announced to date right here. For further reading you can also see every PS5 PlayStation Plus game released this year in our guide. Furthermore, you can see every PS4 PlayStation Plus title released this year here, too.
PS5, PS4 PS Plus Confirmed Free Games April 2021
Sony has finally confirmed the PS5 and PS4 PS Plus games for April 2021, which are as follows:
These games will all be available until May 4, 2021
PS4, PS5 PS Plus Free Games April 2021 Predictions
---
Remaining PS4, PS5 PS Plus Free Games April 2021 Predictions:
Rainbow Six Parasite (2021) – PS4, PS5
---
We're going out on a limb here – we reckon that Ubisoft's long gestating (and very soon to be revealed) Rainbow Six PvE title, Rainbow Six Parasite (or whatever it ends up being called) is a prime candidate for the PlayStation Plus April 2021 line-up.
You can catch the latest trailer for Rainbow Six Parasite (back when it used to be called Rainbow Six Quarantine) below.
Related Content – All PlayStation Plus Collection Games On PS5 – Guide
Far Cry 5 (2018) – PS4
---
With Far Cry 6 set to arrive later in 2021, it makes sense that Ubisoft will will want to get people stuck back into the franchise again and we think that giving away Far Cry 5 to PS4 and PS5 owners would be a great way to do that.
You can catch our review of Far Cry 5 right here.
What PlayStation Plus Games Are Available Now?
---
At the time of writing, the March 2021 PS Plus free games have been confirmed with the following games set to be available on March 2, 2021.
As of this writing we are still waiting on Sony to announce the PlayStation Plus March 2021 PS4 and PS5 games line-up.
Sony also officially announced as part of the PS Plus games for November 2020 the debut of the PlayStation Plus Collection for PS5. The following PS Plus Collection games have been confirmed for the PS Plus November 2020 line-up are available to download now:
Batman: Arkham Knight
Battlefield 1
Bloodborne
Call of Duty: Black Ops 3 – Zombies Chronicles Edition
Crash Bandicoot N.Sane Trilogy
Days Gone
Detroit: Become Human
Fallout 4
Final Fantasy XV Royal Edition
God of War
Infamous: Second Son
Monster Hunter World
Mortal Kombat X
Persona 5
Ratchet & Clank
Resident Evil 7: Biohazard
The Last Guardian
The Last of Us Remastered
Uncharted 4: A Thief's End
Until Dawn
Don't forget to check out our PS5 complete guide too for everything you need to know about Sony's PlayStation 5 console in the meantime.
If you're thinking of joining PS Plus, it's also worth noting that Sony has increased cloud storage for the saving of PS4 and PS5 game files. With a boost from 10GB up to 100GB, there's plenty of space to save your games in the cloud.
Related Content – PSVR 2 – Everything We Know About Next Generation PSVR
You also get access to exclusive games for free each month, alongside special discounts, full game trials and the ability to play online multiplayer games too.