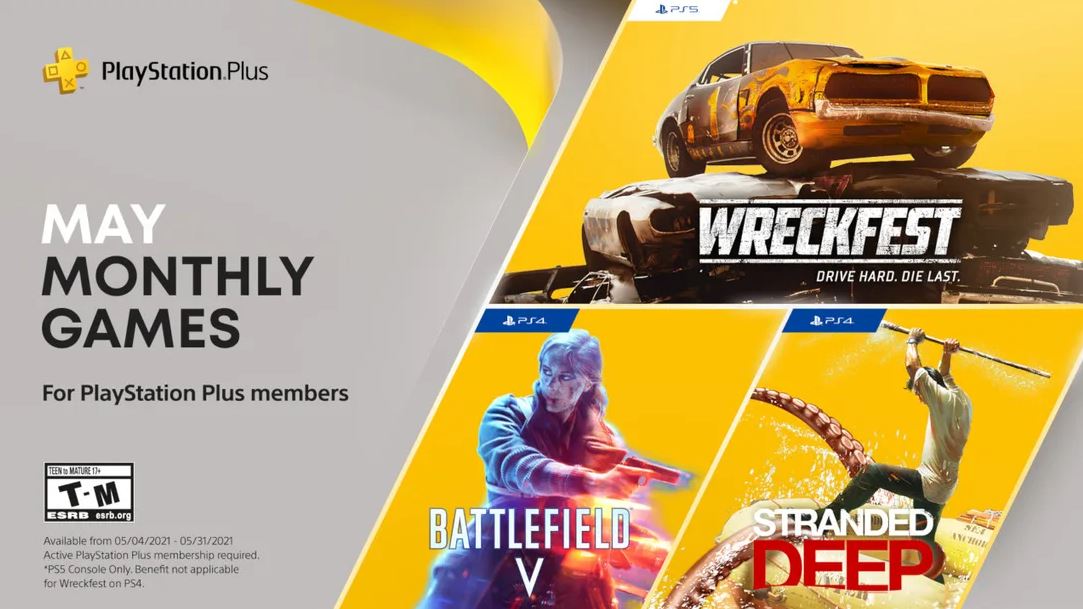 PlayStation Plus Free May 2021 PS4 Games, PlayStation Plus Free May 2021 PS5 Games PS Plus May 2021 – What will be the PS Plus May 2021 free PS4 and PS5 games? Sony has announced the May 2021 PS5 PS Plus games. You can also catch the complete listing which details every PS Plus title announced to date right here. For further reading you can also see every PS5 PlayStation Plus game released this year in our handy guide. Furthermore, you can see every PS4 PlayStation Plus title released this year as well.
The PlayStation Plus May 2021 free PS4 and PS5 games are set to be announced on Wednesday, April 28.
In this guide:
PlayStation Plus PS5, PS4 Free Games For May 2021 Now Available
---
Sony has announced the PlayStation Plus PS5 and PS4 free games for May 2021, with the following games being available on the service:
The PlayStation Plus May 2021 free PS4 and PS5 games are now available until June 1, 2021.
PS4, PS5 PS Plus Free Games May 2021 Predictions
---
PS4, PS5 PS Plus Free Games May 2021 Predictions:
Hades (2021) – PS5, PS4
---
One of the most promising dungeon crawlers to come along in an age, with Hades masterful blend of Diablo style dungeon crawling and charismatic Greek mythological gods and monsters it's easy to see why Supergiant Games magnum opus has gained such a strong following.
With a PS4 and PS5 release for Hades long teased but not officially announced, we're hoping (praying, really) that Hades will storm onto PS4 and PS5 as part of the PS Plus May 2021 free games line-up.
You can catch the release trailer for Hades below.
Judgment (2019) – PS4
---
A rough and ready spin-off to the Yakuza franchise, Judgment casts players as Yagami, a disgraced former hotshot lawyer who gets by as a low-level private investigator. Together with his friends and connections with the Yakuza themselves, Yagami and co set out to solve a brutal murder that looks to have far reaching consequences.
Blending the series traditional love for real-time combat and total absurdity, Judgment isn't just essential for Yakuza fans, it's also one of the very best action RPGs you can buy right now. For further reading, you can read our best Yakuza games ranked feature, too.
You can check out our Judgment PS4 review right here.
Further Reading – All PlayStation Plus Collection Games On PS5 – Guide
Civilization VI (2019) – PS4
---
One of the best strategy games ever made, Civilization VI stormed onto PS4 in 2019 and brought with it the sort of deep, sophisticated strategy that armchair tacticians have been hungering for.
As the leader of a chosen civilization, you are tasked with evolving your group of folks from the stone age all the way through to the space age, as you use diplomacy, war and other strategies to deal with some of the most famous (and crafty) leaders in history. If you're into strategy, Civilization VI is the good stuff.
To catch up, you can read our Civilization PS4 review here.
What PlayStation Plus Games Were Available Last Month?
---
The April 2021 PS Plus free games have been confirmed and were available from April 6, 2021 to May 3, 2021.
Sony also officially announced as part of the PS Plus games for November 2020 the debut of the PlayStation Plus Collection for PS5 owners only. The following PS Plus Collection games have been confirmed for the PS Plus November 2020 line-up are available to download now:
Batman: Arkham Knight
Battlefield 1
Bloodborne
Call of Duty: Black Ops 3 – Zombies Chronicles Edition
Crash Bandicoot N.Sane Trilogy
Days Gone
Detroit: Become Human
Fallout 4
Final Fantasy XV Royal Edition
God of War
Infamous: Second Son
Monster Hunter World
Mortal Kombat X
Persona 5
Ratchet & Clank
Resident Evil 7: Biohazard
The Last Guardian
The Last of Us Remastered
Uncharted 4: A Thief's End
Until Dawn
Don't forget to check out our PS5 complete guide too for everything you need to know about Sony's PlayStation 5 console in the meantime.
If you're thinking of joining PS Plus, it's also worth taking note that Sony has increased cloud storage for the saving of PS4 and PS5 game files. With a boost from 10GB up to 100GB, there's plenty of space to save your games in the cloud on both PS4 and PS5.
Further Reading – PSVR 2 – Everything We Know About Next Generation PSVR
Additionally, you also get access to exclusive games for free each month, alongside special discounts, full game trials and the ability to play online multiplayer games too.