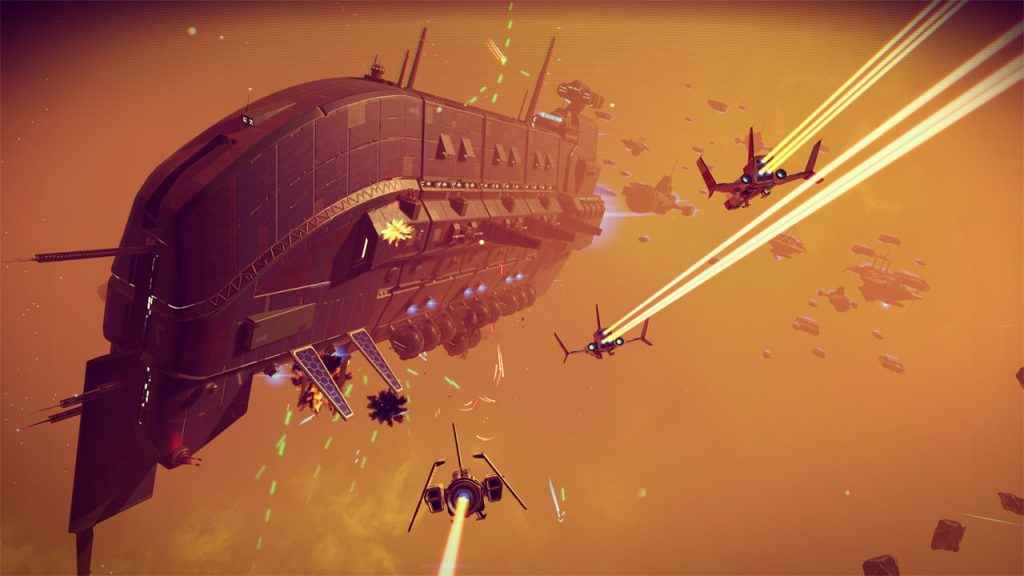 Grab yourself a No Man's Sky Freighter in the new No Man's Sky update for PS4. NEXT made major upgrades to the game since its launch in 2016. Check out all the information you need to use a No Man's Sky Freighter to your advantage.
What is No Man's Sky Freighter?
Freighters to put it simply are massive interstellar starships in No Man's Sky PS4. You can buy freighters through units. They are fully customizable using the base building system which was included in the Foundation No Man's Sky update. You can have more than one ship which you can transport from one star system to another. Regular freighters can hold 19 inventory slots while small, medium and bigger capital freighters can have up to 34 slots. One great huge freighter is the Star Wars universe's Venator Star Destroyer.
Freighter Space-Battles
There are two kinds of freighter space-battles. The first one is the common space battle which you can get for free. To do this, wait for a Freighter which is being heavily attacked. Defend the lone freighter and defeat its attackers. If you are successful, the Commander invites you to aboard his freighter. Simply talk to him and he will offer you the No Man's Sky freighter as a reward.
The second freighter space battle is installed in Pathfinder Update. They are super-massive with three other size variations and coined as Star Destroyers.
How to buy No Man's Sky Freighter?
First, look for a space fleet with a freighter icon. But if you defended and saved a freighter from pirates, you can buy that freighter.
Then look for yellow a beacon which is the docking area. Then dock your ship and go to winding staircases until you reach the bridge.
Next, find the captain and check ship's features.
Finally, if the freighter passes your standards, you can buy it. The more inventory slots it offers, the more expensive it gets.
No Man's Sky Freighter PS4 Updates
Here's what upgraded Freighters have to offer in No Man's Sky update 2018:
First the frigate fleets elements like new missions, an upgrade system, improved combat system and assistance for exploration
Then there's a revamp in freighter's base building for customization.
Freighter bridge hologram planet get procedural textures and has been overhauled
Next freighter hangar is redesigned to a path bridge
Finally, airlock doors open quicker than before.
If you need more No Man's Sky Freighter PS4 updates, come back daily for we keep on adding updates here.