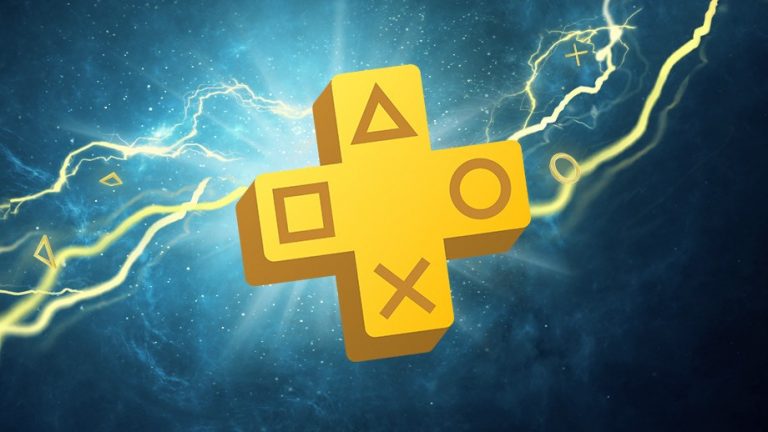 PlayStation Plus July 2020 Games, When is NBA 2K20 free on PS4 – Are you interested in what the PlayStation Plus July 2020 PS4 games could be? Well, now we know! If you've missed any PS Plus announcements so far, don't worry – you can catch the complete listing of every PS Plus title announced to date right here.
PS4 PS Plus Free Games July 2020
The PS Plus Free Games for July 2020 are:
NBA 2K20 – With its immersive open-world Neighbourhood, NBA 2K20 is a platform for gamers and ballers to come together1, taking their skills to the next level. The game features an upgraded motion engine with signature styles, advanced shooting controls, a new dribble size-up system, refined off-ball collisions, and a new read & react defensive game.
Rise of the Tomb Raider: 20 Year Celebration – In Rise of the Tomb Raider, Lara uncovers an ancient mystery that places her in the cross-hairs of a ruthless organisation known as Trinity. As she races to find a powerful and sought-after artifact before Trinity, the trail leads to a myth about the Lost City of Kitezh. Lara knows she must reach the Lost City and its hidden secrets before Trinity as she sets out for Siberia on a thrilling expedition.
Erica –

This feature-length cinematic experience merges high-fidelity Hollywood production values with engaging, tactile gameplay. With the traumatic events that have haunted Erica as a child dragged back into the light of the present-day vis grisly new clues, it's up to her to unearth the shocking truth behind this devastating tragedy. Every choice made influences how the game develops, with multiple endings awaiting at the finale of the emotional branching narrative.
A three title line-up to celebrate the 10th anniversary of PlayStation Plus! Can't beat that! All games will be available from July 7, 2020 onward.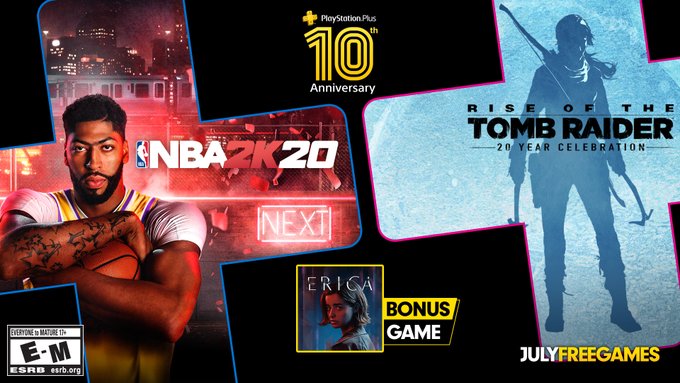 You can catch our original predictions below!
Related Content – PlayStation Plus August 2020 Free Games Predictions
PS4 PlayStation Plus Free Games July 2020 Predictions
Related Content – PlayStation Plus Turns 10 – The Best Free Games On The Service
Fist of the North Star: Lost Paradise (2018)
Developed by the same wonderful nutcases that have brought us the Yakuza franchise, Fist of the North Star: Lost Paradise brings the ultra-violence of the titular legendary manga and anime kicking and screaming onto PlayStation 4.
With a gorgeously faithful aesthetic (and the ability to even play as Kazuma Kiryu in the game – the same Japanese voice actor actually does the voice duties for the main protagonist, Kenshiro), insanely violent combat and a sprawling world to explore, this is the Fist of the North Star and Yakuza crossover you never knew you wanted.
Related Content – All The 2020 Video Game Release Dates
Tetris Effect (2018)
A stunning evolution of one of the greatest games in history, Tetris Effect thrusts the classic title to new heights with a range of awesome new modes and a superb PSVR implementation.
Whether you're getting stuck into some heart pounding time attack challenges or just chilling out with the beautiful and elegant audiovisual presentation of the Zen modes, Tetris Effect really is Tetris 2.0 and is one of the greatest games available on PlayStation 4.
Related Content – The Best PSVR Games
What PlayStation Plus Games Are Available Now?
While you wait for the PS Plus July 2020 games to be released, you can still pick up the PS Plus June 2020 games, which include a pair of cracking shooters in Call of Duty: WWII and Star Wars: Battlefront II.
If you're thinking of joining PS Plus, it's also worth noting that Sony has increased cloud storage for the saving of PS4 game files. With a boost from 10GB up to 100GB, there's plenty of space to save your games in the cloud.
Related Content – PSVR 2 – Everything We Know About Next Generation PSVR
You also get access to exclusive games for free each month, alongside special discounts, full game trials and the ability to play online multiplayer games too.
Then there is also the future of PS Plus – how do you think the release of PS5 will affect the service? Will it package PS Now into the offering, or, will PS Plus undergo other changes for Sony's next-generation PlayStation, such as offering new PS5 games or including PS Now into a new subscription tier to combat Microsoft's upcoming Xbox Series X console? Let us know your thoughts in the comments!
Related Content – All Free PS4 PS Plus Games In 2020 – Guide
PS4, PSVR, PSN, DLC 2020 Release Dates
June 2020 PS4, PSVR, PS Vita, DLC, Video Game Release Dates
July 2020 PS4, PSVR, PS Vita, DLC, Video Game Release Dates
August 2020 PS4, PSVR, PS Vita, DLC, Video Game Release Dates
September 2020 PS4, PSVR, PS Vita, DLC, Video Game Release Dates
October 2020 PS4, PSVR, PS Vita, DLC, Video Game Release Dates