Rogue Legacy 2 PS4, is it happening I hear you cry? Well, about that. Though the super great looking roguelike sequel has only been announced by developer Cellar Door Games for a PC release right now, what are the chances of Rogue Legacy 2 PS4 or Rogue Legacy 2 PS5 actually happening?
Rogue Legacy 2 PS4, PS5 – Will It happen?
Right so, while Rogue Legacy 2 is set to release on PC in Summer 2020, there has been no confirmation that a Rogue Legacy 2 PS4 release will occur at this point. However, give that the original Rogue Legacy released on PS3, PS4 and PS Vita (in addition to just about every other system under the sun), we really truly think it will only be a matter of time until it ends up on both PS4 and PS5. So watch this space!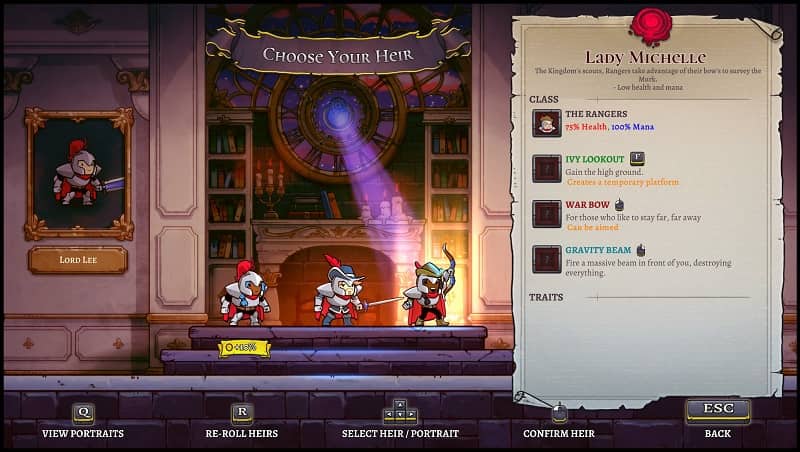 What Is Rogue Legacy 2 All About?
Offering more of the same DNA based roguelike gameplay that made the first game so very essential, you can catch the Rogue Legacy 2 synopsis below as taken from its Steam product page. If you missed it, you can catch our review of the original Rogue Legacy here.
Rogue Legacy is back! But now it's got a 2 in front of it!

Rogue Legacy 2 is a genealogical Rogue-LITE. That means it has all the trappings of a typical rogue-like (randomized runs, changing characters, and more), but with persistent upgrades, and persistent dead heirs. In this game, the grind is optional. Play well and you can dive deeper into the depths of the ever-changing world. Or don't! Who cares! With hardcore platforming mixed with a deep RPG system, everyone can win eventually.

…And really, isn't having that kind of choice the best? <3

Here's what Rogue Legacy 2 IS:
A procedurally generated adventure. The entire kingdom changes with every life, so no two runs are the same.

Rogue-LITE. Build your manor, improve your legacy, and make each child stronger than the last. The game can be beaten at level 1, but that doesn't mean it has to.

Universal Healthcare. Every child is unique. Some might have Synethesia, others might be a pacifist, and some could just be a little chubby. Through the powers of Socialism, traits which have more debilitating effects on gameplay now give gold bonuses!

Castle Permanence. It's a rogue-like where bosses stay dead.

Every class (and there's a lot!) now have their own unique set of armaments. Take down foes from afar with your bow as the nimble Ranger, or get up and close with the massive Battleaxe as the Barbarian.

Stack Runes. Runes can now stack to infinity. It'll take a while, but if you wanted to have penta jump, and lifesteal, and hyperspeed you can!

AND THERE'S A WHOLE LOT MORE. But we're working on it, and we'd still like to keep a few secrets in our back pocket. 🙂
Related PS4 Games